Lee & Carol Barbour, REALTORS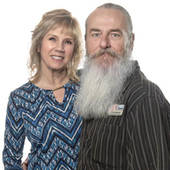 Real Estate Agent
Lee & Carol Barbour, REALTORS
Mountain Living Team in Murphy NC and North GA
Murphy, NC

—

Murphy and Hayesville, NC; Hiawassee, Blairsville, Blue Ridge GA

Coldwell Banker Real Estate LLC
Lee and Carol Barbour - The Mountain Living Team, serving Murphy and Hayesville NC, Hiawassee, Blairsville, Blue Ridge, GA mountains. Come enjoy this Mountain Lifestyle too!
Get to know Lee & Carol Barbour, REALTORS
If you're looking for a real estate team that can help you sell your home, or find the perfect place to live, then you've come to the right place. As former Floridians that made the move to the mountains, we want to serve you in finding and making your dreams a reality, too. We are Lee & Carol Barbour ~ The Mountain Living Team and it would be our pleasure to help you with all your real estate needs. We are licensed in NC and GA. If you're searching for a get-away cabin, land, investment property, or to make that move into your dream home, let us show you what the beautiful Western North Carolina, North Georgia mountains have to offer. If you'd like to see more info on Murphy NC and Cherokee County please visit The Mountain Living Team at our web site www.MountainLivingTeam.com 
Serving Murphy and Hayesville NC and the Hiawassee, Blairsville, Blue Ridge GA mountains.
Carol is originally from Homestead, and Lee from North Miami Beach, Florida. Carol has always loved the mountains, having spent her childhood summers in Burnsville, NC at her grandparents home. After Lee and Carol were married every free holiday or vacation day was spent in these beautiful mountains. After deciding to leave big city life and come to a peaceful yet prospering area in which to make a living and raise their son, Brandon, they decided to move to Murphy in 1997. Their only regret has been that they didn't move sooner! In their spare time, they enjoy being with family, gardening, hiking and camping.
For More about Lee and Carol Barbour  Find us on Google+
Lee & Carol Barbour, REALTORS's Blog Posts
Local News and Events
–

over 3 years ago
Local News and Events
–

about 4 years ago
Local News and Events
–

over 4 years ago
Home Buying
–

over 4 years ago
Come visit Murphy, NC and the north GA mountains!
Certifications
Licensed in NC, GA and TN
GRI Graduate Realtor Institute
ABR® Accredited Buyer's Representative
SFR Short Sale & Foreclosure Resource
CNHS Certified New Home Specialist
RCC Residential Construction Certified
Mountain Lakes (NC) Board of Realtors
Northeast Georgia (GA) Board of Realtors
NC and GA Association of Realtors
National Association of Realtors
Real Estate Buyer's Agent Council (REBAC)
"Building Relationships Through Real Estate" If you're interested in buying, we know what it's like to want to move to the mountains and have a change of lifestyle. We started out as vacationing in the mountains and soon felt that we needed to make it our permanent home. It is our hearts desire, to not just assist you in finding a property, but to make lasting friendships along the way.
If you're searching for a real estate TEAM to partner with you to sell your property we have over 25 years of marketing experience and the attention to details that will make your property stand out. The Mountain Living Team doesn't just get a listing and then disappear. We know how we would want our investment handled and we strive to do the same fresults and get results.
Save
Awards
Lifetime Members of Circle of Excellence
Lifetime Members of the Work Hard and Get It Done Club
Testimonials for Lee & Carol Barbour, REALTORS
Lee and Carol helped us relocate to Murphy, NC from Pennsylvania early this year. Without their experience and knowledge of the area, our move would have been painful and arduous at best. They helped us every step of the way. They guided us through the many facets of real estate purchase and financing. Initially, while we were still in Pennsylvania, they located and helped arrange furniture storage facilities and a temporary rental unit that we required while we searched for a new home. They also sent us many properties to review for possible purchase. Upon arrival, Lee immediately scheduled time with us to visit properties, assess our needs and get us familiar with the area, it's people, beauty and culture. It was a pleasant experience. Once we decided to buy, they helped us complete all necessary paperwork for purchase, answered questions and facilitated inspections and any improvements required by our bank. Their knowledge of the process and closing requirements was invaluable. Lee, Carol and their staff were our first friends in Murphy. They welcomed us with friendly comfort and lots of help. ... with never a complaint! We now are proud to call Murphy our home and are proud to show our home to friends and family!! Thank you Lee, Thank you Carol and Thank you to all the wonderful people that contributed to the process. ... introduced to us but Lee and Carol too!


Barbara Miner, Ohio

02/03/2014

Southern Hospitality lives in Murphy's realty team of Carol and Lee Barbour, Mountain Living Team. My experience of buying a home here was a happy delightful surprise of their professionalism, their awareness and sensitivity to my needs, attention to detail, their eyes/ears/feet on the ground for me (as I was moving here from Ohio). They took care of all my needs, above and beyond what was 'required' in a real estate transaction. Many issues were resolved as I sat in my Ohio home and they were talking to tradesmen, fielding deliveries, overseeing installations, taking care of my new home issues for me in Murphy NC. It was as if I was their family-member and they were truly vested in my happiness moving to Murphy. There is no better service than one that is given from the heart and their work ethics come from the heart. Good people, fair and honest business standards, reliable, and easy to work with. Thank you Carol and Lee.

The Laudecio's, Florida

12/28/2012

We would like to let you know that Carol Barbour has been excellent to work with! We purchased our mountain Chalet in Murphy, NC and Carol was our agent. To begin with, Carol was immediate in her return communications throughout the transaction. Our first contact was in an effort to find someone to meet our travel schedule-which was very important to us that we find a reliable and efficient agent. Carol explored all avenues and other options prior to our visit. She gave excellent answers to our many questions in a timely manner. Carol always kept in touch to let us know exactly whet was happening. She had gone to our new home on various occasions for us and even sent pictures via email. My wife and myself were tough in some cases as most clients, but Carol always came through with great results and a smile. We are proud to say that this transaction went well, and with great hopes that another in the near future will be possible for business purposes. Of course Carol will be our agent again.

The Sturdevant's, Florida

01/01/2012

Tom and I would like to take time to express our sincerest appreciation to Carol & Lee Barbour. We were fortunate enough to see a property for sale on another realtor's website that we were very interested in. Tom had talked with Carol about some other properties and was very impressed with her professionalism. So we called Carol about the property and immediately she jumped into action. I'm certain without her prompt attention we might not have gotten this property. We are very grateful we got Carol as our realtor. She made a very tense time much easier. She was committed to making our dream come true. Her professionalism is something you don't see often these days. She handled the sale, while we were 500 miles away, and kept us informed every step of the way. She is so pleasant to talk with. It's rare these days to find someone with such a great work ethic. She is exactly what you want when you are looking for "your dream come true" We trusted her all and she did not let us down.

Let me just say, this was not and expensive property by most standards, but it was exactly what we were looking for, (it was our dream place) and we were treated like Royalty!

We not only feel like we got the place we dreamed about in the mountains, but we feel like we made some friends on the way! How great is that! Tom tells everyone, "If you're looking for a place in the mountains, have I got a great realtor for you"!! Lee was always there for any help we needed from him. What a great team to have in your corner!

We will always be grateful to Lee & Carol for helping us reach for our dream!!!

Warren & Betty Pentz

08/08/2011

We finally made it into our "dream home in the mountains" of Murphy, NC thanks to the tremendous help of Lee Barbour. Even before we were in a position to buy a home here, we made contact with Lee through his office. He was aware that we were not ready to buy at that time, but I'm sure he went out of his way to answer our questions and concerns about the process. Of course when the time did come for us to for our new home he was the one we wanted to work with. Lee lead us through the entire process and the concerns and questions were minimal because of his knowledge, incite and ability to anticipate the next step and keep us on top of the process. Everything went very smoothly and on time right down to the closing day. Thanks for being the best in the area. We would highly recommend Lee to anyone who is starting through the home buying process.

S. Collins, California

07/19/2011

I live on the West coast and owned property in Tennessee that I desperately needed to sell. My husband had just passed away and this became imperative for me to accomplish. The house had been empty for over 3 years, and no work had been done on it. It was rural, had a well, etc. and I had no idea how/who to contact about selling it. I went online, saw Carol and Lee's ad for the Mountain Living Real Estate Office, and contacted them. Immediately I was aware that I had made an outstanding choice, as throughout the process of getting the information they needed to them, assisting me with hiring someone to "clean up" the place and guiding me through the escrow procedures, I felt cared about personally, not just a "customer" who needed to sell a property. Their attention to my needs, all the details involved in real estate sales and the professionalism they displayed in every matter, led to a rather rapid sale! I first contacted them in late Sept. 2011, and the property was sold – even closed early – in early January 2012! I would recommend this Mountain Living Team of Carol and Lee Barbour to everyone who is looking to either sell or purchase property in the area.

The Hanford's, Murphy NC

05/11/2010

We interviewed two other companies before we talked with Carol Barbour. Her competent answers and examples for all our questions ended our search. Carol continued her professional approach by providing step by step suggestions and directions from the listing through the closing. Her experience and focus allowed her to anticipate questions and provide answers, often before we were aware of them. This removed much apprehension and anxiety for us during the time our house was on the market and settled us during the final steps of leaving the house prior to closing. There were so many times we appreciated her attention to our specific needs. After seeing the flyers she prepared at the beginning of the process, we told her that they were so visually attractive and comfortably worded that we were sure people who came to see the actual house would be disappointed. Another such example came during the house inspection. Not only did she explain all that would transpire and coordinated the visits of the various parties to reduce stress on us, she also was there during the inspection and stayed after to explain what would follow. Her involvement did not seem obligatory; she provided service. The experience with Carol (and Lee, the double team approach never left us uncovered) was so positive. We will gladly recommend Carol to others. Thank you for the positive realty experience, especially when that has not always been the case.
Introducing a fresh new look for your Profile.
Click the 'Edit Profile' button below to enter 'Edit Mode' and continue the tour.