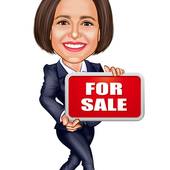 By Evelyn Santiago, Managing Broker Heart Realty Group, Inc., Passionate About Real Estate & Our Clients!
(Heart Realty Group, Inc..)
I am only human...I put off many things that I don't like to do...laundry, filing and sometimes thank you cards.  This past summer I was able to help a few 1st time homeowners close on homes before the original homeowners credit was extended. With the current extension we will again have many homeowners put it off until there are only a couple of months left to get that contract signed and approved by April 30, 2010 and closed by June 30, 2010. Looking for a home can be a challenging event in the best of times.  If it's your first, the whole process can be intimidating and confusing.  New terms, more paperwork, time involved in narrowing down your choices, finding someone to trust that will help you through what looks like a labyrinth. So start your search early.  Find a real estate age...