Evelyn Santiago, Managing Broker Heart Realty Group, Inc.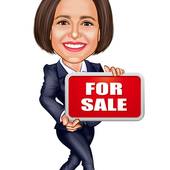 IL-471.002355
Real Estate Broker/Owner
Evelyn Santiago, Managing Broker Heart Realty Group, Inc.
Passionate About Real Estate & Our Clients!
Oswego, IL

—

Heart Realty Group, Inc..
Passionate about having our clients reach their real estate goals by being the best advocate for them during their buying or selling experience.
Get to know Evelyn Santiago, Managing Broker Heart Realty Group, Inc.
Raised in Aurora, IL and currently a resident of Oswego, IL I have lived in the Fox
Valley area for most of my life.  My commitment to educating clients on the real estate market and explaining the process -  whether its a purchase or a sale is one of my major priorities.  An educated consumer with the right information is able to make informed decisions on buying a home or whether its the right time  to sell their current home.  By having this information the fear and anxiety of the process is lowered.   I continuously keep improving my own marketing/sales/customer service skills by committing to the latest real estate training/seminars. 
Marketng my sellers homes to the largest buyer base via internet  niche marketing and social media is crucial in today's market.  Along with my past experience in selling new construction, investment properties, short sales and traditional/market home sales, I am able to assit buyers in finding them -  the right property -  at the right price and within  their timeframe.
My customer service skills have been awarded 5 Star top honors in Chicago Magazine on October 2014 based on high client satisfaction scores.  Whether you are looking for your 1st home, selling your 3rd home or anywhere in between, allow me to assist you during your real estate journey.  Searching or selling a home in Aurora , Montgomery, Naperville, Oswego, or Yorkville, IL or trying to sell or buy a 2nd home in Chicago   I am here to help! 
Ready to transition to warmer climates?  I am also a licensed Broker Associate in the Naples/Ft. Myer's area since 2009.  With a wide network of other Florida realtors I can refer you to competent agents across the sunshine state.
LOW INVENTORY IN AURORA, MONTGOMERY, NAPERVILLE, OSWEGO, PLAINFIELD, AND YORKVILLE, IL  - NEED YOUR HOME TO SELL NOW!  Honest and straight forward market valuation of you current home with no high pressure!
Evelyn Santiago, Managing Broker Heart Realty Group, Inc.'s Blog Posts
|
Real Estate Market Trends
–

5 days ago
Real Estate Market Trends
–

4 days ago
Real Estate Market Trends
–

18 days ago
Real Estate Market Trends
–

17 days ago
Real Estate Market Trends
–

11 months ago
Real Estate Market Trends
–

10 months ago
Real Estate Market Trends
–

10 months ago
Real Estate Market Trends
–

4 months ago
Certifications
 Residential real estate - buyers, sellers and investors.  Whether you are buying your first home or selling your current home allow me to be of service to make the process educational and trouble free.  I also offer Free service to assist sellers in selling their homes via a short sale!
Awards
2014 Five Star Home Professional as listed in Chicago Magazine October 2014 issue!
My other awards are...   Happy buyers and sellers!
Skills
My skills are...   Persistance, great communicator, patient, great listener, solution focused, optimistic and I think outside the box.
Testimonials for Evelyn Santiago, Managing Broker Heart Realty Group, Inc.
Jill & Terry Hill

04/04/2017

Evelyn is a true professional. She was totally focused on our need to rent our home and found creative ways to market our house that attracted the kind of renter we were looking for. If you want someone who will work tirelessly on your behalf, then Evelyn is that person. She is a always there for you and puts your needs at the top of her list. Honesty and integrity are two words that would describe Evelyn. I highly recommend her for your real estate needs

The key benefit that we received from working with Evelyn Santiago is her competency in the area of not just the sales process, but also in how she quarterbacked the entire transactional process as well. She is tough, thorough, attentive, tenacious and most importantly, above board. Evelyn exudes and conveys a level of confidence that is only found in those few professionals that view their work as not just a job, but a calling. Her abilities and steadfastness showed and was necessary in keeping this deal together as she navigated both parties through some difficult times during the sales process. If you are considering a realtor to sell your home, it is my recommendation that you should hire her and then let her do her job! She is definitely worth it.

Angela & Jason Rebarchik

09/15/2015


Evelyn Is AMAZING! We actually started working with her about 4 years ago when the market was at its lowest. We had to move out of the area for job changes, and unfortunately knew we would no t be able to sell our house. We were given Evelyn's contact information and from the beginning we knew we were in good hands. Over the course of 4 years she helped us place 2 great tenants in our home, and then finally when the time came she sold the house for us in less than 1 month...which is great considering it was at the end of the peak time for selling. She was confident on the sales price and we never had to lower it once. She pushed us to go for more and it worked! We could not have found a better person to help us, and using her services was definitely money well spent. We really like how she used plenty of different avenues to market our house, and technology is not something she is afraid of using. She was quick to respond no matter how we contacted her whether it was email, text, or phone. She did not have a preferred method which made it easy for us if we did not always have access to all of those. What we like most about Evelyn, was her honesty, she did not hesitate to say no to us on things and she was always up front. This quality made her very trustworthy from the start, and is what kept us working with her till the end. You will not go wrong by using Evelyn Santiago as your agent for buying, selling, or if you need to rent out your home
Show Less




I can't say enough about Evelyn! She is an incredible professional with great knowledge in all aspects of real estate. She went far above and beyond to make sure our home buying experience was handled perfectly. She was always available for every question we had and she has extensive knowledge of the area. We spent many hours touring homes with Evelyn and she was patient and determined to find us our dream home, which she did! Some of our issues in a long distance move were unique and far outside what a realtor would normally be asked to help with but Evelyn was involved in helping us solve every obstacle we came across. She is a wonderful person and fantastic at her profession. You won't find a better agent nationwide. I will recommend her in a heart beat!!

M.Niels via Real Satisfied

06/30/2015

Evelyn Santiago Is incredible: She immediately responded to our request for properties, she immediately got us into a new listing to view it ASAP, she counseled us how to bid, she advocated fo r our offer so that it was promptly accepted rather than the 3-week wait for a new listing.and she was extremely knowledgeable about the paperwork. Evelyn Santiago was always there for us, immediately. Evelyn Santiago was very responsive to our needs to become homeowners after renting for several years. She went the extra mile by immediately getting us into the house, placing the offer, and advocating for our acceptance.

M. Nelson via Yelp

08/11/2014

Evelyn Santiago was more than phenomenal in the work she did for me when I was looking to purchase my first home. Evelyn paid close attention to what I said I was looking for in a home. She asked the critical questions and knew more about what I would want than I did. She took it one step further to show me homes I never imagined would fit my criteria--but did AND had the "wow" factor I didn't know would be possible at my price point.

Evelyn was never high pressure during the process but she gave me insightful advice that was instrumental in making me feel at ease about my decision. I was the typical first-time homebuyer in that I had an idea in my head about the value of the home I was purchasing and even got cold feet at one point. It didn't phase Evelyn; she didn't panic and try to rush me into committing. She simply pointed out the facts about the purchase and let me make the decision. I ultimately decided to purchase and Evelyn didn't stop working once the contract was signed. She was an engaged member of my team during the mortgage approval process all the way up to close.

Evelyn amazed me in how easy she made the home buying process. She was so precise in narrowing down the homes to show me. We actually only viewed about 8 homes in 1 day and I ended up purchasing the first home I was shown. Despite only viewing 8 homes and the search only lasting 1 day, what I was shown encompassed what was available on the market. While I was in the process of closing, I still looked online out of curiosity and never saw a home I liked better or that I felt was a better value than what I purchased. Two months in my home and I definitely do not have buyer's remorse.

The last thing I want to say about Evelyn is how personable she is! She tailored my homebuying experience to meet my needs--I don't have family close by and while I would have normally included my mother in the process it simply wasn't possible. Evelyn was so accessible and so hands on during the process that I felt as though I could ask her the questions I would have asked my mother. Evelyn made me feel like I was her only client and made up for the fact that I couldn't include my mother in the process. While looking at homes I felt like my mother was right there with me because Evelyn was just as candid as my mother would have been.

When the time comes for me to purchase my next home, as long as it is in the Chicagoland area, Evelyn will be the first person I call.

Mary Jo & Bob N - Elburn Sellers

01/17/2014

Summary of their experience
Evelyn makes things happen because of her expertise, understanding of the area, experience with mortgage companies, and determination. We've sold a previous house with a different agent so we see the difference. She keeps in touch, follows through, and "connects" so we always knew if there were interests, tire kickers, or serious buyers. She was very responsive and consciencious of our needs. Her positive spirit convinced us that she would find a buyer before the Auction took place; and she did! We liked her because of her integrity. She was very efficient and creative in looking for a good match for our home which was a heart-breaker to leave. We couldn't have done it without her. She was on top of any issue that came up. Best of all when the new owner didn't pay the Real Estate taxes and we were informed 3 months later, Evelyn handled it! We didn't need any more stress. She was there for us!

Originally on Zillow where 5 - 5 Stars were given on Local knowledge, Process expertise,
Responsiveness, and Negotiation skills



Dave Claycombe

07/08/2013

Evelyn was unbelievable to work with. She was very professional and REALLY knew what she was doing. This was my wife's and my first house we were looking for that we didn't have built for us. She helped us through every step of the way. We had a very interesting purchase and closing, to say the least. The property we found and ended up buying was a Federal owned foreclosure. Let's just say working with the Federal government wasn't the easiest task. Even when we were trying to GIVE them money. Evelyn was there for every step of the way. The best thing about Evelyn is that she wasn't there to make a buck...she really cared about us and what we were doing. We still stay in touch and are very happy to call her our friend.
If you are looking for a Realtor, you couldn't find a better one than Evelyn. We are planning on having her sell our first property when the time is right.

Dave Claycombe

Landlord - Grand Rapids, MI

01/14/2013

Evelyn helped my husband and I rent our property in IL. She is great to work with, very organized and friendly. She kept in constant contact with us, and we always knew what was going on. If we did not understand something she was more than willing to explain, and go the extra mile to make sure we understood. We will continue to use her for our real estate needs in Illinois and would recommend her to anyone!

Lissa - Short Sale Seller

11/12/2012

Evelyn was very helpful in the sale of my house. My house sold in record time and she made the process very painless. I would definitely recommend her to anyone needing to sell their home.
Introducing a fresh new look for your Profile.
Click the 'Edit Profile' button below to enter 'Edit Mode' and continue the tour.