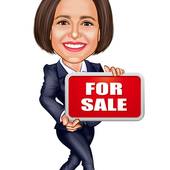 By Evelyn Santiago, Managing Broker Heart Realty Group, Inc., Passionate About Real Estate & Our Clients!
(Heart Realty Group, Inc..)
Price  appreciation are buzz words that you hear anytime  there are  conversations regarding the local real estate market no matter where you are.  What happened after the world wide event of the "Pandemic"?  Did remote work and lack of inventory do all this??  Although I will leave the reasons to all those pundits that appear to know much more  than myself I just want to post the numbers for my immediate real estate market in the western suburbs of Chicago - mostly about an hour or so - south west  of Chicago - with some of the uber suburbs with a semi-rural small town ambiance.With both the  #2 & #3 cities in IL next to each other and smaller villages/towns that have become fast growing areas in the last 10 years here are some numbers on Price Appreciation for the last few years: City...