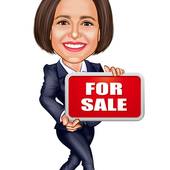 By Evelyn Santiago, Managing Broker Heart Realty Group, Inc., Passionate About Real Estate & Our Clients!
(Heart Realty Group, Inc..)
The winds are howling and leaves are almost off the trees as one of the colder nights in Chicagoland begins.  Looking back at another month of home sales in Oswego the numbers tell the story. In the single family detached homes there are currently 219 active listings, 14 new listings less than 7 days old with 15 price changes, 66 homes in contingent stage and 10 pending a closing date.  In October 31 homes were sold. Year to date 262 homes have been sold.  Out of that number 61 were foreclosures and 32 were short sales.  In 2010 we had sold 242 homes so we are ahead of the game this year!  In the attached single family category we have 66 active listings, 2 new listings, 25 price changes, 26 contingent with 8 sold homes in October.  91 homes have been sold year to date with 34 foreclosu...