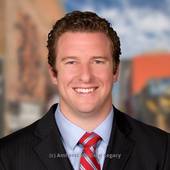 DB39006
Managing Real Estate Broker
Nick Schlekeway
I seek to Add Value to my Client's Experience.
Boise, ID

—

Amherst Madison Legacy
4615 Emerald St
Boise , Idaho 83706
You are the average of the 5 people closest to you - Jim Rohn
Get to know Nick Schlekeway
Being immersed in a self-propelled, start-up oriented family his entire life, Idaho native Nick Schlekeway is a true visionary entrepreneur. Rigorous physical training combined with high academic accomplishment from a young age instilled the kind of self-mastery and work ethic only true leaders possess. After leading Boise State Football as a team captain to the 2007 Fiesta Bowl Championship victory over the University of Oklahoma, Nick entered the real estate industry during his tenure as a Boise firefighter. Four years later, he now is founder and CEO of Amherst Madison, the third-largest independent—and fastest-growing brokerage—in Idaho. His passion for excellence and drive for victory pushes him to conquer new frontiers while providing fulfilling careers and a dynamic culture for his agents.
Nick's early work includes breaking ground on construction sites with his general contractor father, distributing flyers for his mother's salon business, and assisting both parents with residential property management and leasing. Nick was an all-state athlete, state Football champion, and 4.0 valedictorian at Eagle High School, where he was inducted as a Hall of Fame member. Also an Academic All-American, All-Conference football player at Boise State, he graduated in seven semesters with a 3.9 GPA and bachelor's degree in Business Management. Most recently, Nick has continued to pursue academic distinction by graduating with honors and earning a master's degree in Real Estate Development and Leadership from 20th-ranked Georgetown University—all while doubling the size of his growing company during those two years.
Prior to founding Amherst Madison, Nick was hired first of 1,750 candidates as a firefighter for the City of Boise. Nick served the citizens of Boise from 2008-2012 as a certified Hazardous Materials Technician, Emergency Medical Technician, and Firefighter III, with certification to "swing up" to Driver Engineer. His experiences as a firefighter, in addition to his time volunteering as a student-athlete at Boise State, were instrumental in building a desire to give back to his community and serve others.
Having overcome significant personal struggles and loss, Nick holds a high respect and fascination for leaders who maintain bravery in the face of opposition and see the opportunity in times of challenge. Building upon the foundation of a life without limits, Nick continues to lead as an inspirational example, driven to create a positive impact on other's potential through public speaking, mentoring, and personal development. His own self-discovery and perseverance have been largely influenced by numerous mentors and role models, including Jim Rohn, Steve Jobs, Tony Robbins, Marcus Lemonis, and his parents.
From winning state championships in high school, to defeating Oklahoma in the famous 2007 Tostitos Fiesta Bowl, to safely extinguishing a dangerous structure fire with his crew, to professional wins in the boardroom; Nick has found that nothing compares to the satisfaction of accomplishing big things with great people.
The Beautiful North End, Boise Idaho
Introducing a fresh new look for your Profile.
Click the 'Edit Profile' button below to enter 'Edit Mode' and continue the tour.