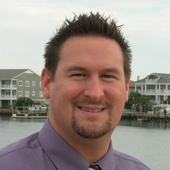 Real Estate Agent
Paul Hockaday
Wilmington, NC

—

Exit Homeplace Realty (Wilmington, NC)
Realtor/Broker for Wilmington, Wrightsville Beach, Castle Hayne, Carolina Beach, Ogden, Porters Neck, Hampstead, Kure Beach, Rocky Point, New Hanover, Brunswick, Pender, NC.
Get to know Paul Hockaday
Paul's Story:
Being born and raised in North Carolina on a farm, I learned early that life was full of hard work and sweat. Preparing the land for seeds to be sewn; breaking the soil so the roots of the young plants could easily grow deep into the earth. Cultivating the young plants reassured that adequate nutrients would be available as they grew tall basking in the sun; reaching for the heavens. A relationship between man and land develops. A relationship that is better lived than told.
It was on this farm that I learned all the basic principles needed to succeed in life. Morals, values, ethics and respect were taught to me by the strongest Christian I've ever known, my Mother. Much like the preparations made by a farmer, she bestowed upon me these characteristics which structured my adolescence and provided me with a foundation to build the rest of my life on; a good, strong foundation.
I found myself making the transition from being a rural farmer to becoming a carpenter. It was up to me to build a strong and respectable "house" on this foundation. However, I became lost after my father's death and built a clumsy, awkward house. It didn't take long for my house to collapse and fall to ruin.
When my daughter was born I realized that she was a God send. He must have thought that I didn't get the message so he sent me another angel eleven and a half months later. And then a son 19 months after that.
"Well, I've got the message, God".
I'm currently in the reconstruction process building a good strong, respectable house on that foundation my Mother provided me so long ago on that old farm. My life has come full circle. In fact, I've been raised to be a Realtor all along but am just know realizing it.
Being a Realtor means living by a code of ethics and developing relationships with individuals that hopefully grow and prosper much as the seeds do when the farmer plants them. It is my goal to approach every individual as though I am the farmer sharing a special bond through relationships in the hopes of producing a bountiful crop; a loving community. Relationships that are better lived than told.
Upon reflection, I realize that my two daughters Peyton and Addison are God sends two and three, respectfully with Harrison being God send four. God send number one is my wife to be, Kimberly, a pillar of strength that currently wears the hard hat labeled "Boss" on my reconstruction site. I'm so very thankful for her love and devotion to stay home with the children while I pursue a successful career in real estate.
Life History:
I was born and raised in Fayetteville, NC. There I grew up on a small farm and learned the simple way of life. Upon completion of high school I moved to Wilmington, NC to attend UNCW. After a year of listening to the gulls, I heard a distant howl of a lurking wolf. Off to Raleigh I went transferring into NCSU in 1993 and became part of the WolfPack. A small town country boy living the highlife in the thriving metropolis of Raleigh, I decided to return to Wilmington after eleven years to plant my feet in the sand and feel the salt air on my face. Ah, there is no other place like Wilmington..."Open for business". Come see why Wilmington is a great place to live!
Real Estate Career:
I've been in real estate for just over 2 years now and have been told by many that I got in at the absolute worst time. However, there are few that have told me that I got in at the very best time. I listen to the later. During these "tough times" when the economy is such a mess and the housing market is depressed you have to return to your roots. That's what I've done. You have to prepare your land, plant your seeds and nurture your clients with meaningful relationships. That's what I'm doing to survive the current real estate downturn. Check out my group, "100 Days to Change" to see others committed to Changing their businesses.
Oh, and by the way, I'm never too busy for any of your referrals.
It's a Good Life,
Paul Hockaday
Paul Hockaday's Blog Posts
ActiveRain Community
–

about 12 years ago
Real Estate General Information
–

over 5 years ago
Real Estate Best Practices
–

over 12 years ago
ActiveRain Community
–

over 12 years ago
Certifications
Paul on TV: View this link on WWAY Channel 3 News
http://www.wwaytv3.com/video/real_estate_agent_blogs_increase_presence_web/12
HRC Specialist: (Home Retention Consultant Specialist)
I began working for a network of real estate professionals committed to helping homeowners keep their homes from foreclosure. During these difficult times, families face loss of jobs due to downsizing more and more frequently. I try to work with homeowners who have found themselves in a preforeclosure situation from lossing their home. My goal is to 1) keep the homeowner out of foreclosure, and 2) help homeowners sell their home to prevent a foreclosure. The worst scenario is if I am unable to help.
I enjoy working with motivated first-time home buyers as I feed off their energy.
Introducing a fresh new look for your Profile.
Click the 'Edit Profile' button below to enter 'Edit Mode' and continue the tour.