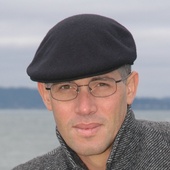 Education & Training
Oscar Morante
Portland, OR

—

Best Short Sales
www.BestShortSales.com 9220 SW Barbur Blvd Suite 119 - Box 159 Portland, Or 97219
Get to know Oscar Morante
Meet Oscar Morante, Real Estate Agent and Entrepreneur Specializing in Fixing Problems for Over Mortgaged Property Owners.
Credentials:
Short Sales Expert Real Estate Investor Short Sales Trainer Loan Modification Facilitator Writer and Publisher Licensed Real Estate Professional in Oregon & Washington Registered Architect in Oregon & Washington
Oscar is among many real estate professionals who are closely tracking the looming indebtedness of American property owners. Oscar, however, sees things a little differently that most. After studying the process of how people go into debt and end up losing their homes through foreclosure (only to be left with mountains of debt), Oscar started a crusade to help distressed property owners save their credit and dignity. He does this by negotiating reduced settlement payoffs with the lenders. "It happens a lot," says Oscar. "Good, hard-working people just run into trouble for a lot of reasons".
Relaxed banking regulations, ambitious lending practices, uninsured property damage, personal life changes or a myriad of other causes can contribute to a property owner becoming over-mortgaged. In other words, property owners end up owing more than their property is worth and can't keep up with payments.
After seeing a sharp decline in architectural work in the Portland, Oregon area after 2001, Oscar was compelled to make a drastic career change. With little money of his own, Oscar began relentlessly researching every aspect of the local real estate market attending seminars, reading books and talking to everyone he knew that had anything to do with real estate. He found that his most lucrative opportunities lay in the complex situations that arose when over-mortgaged properties were headed into foreclosure. Oscar has been actively involved in real estate acquisition through short sale negotiations with lenders since 2003.
Oscar is well aware of the vulnerability of people in financial trouble and detests those who make a business out of deceptive tactics to obtain distressed properties. Some say it is a fine line, but the pile of thank you notes and referral letters from property owners he has helped clearly indicate that his "win-win" philosophy works. He is now teaching others through his information-packed Short Sales A-Z Online Video Course. In this course he shows others how to skillfully negotiate with lenders into settling for less to avoid costly foreclosure.
Oscar Morante holds a Bachelor of Architecture degree from Virginia Tech. Oscar recalls his early passion for buildings and ships and knew he really wanted to be an architect after a brief attempt at pursuing Economics at the impressionable age of sixteen. His early beginnings provided him with unique opportunities to visit and live abroad. His father, a Peruvian Navy Captain, moved his family from the United States to Tokyo, Japan when Oscar was eight years old. While living there, he noticed the architecture; perhaps he made mental notes which would later influence his architectural sensibilities.
When he was age ten, his family moved to Lima, Peru where Oscar would spend the next 10 years discovering himself. In Lima, he pursued his love for the outdoors and adventure. He climbed Macchu Picchu, and immersed himself in Peruvian culture. Today, 20 years later, he still speaks with a Peruvian accent. Oscar says of himself, "I am always trying to get better. I am never tired of making changes. Of course, I want to minimize the things that I do that cause me to have regrets. I don't want to have regrets for not having done something, for not taking a chance, for not making a change."
Oscar is familiar with making changes, whether it is life changes, or career changes; Oscar always seeks to discover something new about himself in the process of adapting to the changes he has made. After graduating from Virginia Tech, Oscar moved to Seattle, Washington. One of his brothers lived there and he decided that, yes, a change of scenery would be good. He quickly found a position as an entry-level architect in a local firm and set out to do what he loved to do. He discovered, despite the long and arduous hours that he worked for the firm, that the county, or the city, presented obstacles for him that sometimes could not be overcome. He contemplated seriously whether or not his ideal of architecture and design would ever fit into the reality of work.
After months of frustration, Oscar decided to make a change. He decided to become a River Guide. He moved to Costa Rica and became certified to lead both Class 3 and Class 4 rivers. He guided tours on average 300 river days, covering the Pacuare and Reventazon River in Costa Rica and the Arkansas River and Royal Gorge, the Cheat River and Wenatchee River in the United States. Oscar loved the thrill and adventure that river guiding provided.
Oscar, always philosophizing, likened the river to life. With its bends and currents, one still needed to plan ahead. A year away from the office and far from the field of Architecture, Oscar realized, he needed to plan for the future. River guiding was a wonderful experience; he had no regrets, yet he was busy making other plans. Today Oscar is still an avid outdoorsman. He skis just about every winter and spring weekend. In the summer, he and his wife Mishelle, enjoy climbing in the Cascade Mountains of Oregon and Washington. At least once a year they travel to another country.
In the late 1990's Oscar moved to Portland and established a stable of clients as a freelance architect and practiced his trade in Oregon and Washington. He later got married and decided to explore real estate. This was not, he explained, a far departure from Architecture. In the midst of his research into the world of real estate investing, he joined several real estate associations and began networking. He learned a great deal about creative financing, how to talk to clients, how to look for real estate deals, and before long, Oscar began combining his knowledge and zest for yet another adventure.
Ever since he started in real estate, Oscar's focus has been in the pre-foreclosure market. When he started in 2003, there was plenty of business. Then, at the peak of the real estate bubble, there were fewer deals but were easier to flip. Now, at the end of 2008, when this bio was last updated, and for the foreseeable future, the majority of the real estate market is distressed property. Because of this, Oscar decided to become a real estate agent as well. He believes that to succeed in real estate, a professional needs to have as many options as possible. For him, to be a licensed agent at the same time as an investor is a plus. According to him, "it is about either being an agent or an investor, it is about being effective, and act according to the situation"...the main thing is to provide win - win - win solutions to resolve a situation. Sometimes it is better to act as an investor, others to act as an agent..." Oscar adds that the distressed property and short sales business is about "earning well by helping others, not inheriting problems".
Oscar's has a saying:
"In real estate, the more you learn, the more you earn"
Oscar believes that real estate, to a large degree, is a knowledge business. That is why Oscar is always in a quest to learn more and be more capable. It is very important to be up-to-date with the skills needed to succeed in whatever the current market conditions are. For Oscar two things are needed to become good at something:
Practice in the real world. This is where the rubber meets the road. Teach others. To help someone be good the teacher has to be excellent.
In addition to all of the above, it is very important to mention Oscar is not only extremely capable; he is very pleasant to work with. You will greatly enjoy doing business with him as client, investment partner or student of one of his courses. If you need to reach him contact at oscar@bestshortsales.com.
Oscar Morante's Blog Posts
Real Estate Sales and Marketing
–

about 11 years ago
Real Estate Best Practices
–

over 5 years ago
Real Estate Best Practices
–

over 11 years ago
Real Estate Best Practices
–

over 11 years ago
Certifications
Advanced Real Estate Concepts, LLC was founded by Oscar Morante in 2004. The company's mission is to acquire over-mortgaged properties that have gone into pre-foreclosure by getting lenders to discount debt in order to mitigate risk of loss at auction. Oscar has developed proven techniques and strategies for success through short sales investing.
While continuing to develop his real estate business, Oscar is sharing his success with others through his educational seminars. Oscar's Short-Sales A-Z seminar was developed based on practical experience and dedication to solving problems.
Based on overwhelming demand, Oscar has developed Short Sales A-Z Online. This brand new class provides you with in depth knowledge and step-by-step instruction on how to perform profitable short sales. Now you will be able to learn the art and science of short sales from any time you want, and from the comfort of your home and office. Access to the online class will be any time you want for as many times as you need. You will learn immediately how to increase your earnings by applying this high demand expertise.
See Course Overview
Details and an Exclusive Discount Offer Coming Soon!
Short Sales A-Z Online is for the serious foreclosure real estate professional. Among the main subjects of this seminar you will learn:
How to identify short sales opportunities as agent and as investor Be selective in order to only engage in profitable opportunities. Quickly set aside time wasters Dominate the subjects of ownership, collateralization and foreclosure Create win-win-win scenarios for all parties involved Properly time short sale actions Effectively negotiate with creditors Exit strategies that close
SAVE TIME & GAIN VALUABLE KNOWLEDGEwith Oscar's Short Sale Products These exceptional short sales products will give you the tools you need to successfully complete every step in the short sale process
Short Sales A-Z Online Video Course Downloadable Short Sale Tools Trustee Sales Online Video Course
Oscar can help out anyone across the country who wants to learn how to successfully execute a Short Sale.
Visit his Short Sale Website full of <a href=http://www.bestshortsales.com/>Short Sale Resources</a>
www.bestshortsales.com www.oscarpdx.com www.rapidforeclosuredata.com www.shortsalesprocessing.com
Introducing a fresh new look for your Profile.
Click the 'Edit Profile' button below to enter 'Edit Mode' and continue the tour.