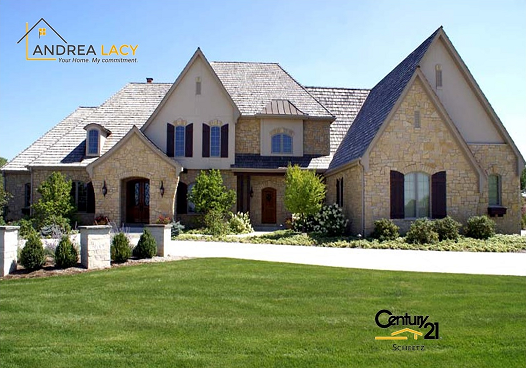 Get to Know Andrea Lacy
I grew up in the Indianapolis area and started my sales career at the age of nineteen, as a sales assistant for Arbor Homes and then for AIMCO properties. I continued on the path and received my real estate license in 2005, while also working in the legal field for 13 years. I have worked in many facets of the industry representing sellers, buyers, investors, trusts/estates, in both residential and commercial markets. I am also known for being confident and no-nonsense professionalism, all while willing to listen, advise and guide rather than push. I currently resides in Fishers with my two children. When I'm not working I love to travel, spend time with family and friends.
Certifications
Accredited Buyer's Representative (ABR®) -Designation;  e-PRO® -Certificate
Brad Untrauer
01/28/2016
Without question I would recommend Andrea to anyone buying or selling a home or needing any kind of real estate service. For what you will want and need in a Realtor, she will check everything off your list and then some. She knows the market; she's available by call/text/email at seemingly any point, day or night; and always working with my best interests in mind. Andrea will easily surpass any expectations you have for even a good Realtor.
Angela Hwang
06/01/2015
Andrea is amazing! She was very professional and best person I have ever worked with. She helped with our first time home buyers from start to finish. She was very helpful and made our homebuying experience very easy. She did everything above and beyond!!!!! I would HIGHLY RECOMMEND Andrea to everyone! Thanks again, Andrea
Rebecca Cleary
05/18/2015
Andrea was great! She helped us buy and sell, which we had not done in 25 years. She helped re-familiarize us with the process, pointed out pros and cons, and stressed areas to which we needed to pay special attention. She is very knowledgeable, professional, and a pleasure to work with! I recommend her highly! She knows how to get the job done!
Christine Lawrence
02/23/2015
Andrea made our search for an investment property stress-free. She had every detail on every property and thoroughly answered all of our questions--no matter how simple or silly they sounded. She has a strong work ethic and always had a smile for us--in spite of the bad weather or the number of properties we wanted to see. We received almost daily updates about new properties coming on the market. This young, energetic lady made our property search a lot of fun. We are a bit sad that we found what we were looking for. We do not get to see her as much.
Monica & Bradley Linn
02/04/0016
My husband and I had been renting apartments for 10+ years. We finally said enough is ENOUGH! Neither of us had ever owned a home and had no idea where to begin. We decided to take a chance and I signed up our contact information on RealtyQwest.com, Not thinking anything of it... within 24hrs Andrea Lacy reached out to us.We had lots of questions and we didn't understand any of the terminology. Andrea was very patient with us and she continues to help us even after the closing. We weren't easy on Andrea, she showed us places all over Indianapolis (from downtown, east side, south side, and finally the west side). We were all able to work as a team and we found our home in less than 5 months. Once we found a home, Andrea assisted with finding a home inspector and getting quotes from contractor's to assist with the home purchase. We recommend Andrea's expertise and professionalism to anyone who is looking to buy or sell a home. I hope she is still in the industry if and when we look to move again!