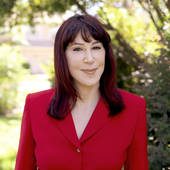 By Wendy Rulnick, "It's Wendy... It's Sold!"
(Rulnick Realty, Inc.)
For Administrative Professionals Day, so I took my wonderful Rulnick Realty administrators, Rachel and Beth, to lunch.  We decided on Tommy Bahama's restaurant in Grand Boulevard in Sandestin Florida, since it was on the way to our new listing in Holiday Shores.  The ambience at Tommy Bahama's is what I call "plush".  Throw pillows, dark wood, rattan, and paddle fans make it feel like a rich Caribbean vacation.  The food is what I call "sumptuous". We started with the Big Island Goat Cheese as an appetizer.  It was a cone-shaped pile of crumbly goodness, glazed with soy and covered in macadamia nut crumbles.  The cheese came with some of the most delicious, crispy flatbread I ever had.  (If no one was looking, I could have eaten it all). For lunch, we had the Chicken Salad Junkanoo (wh...