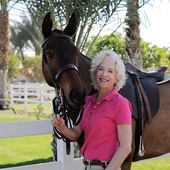 By Kimberley Kelly, SFR, HAFA, GREEN, I do Real Estate like I played polo-to WIN!
(HK Lane, Christie's International Affiliate, 760-285-3578)
HK Lane Real Estate, with offices in La Quinta (my home office), Palm Desert, and Palm Springs, has won the prestigious Christie's International Affiliate of the year award for 2014. A great honor for a relatively new real estate company in the Palm Springs Valley. I joined HK Lane about five years ago in its first year!  There were originally about 35 agents and two brokers; very experienced brokers. There are now about 150 agents between the three office locations. I love doing deals with other HK Lane agents because they are always done well.  I've been in real estate for 13 years and I firmly believe that an agent can only be as successful as the brokerage behind them. HK's owner, Harvey Katofsky (HK), and it's two brokers, Ron Gurlich, and Gene Darr, are always available for consu...