Real Estate Product Reviews on ActiveRain
Here's where you'll find a community willing to share their experiences with everything from computers to coaches and from contact management software to virtual assistants. If there's a real estate-related product or service, we'll have reviews for it.
Consider this patch of ActiveRain real estate your water cooler. Gather around it and talk to you colleagues – get and offer advice. We hope this will be a forum for both teaching others about what you know and for learning from the rest of the ActiveRain community.
What products or services work for you? Don't be shy -- we'd love to hear all about them and spread the word to help all ActiveRainers move on to the next level in their businesses.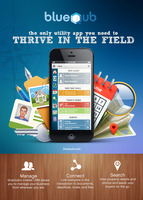 Product Reviews for
BlueQub
BlueQub Overview
(
Bluequb is a productivity tool that is super easy to use and does a ton! It has a really easy design and has Contact Management, Transaction Dashboards, File Sharing, Property Routing, Mileage Tracking and more. And, as far as I know it's the only one that syncs with your app and desktop.
Subscribe
Submit a Review
BlueQub Reviews

Honolulu, HI
Real Estate Agent
Submitted on 04/16/2014
At Blueroof 360 they provide online tools for Real Estate brokers that help them recruit and retain ...
more
This review has not yet been rated

Scottsdale, AZ
Real Estate Agent
Submitted on 11/30/2016
The other reviewers who have used BlueQub are very enthusiastic about the product - for example "At ...
more
0.00 % thought this review was helpful

Salt Lake City, UT
Real Estate Agent
Submitted on 02/07/2014
I use it many times every day. It organizes all of my clients and files and I can invite my clients ...
more
50.00 % thought this review was helpful

Andover, MA
Real Estate Agent
Submitted on 01/01/2017
There are many in the field - and this one adds one more to it. We all need websites, and we all ne...
more
This review has not yet been rated