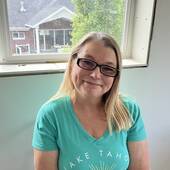 By Katerina Gasset, Amplify Your Real Estate & Life Dreams!
(The Gasset Group & Get It Done For Me Virtual Services )
Jackson Hole Wyoming is one of my favorite places in the world. It is a touch of heaven here on earth. After we stayed at Yellowstone we drove around, up and then through the Tetons into Jackson Hole.    As we drove around the windy roads we stopped at this overlook. The views were outstanding. From the viewpoint I was able to take this photo looking into the valley of Jackson Hole. What an amazing vista, a feast for the eyes.      There is this friendly western atmosphere when you drive into the town. I could hear the 'awe's from our family members in the car as we entered into the town. It is one of those places where you want to stay a while. Like my dream is to be able to stay there through late spring after the snow is melted to the end of fall before the snow falls again one year ...