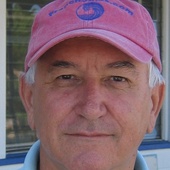 By Dustin A. Peters, Your "Northend & Gardens" Contact in Ocean City!!!
(Goldcoast Sotheby's International Realty)
Northend 1BR/1BA Condominium ... 845 Stenton Place #2 in Ocean City, NJ   Just reduced to $229,500 ... this is an attractive condo on Stenton Place, the next to last street before the beginning of the Gardens.  Only steps to the beach, a short minute and about the same distance to the start of the Boardwalk on St James Place. This unit is part of an 8-unit condominium complex called the "Stenton Arms."  This is on the ocean/beach side of the unit with its own outside deck set.  The unit includes a good size living room with appropriate sitting plus a television.  The kitchen is also open to the living rooom and has seating for four with a round table.  The laundry is also enclosed in a closet in the kitchen.  In the back of the unit one finds a door to the bedroom and to the bathroom pl...