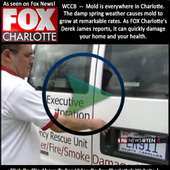 By David Snell 704.545.0098, CERTIFIED MOLD INSPECTOR, CERTIFIED MOLD REMOVAL.
(WWW.ExecutiveRestoration.Com)
  Here is the second part of the flood disaster I outlined in the previous article. This part will focus more on the remediation process that had to take place. It was a timely process, and the family was definitely put through a lot as well. In the end, though they pulled through great and were able to happily move back into their homes.   As I proceeded with getting the homeowners moved into a hotel, I discovered that returning all five condos back to normal status would be a battle that was going to be more difficult than any other challenge I had experienced before.  The interesting issue from a cosmetic standpoint was that the hardwoods installed were floating hardwoods, which means that the hardwoods are a tongue and grove application over a foam moisture barrier.  Water is the wo...