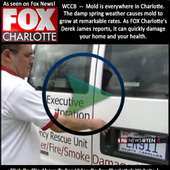 By David Snell 704.545.0098, CERTIFIED MOLD INSPECTOR, CERTIFIED MOLD REMOVAL.
(WWW.ExecutiveRestoration.Com)
We use our washing machine to wash our clothes.How many people ever think,  about washing the washing machine,  in an empty load.   Do enough people realize, that everything, has to be cleaned?  Do people realize, that everything gets dirty and many things can even grow Mold and the growth has a way of building up with growth and dirt and debris if you do not maintain your washing machine.  So, when was the last time you cleaned, your washing machine.  Let's find out. David Snell gets a clean rag, some white distilled vinegar, some baking soda and gets them ready to use.  He starts off wiping the outside of the washing machine with a damp rag that has a big of white distilled vinegar on it.  He wipes the inside of the unit with it as well as the outside and this includes the back of the...