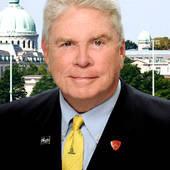 By Pat Ogle, Associate Broker,CRS,GRI,ePRO - SEMPER FI!
(Long and Foster Real Estate)
Here is so information from my monthy e-News Letter Native plants are plants that have adapted to the geography, rainfall levels, and climate of a particular region. Native plants occur in communities, that is, they have evolved together with other plants. As a result, a community of native plants provides habitat for a variety of native wildlife species such as songbirds and butterflies. Who doesn't like those? The reason you might want to consider incorporating native plants into your landscape is that they provide a beautiful, hardy, drought resistant, low maintenance area to your landscape, while benefiting the environment. Native plants, once established, save time and money by eliminating or significantly reducing the need for fertilizers, pesticides, water, and lawnmowers. Which ...