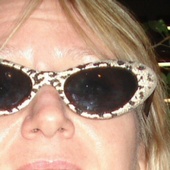 By Loretta Buckner, Your GREEN Real Estate Consultant For Life!
(Real World Properties, Inc.| Your Real Estate Consultant for Life)
Eco-Friendly Design and Retrofit   Challenge is right-sheesh!  I took a couple of looks at Brad Pitt's Make It Right project plans, and said to myself:  "Self," ('cause I do not speak to myself in abused vernacular), "...much as I love the concept of green building, and appreciate what Mr. Pitt is doing up there in the Ninth Ward...those houses are just, well-BUTT UGLY, mostly."  Sorry, designers-I guess there were probably reasons I did not myself go into architecture...I am reminded in looking at these plans of the song "Little Boxes"...   So, what to do for this contest of janeAnne's-one I'd really like to sink my green teeth into, really I would-all of my spare ponder moments this year so far have been spent in the pursuit of the Great Green Dream-in my case, how to retrofit my own ...