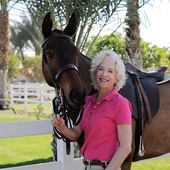 By Kimberley Kelly, SFR, HAFA, GREEN, I do Real Estate like I played polo-to WIN!
(HK Lane, Christie's International Affiliate, 760-285-3578)
Where in the world is Vista Santa Rosa, California?  When Canadians come to the Palm Springs Valley, and they come in droves to escape their cold winters, I would venture to say that not a single one of them knows where Vista Santa Rosa is.  I would go even further and say that many Palm Springs Valley residents don't know where it is either!  How can that be? Vista Santa Rosa is an unincorporated approx. 20 mile stretch of rural land in the Eastern Coachella Valley.  Date Farms, agricultural fields, horse training facilities, polo pony breeding farms and wide open land..that's Vista Santa Rosa.  Bordering Indio on the North, La Quinta on the West, Thermal on the East, it's a little world all it's own.   Only a 15 minute drive from the heart of La Quinta, when you are in VSR, it feels l...