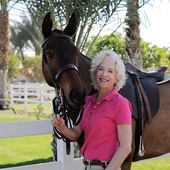 By Kimberley Kelly, SFR, HAFA, GREEN, I do Real Estate like I played polo-to WIN!
(HK Lane, Christie's International Affiliate, 760-285-3578)
You really are walking in a winter wonderland, if you're lucky enough to either live in our beautiful desert Valley, or if you're a visitor!  The weather outside is far from frightening, in fact it's absolutely amazing.  Clear skies behind majestic mountains that overlook wide open spaces.  All of the cities in the Palm Springs area come alive during the holiday season.  Palm Springs offers its tour of modern homes , as well as it's village shopping area, on Palm Canyon.  If you move just a little bit more towards the center of our Valley, to the cities of Rancho Mirage, Palm Desert, and Indian Wells, you've got to take a drive down our beautiful EL Paseo Dr., which is so festive and sparkly.  Sculptures line the median of EL Paseo, and ribbons and lights welcome holiday shoppers.  EL P...