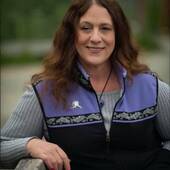 By Debbie White, I Sell Alaska!
(Southeast Alaska Real Estate)
Gustavus58.24 North - 135.44 WestGustavus is a community of approximately 420 people about 60 miles northwest of Juneau.  It is fondly known as the "Gateway to Glacier Bay National Park".  Gustavus lies on the north shore of Icy Passage at the mouth of the Salmon River on a huge outwash created by the receding glaciers.  Most of the area is relatively flat compared to the rest of Southeast Alaska.Surrounding Gustavus on three sides is the Glacier Bay National Park and Preserve, with it's majestic mountains and of course, glaciers.  The ocean encloses the rest.  The park encompasses 3.3 million acres and features 16 tidewater glaciers.  Over 350,000 people visit Glacier Bay each year, but most stay on their cruise ships.  It is also a great place to study glaciers because the glacial rec...