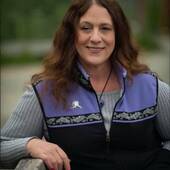 By Debbie White, I Sell Alaska!
(Southeast Alaska Real Estate)
A few weeks ago, I was definitely unsettled.  My oldest son graduated from Juneau-Douglas High School and while I was happy for him, I was a little down in the dumps because this was the end of a chapter.  I've since tried to embrace that it's the beginning of another, and I'm getting there!  Thank you to everyone for your thoughtful words and concern as I poured out my heart to the world.Part of the healing through this was spending my son's 18th birthday with him at this special property.  The sellers kept asking if I'd made time to go visit, and it was finally warm enough to really enjoy.  Samson turned 18 on Memorial Day.  After getting permission from the sellers to camp on the property, we loaded up the little boat with all the gear and enough food for an army.The boat ride from A...