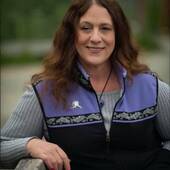 By Debbie White, I Sell Alaska!
(Southeast Alaska Real Estate)
    Elfin Cove 58.11North 136.20 WestElfin Cove lies on the northern shore of Chichagof Island, 33 miles west of Hoonah and 85 miles west of Juneau.  It is tucked into a safe harbor on the northern corner of Chichagof Island.  Only a few miles off the Gulf of Alaska, it offers spectacular fishing of safe inside waters, or a short boat ride to the open ocean where the really big fish live.  Halibut over 100 pounds are caught all season, and occasionally well over 300 pound trophy fish are brought in by lucky anglers.  These large fish are the breeding stock, so limits are strictly enforced.  (Most locals prefer to keep fish in the 35-80 pound range for that reason.)  King (Chinook) and Silver (Coho) are abundant as well.The community, built mostly around the inner harbor, has no streets,...