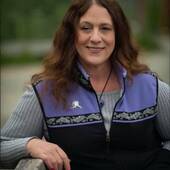 By Debbie White, I Sell Alaska!
(Southeast Alaska Real Estate)
 About a week or so ago, I was in Haines.  I heard about a humpback whale mamma and her calf spending a lot of time near the harbor.  Oh, how I wish I could have been there for this!  Notice the whale watching boat.  I hear they never left the dock, telling the passengers it wasn't getting any better than this!Then, a few days ago, my husband sent me this link.  Jay is a friend of ours who takes excellent still shots, in fact I keep several of his photos on my computer.  My favorite is of our boat.  Anyway, Jay is a charter boat captain and had quite the fishing trip.  If profanity offends you, turn off your speakers.  If you've ever caught a really nice fish, though, you'll understand why!http://vector.xyxx.com/~contortion/fish/Jays%20Orca-Salmon.mpgOh, how I love Alaska in the summer!...