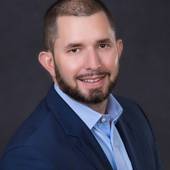 365768
Mortgage and Lending
Phil Stevenson, CRMP
"Mortgage Nerd" in Miami, Florida and Texas
Miami, FL

—

PS Mortgage Lending 305-791-4874 or 888-845-6630
14100 Palmetto Frontage Rd Ste 104
Miami Lakes , FL 33016
---
We specialize in VA Home Loans & Reverse Mortgages.
Get to know Phil Stevenson, CRMP
CRMP, Certified Reverse Mortgage Professional, 1 of approximately 160 in the U.S.!
HABLO ESPANOL
I have been in the Mortgage Business since 2005.  I spent 8 years in the US Army Reserve and was deployed to both Afghanistan and Iraq as a Staff Sergeant.  I have a bachelors in International Relations specializing in Economics, and Minors in Economics and Geography.  With this education background, I learned to reasearch what ECONOMISTS (not reporters) say about the real estate market, interest rates, and economics from the world level down to the local city level.  This is imperative to understand what is truly going on in Real Estate and Money Markets.  My education and experience therefore allow me to give highly thought out and educated advice to my clients. 
Below is my Bio, which goes a bit more in depth:
Phil Stevenson is 1 of approximately 100 Certified Reverse Mortgage Professionals (CRMP) in the United States, and currently sits on the Ethics Committee of the National Reverse Mortgage Lenders Association (NRMLA).  
Born and raised in Miami, Stevenson is always taking the lead and trying to find new ways to succeed. With over a decade of experience in mortgage processing, origination, recruiting, and managing other mortgage professionals, Stevenson has a broad understanding of the mortgage process from beginning to end. He began focusing solely on Reverse Mortgages in 2008. As a reverse mortgage originator in Miami, he has closed and funded over 300 reverse mortgages. Phil was a top producer during 2009 and 2010 in a company that was ranked #2 in all of Florida and #25 in the entire U.S. in early 2010 for Reverse Mortgages.  He was also a top producer for a top 3 lender in the US, just before he opened his own company in Florida in 2012.  PS Financial Services has since become one of the top Reverse Mortgage Companies in Florida. 
Stevenson earned a bachelor's degree in International Relations with minors in Economics and Geography from Florida International University. Studying interest rates, money supply, and amortization tables has given him in-depth knowledge of past, current, and projected issues in the industry. His economics degree gave him a phenomenal knowledge base that allowed for a seamless transition into the mortgage business from the military.  As a veteran of the wars in both Afghanistan and Iraq, family values, honesty, and integrity are of utmost importance to him. 
Seniors who are in desperate need for financial help, in danger of foreclosure, and/or seeking alternative ways for retirement planning have seen Stevenson as a shining beacon of hope. Strategically creating relationships with financial professionals, he is able to assist homeowners in the areas of estate tax savings, prolonging the use of or need for retirement funds, and taking advantage of a largely unused asset, your home. As a father of two, Stevenson is dedicated to improving his clients' quality of life, when it matters most. 
Phil Stevenson, CRMP's Blog Posts
Mortgage / Finance
–

almost 2 years ago
Mortgage / Finance
–

about 2 years ago
Mortgage / Finance
–

about 2 years ago
Mortgage / Finance
–

over 2 years ago
Certifications
My specialization is in Reverse Mortgages (clients over the age of 62).  For more info on the Reverse Mortgage program and video and written testimonials from my closed clients, please view my website www.TheReverseExpert.com
I go out of my way to educate my clients on their loan programs and what to expect over the years to come as their mortgages, taxes, insurance, associations dues, etc. may change.  A lot of my work comes from referrals so that I can dedicate myself completely to my clients before, during, and long after the mortgage process.
ABOUT REVERSE MORTGAGES:
When I first heard about the reverse mortgage, or Home Equity Conversion Mortgage (HECM), I only learned negative things about the program. I later came to realize that these were all myths or misunderstandings about the way the program used to work.
Today, lenders and mortgage companies who offer the Reverse Mortgage are highly regulated by the federal government's lending and housing arms, the Federal Housing Administration (FHA) & the US Department of Housing and Urban Development (HUD). This loan is also insured by FHA, protecting the current homeowners as well as their heirs.
There are only two upfront costs, if any. The first is your HECM Counseling, which is usually given over the phone by a third party FHA approved counseling company. Offering an unbiased explanation of the program, the company helps you understand every aspect of a reverse mortgage. The other upfront cost is the appraisal of your home, paid directly to the appraisal management company. All other costs are rolled into the loan amount.
It's no secret that the reverse mortgage has higher costs than most types of mortgages (this has changed over the last couple years with new programs at much lower cost), but it also offers a benefit that no other mortgage offers - the ability to borrow money without EVER having to make payments until you pay off the entire loan or move out of your primary residence.
Below is some in-depth information coming directly from the FHA & HUD websites with reverse mortgage help. This is general information that will help you understand the process a bit better. After reading this, I can provide you with specific details as to how the program would work for you and the benefit (or loan amount) you qualify to receive.
FHA Reverse Mortgages (HECMs) for ConsumersThis section explains the requirements, how it works, costs, and repayment.http://www.hud.gov/offices/hsg/sfh/hecm/hecmabou.cfm
Top Ten Things to Know if You're Interested in a Reverse MortgageI can elaborate on these questionshttp://www.hud.gov/offices/hsg/sfh/hecm/rmtopten.cfm
Home Equity Conversion Mortgages for SeniorsThis is the home page that you can go to and see all the links on HUD's related to the program.http://www.hud.gov/offices/hsg/sfh/hecm/hecmhome.cfm
Testimonials for Phil Stevenson, CRMP
Carlos Villanueva, CRM Managing Broker - Prudential Florida Realty

09/23/2013

When it comes to persistence, professionalism and getting the job done right, Phil Stevenson is the mortgage banker you want on your team. He did a great job with financing the purchase of our family's second home. Thanks Phil!

Mary Jo Arena - Lauderdale Lakes, FL

09/23/2013

"Did you ever wonder how certain things happen? I had been doing a lot of praying lately. I needed financial help but didn't know which way to turn. As I was walking into my kitchen from out of nowhere the title Reverse Mortgage came into my thoughts. I knew nothing about the subject so naturally I went directly to the Internet. It was a matter of a couple of minutes after entering my phone number that I received a call from you Phil Stevenson. You explained in language that I understood just what Reverse Mortgage was.

You might say that you were an answer to my prayers. I was truly surprised when you offered to come to my home and explain in person what Reverse Mortgage is all about. It turned out to be just what I needed. You further explained how it helped your grandparents.

It took about four weeks to complete all the paperwork involved. I must say you had to really have patience to deal with the likes of me with my many questions. You were always ready with your knowledge and helped ease the situation waiting to close.M

Now that it is over, I can say it was worth it. I can rest knowing I made the right decision with your help."

Bill Anderson & Mabel Vasniles - Florida Keys, FL

09/23/2013

Phil, we appreciate the time and effort you gave to us in the reverse mortgage process. You were very timely and everything you told us was spot on. We would not hesitate to recommend you to others. It was a very good experience."

Celia & Louis Huertas - Miami, FL

09/23/2013

"I wish to commend Phil Stevenson for executing our reverse mortgage loan so well. From the very first day and all the steps in between, everything went very smoothly. That includes scheduling the appraiser, survey team and all the other necessary steps. The entire process took less than one month. The process was completed with a very quick and smooth closing. All questions were answered quickly and completely during the process. Our thanks to Phil and Mortgage Bankers."

Ray Hoffman - Coconut Grove, FL

09/23/2013

"I have recently converted my existing home mortgage to a reverse mortgage using the services of Mr. Phil Stevenson. He provided me with a mortgage that fits my needs. He set up the counseling, appraisal, inspections, and the nuances of the business world. He did this in a timley manner. He answered all questions accuratley (no waltzing here), patiently, and in detail. He answers phone calls promptly and keeps appointments with no excuses. I recommend him!"

Gloria Lewis - Miami Shores, FL

09/23/2013

"Phil Stevenson was very helpful the whole way through, and went above and beyond in making sure I was able to get the loan and be saved from foreclosure. We started the Reverse Mortgage process over 4 months before we closed because there were issues with the appraisal of my unique style townhouse. But Phil was able to persist and finally get me approved for the Reverse Mortgage. I was able to take out $14,000, and most importantly I can live in my home for the rest of my life without having to pay my $3,300 mortgage payment ever again! Thank you, Phil!"

Cesar Quintero - Fit2Go

09/23/2013

Phil Stevenson is definitely the exception to the general belief about Mortgage brokers. His persistence, integrity and follow through were key attributes that helped me get the best possible results without the usual headaches a Mortgage brings.

He is without a doubt my first stop for any mortgage needs.

Jim Sanborn & Yvette Laine - Ft. Lauderdale, FL

09/23/2013

"My wife and I have been considering obtaining a Reverse Mortgage for over two years and very recently decided to move ahead. We had Contacted other Reverse Mortgage Representatives, but we decided to do business with Mr. Phil Stevenson of Mortgage Bankers. We decided this because a friend of ours recently obtained a Reverse Mortgage for his property with Mr. Stevenson and the experience was a positive one. Our first meeting was in late January of 2010. The meeting was concise and relatively brief. We signed the start up documents, conducted the phone interview with HUD, and the property appraisal was scheduled later in the week.

The property appraisal was in the range that we anticipated. From start to finish the whole process took less than 4 weeks. We are pleased with the service and knowledge of Mr. Stevenson and are pleased with the final results. We would strongly recommend Phil to anyone that would be considering to obtain a Reverse Mortgage."

Jose L. Roces - Financial Professional

09/23/2013

"I've had the honor of calling Phil Stevenson a friend now for about 15 years. He is with out regard one of the most professional and honest individuals I've ever encountered. His integrity and commitment to customer service is unparalleled to anyone else in his field. I had the opportunity of seeing first hand what a professional he is when I referred my Aunt and Uncle to him when they had asked me about doing a Reverse Mortgage. Phil met with them and with great patience carefully explained the entire process pointing out the pros and cons of a Reverse Mortgage. He answered all questions they had and was very thorough during the entire process. Everything worked out perfect, no surprises along the way. My Aunt and Uncle were able to walk away with a considerable amount of cash to make their retirement years much more comfortable then they originally anticipated. What really sets Phil apart is his attention to detail and willingness to go the extra mile. After my Aunt's closing had passed she called Phil to ask a question about a letter she received from the bank regarding her insurance coverage. Since she lives in a condo the document that she needed to provide the bank needed to come from the condo association. Phil took the time to contact the association on her behalf to obtain the document and submit it to the bank for her. It's because he does extra things like that with out any hesitation I continue to refer business over to Phil. Thank you Phil for being such an outstanding professional and great friend."

Jason F. Aref - Financial Professional

09/23/2013

I wanted to take a moment and thank you for all the work you did to help the referral I gave you. After fighting long and hard to get the client approved, when it seemed almost impossible to get her approved. When the client first met with me, she was considering bankruptcy or some other way to restructure her debt. Now that you helped her with the reverse mortgage she no longer needed to take the hard road of bankruptcy and courts.

Thanks for all you do.

Introducing a fresh new look for your Profile.
Click the 'Edit Profile' button below to enter 'Edit Mode' and continue the tour.