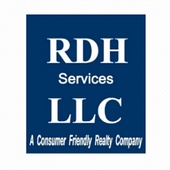 Real Estate Agent
Ralph & Martha Howard
Company Owners
Knoxville, TN

—

RDH Services, LLC dba The Home Buyers Realty
Our services offer an alternative to the high cost of traditional real estate services. We don't ask you to pay a BIG Commission only an affordable Flat Fee.
Get to know Ralph & Martha Howard
We offer professional and affordable Flat Fee Home Selling and Home Buying Services
Ralph Howard the owner and managing broker of the firm has been working full time in residential real estate sales for over 22 years. After obtaining his real estate license it only took him a short time to realize the power of the MLS. After closing a few home sales it was also realized that the listing agent was not the essential ingredient in the sale of the home - It was the MLS in his opinion. While working in the same office with other Realtors listing homes for a hefty commission and writing ads that portrayed them, the listing agent, as the reason their listings sold, Ralph was busy developing a more systematic approach to buying and selling homes in Middle Tennessee. His goal was to make the whole process more efficient and affordable. He developed his listing service to allow his homeowners to participate more in the marketing and to benefit financially with a reduced listing commission when the property sold. He did not market himself as being the primary reason that his listings sold. He marketed his listing services which was simply a guide to doing certain tasks at the right time to market and sell a home while using the MLS. He ran into one big glitch in his efforts to market his services. His broker would not permit him to market any of his services at a reduced commission or fee. After changing Real Estate firms, Ralph went on to register two trademarks to help brand his services. One was for sellers named SELLWISETM and one was for buyers named BUYWISETM. Each service had a handbook that Ralph wrote to streamline the communication between himself and his sellers and buyers. The BUYWISETM Service was geared to saving his buyers money when financing and buying a home. It included a mortgage loan analysis that compared several mortgage loans on a Microsoft® Excel program that he developed. Depending on the underwriting requirements, loan program ratios, closing costs, down payment required and the mortgage payment, the buyer could easily compare several mortgages offered by several lenders within a few minutes. This saved time and allowed the buyer to proceed immediately with shopping for a home that matched their price range and loan requirements along with the buyer's wants and needs. The BUYWISETM Service also emphasized that the buyer carefully consider the home's pros and cons. Much time was also devoted to explaining why a certain home being considered might not be the right home for the buyer in the long run. His buyers seemed to appreciate this no pressure, pro-buyer approach and relationship. All buyers were given the BUYWISETM Handbook and Ralph's broker was given a copy of the handbook which consisted of many checklists. His traditional commission based broker seemed to approve of the handbook but the franchise company for the firm came back after looking at the handbook and asked - Why would you want to bring attention about anything that could discourage the buyer from purchasing a home? Ralph told them "Wouldn't you rather have a completely satisfied buyer than one that wasn't?" They never answered the question but it was assumed that the main focus should be to sell real estate. Ralph soon realized that with his mindset and passion for providing pro-consumer real estate services, he would need his own real estate firm requiring him to have a Tennessee broker's license. This came about as soon as he was eligible to sit for the broker's exam and become a licensed Tennessee real estate broker. The early years of his real estate career as a broker were limited geographically to serving buyers and sellers in Middle Tennessee. The last decade, with the popularity of the Internet and home computers, has allowed his fee for service company to provide flat fee services for buyers and sellers statewide. Currently RDH Services, LLC dba The Home Buyers Realty uses a team approach with over 60 years of combined experience to serve 66 TN counties with Flat Fee MLS services and 95 TN counties with Flat Fee Home Buying Services. All our flat fee services are geared to helping buyers and sellers be more efficient and effective when buying or selling their home. All our services offer more customer/client involvement, more opportunities to benefit financially, and to have more choices. A good example of a seller wanting more choices is the owner of a multi-million dollar estate near Knoxville with a residence and commercial property combined. She previously had it listed with a full service real estate company for several months, but was disappointed that it was not being marketed internationally. The seller plans to market her property using her own resources to foreign buyers. She felt she could do a better job herself than what was previously being provided by the full service company. Our company will market via our flat fee listing through the local MLS, Realtor.com and numerous US sites and the seller will market to international buyers. Besides the potential to save thousands of dollars she feels she is marketing to 100% of her potential buyers for her unique property whether it be a commercial or residential buyers. SELLWISETM and BUYWISETM Flat Fee Services are designed for today's realty consumers who don't want the expense or conflicts of interest traditional real estate agents and brokers have when working for a commission. Our customers and clients appreciate our guidance and opinions that come from years of experience with selling residential real estate in Tennessee. We have two goals.1. To save all our customers and clients considerable money on the real estate transaction.2. Provide professional home buying and home selling services that are efficient and effective. We accomplish our goals by:1. Removing the fat in traditional real estate services and expensive commissions which can affect bringing a buyers and sellers together for a win-win transaction and experience.2. Using our years of experience and today's technology to provide real estate services with professional results. To learn more about our accomplishments we invite you to view our SOLD HOMES.
Ralph & Martha Howard's Blog Posts
ActiveRain Community
–

almost 6 years ago
ActiveRain Community
–

almost 6 years ago
ActiveRain Community
–

almost 6 years ago
ActiveRain Community
–

almost 6 years ago
Introducing a fresh new look for your Profile.
Click the 'Edit Profile' button below to enter 'Edit Mode' and continue the tour.