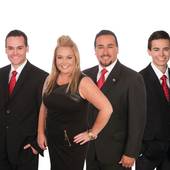 Real Estate Agent
Team Duckworth
Burnsville, MN

—

Keller Williams Preferred Realty | Team Duckworth

Keller Williams Realty Inc.
"SuperAgents 2012" - We will get it SOLD! We do the work and are accountable. We stage and manage the property when necessary; as well as market agressively and think outside the box to get it Sold!
Get to know Team Duckworth
We are a top producing Team at Keller Williams Preferred Realty out of Burnsville, MN.  We sell homes in the greater Minneapolis and St Paul surrounding areas.  Team Duckworth, LLC was founded in 2004 by Erin and Steve Duckworth while at another brokerage and have been in the Top 1% in sales ever since.  We are committed to finding each of our clients their new home and negotiating to their best interest in each and every deal.  We are at home at Keller Williams and are confident in the benefits it adds to our service level for our clientele.  We won't rest till we find your new home because we feel we are only as good as our last transaction, and we are ready to prove it!  Give us a call today at 612-568-3825 and we will help you get your DUCKS in a row!
Certifications
Specializing in:
* First Time Home Buyers
* New Construction
* Luxury Homes / Waterfront Properties
* Focusing on Lakeville, MN but know surrounding suburbs equally as well.
Testimonials for Team Duckworth
"How can I begin describing why Steve and Erin are the best realtors ever? It's like trying to pick just one reason why you love Christmas; it's a culmination of things. From day one, Erin and Steve have been nothing but honest, hard-working, and fun. They are also experienced, available, and knowledgeable. My husband and I are the luckiest homeowners because we had them working for us.

Erin and Steve were initially suggested to us by my good friend and coworker, Carly Porter. After confiding in Carly that my husband and I were ready to buy a house, she suggested we go with "her guys." Instead of jumping right in, my husband and I decided to "interview" the Duckworths. We wanted to make sure we felt comfortable and could be honest with them. Our first meeting in August was very down-to-earth. We asked them questions and they asked us things like whether we knew what style of house we wanted or what suburb(s) we wanted to live in. Our answers were no and no. Thus, we started from ground zero. Yet, in 3 short months we found our dream home, closed on the property, and moved in!

As I mentioned before, there are three main reasons why we love the Duckworths. First, they are honest. They explained the pros and cons of several styles of homes and various suburbs. They also told us whether they thought a home was priced accordingly. They were never pushy or demanding. Instead, they let my husband and I make opinions about a house on our own, and if we wanted their opinion, they would willingly state it.

One concrete example of their honesty was when we fell in love with a house in Maple Grove. It seemed perfect: great neighborhood, great updates (brand new kitchen!), and a pretty big lot. However, after Erin did more research, we found out the house had been remodeled due to a small mold problem. The Duckworth's could have allowed us to continue falling in love with this house, but instead, they were honest enough to say, "We can find a better one." Initially, I was sad to take it off of our list, but they were right! There were so many better, bigger, and more beautiful houses on the market.

We also value the Duckworth's hard work ethic. Let's be serious, it's not easy working every night and weekend, but they do it with a smile. I know we probably looked at homes that they internally rolling their eyes at, but they never made us feel bad for looking. They were eager to show us homes, even on a few hours notice. We loved knowing we could email or call them at any time of the day, and they would be right there. Their customer service is impeccable. My husband and I both work in sales, so we have pretty high standards. Thankfully the Duckworths exceeded these standards. Not only were they working with us, they were working for us. They found homes for us to look at that we never would have otherwise. To be honest, the house we bought was a house they picked out for us. Erin said, "We just have to see this house in Burnsville. When I saw the listing's pictures and price, I immediately thought of you." And she was right! :)

Another example of Steve and Erin's work ethic came after we bought our home. I venture to guess that most real estate agents say goodbye after closing the sale; however, Erin and Steve continue to work with us months after moving in. Being first time home buyers, my husband and I are pretty green behind the ears. To put it bluntly – we had no idea how to turn the outside water off. We were nervous the pipes were going to freeze, and so Erin and Steve came right over. They helped us make sense of all the facets in the utility room. They've also helped us take our Christmas card picture and introduce us to people in the biz – plumbers, carpet and duct cleaners, etc.

We also adore Erin and Steve for their upbeat personalities. I know I got a little depressed when we toured houses I just "knew" would be our first home. (Photos can be so deceiving!) Thankfully, the Duckworths were there to keep us going. They were positive in telling us to keep looking; that our first home was out there.
After we closed on our house, my husband and I were sad to say goodbye to the Duckworths. We knew we wouldn't be seeing them as often anymore. However, we all made a conscious decision to stay in touch. We're now Facebook friends and we even went to a Timberwolves game together.

In conclusion, we have genuinely enjoyed every moment spent with Erin and Steve. We feel very fortunate to have worked with them. From Day 1 they have been a dream come true especially for us first time homebuyers. Going into it, we didn't know anything, but we now feel very confident and proud of our purchase. Thank you, Erin and Steve! We will surely miss the frequent emails conversations and Saturday morning open houses. Yet, we'll always have Facebook!"
Introducing a fresh new look for your Profile.
Click the 'Edit Profile' button below to enter 'Edit Mode' and continue the tour.