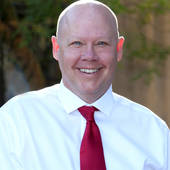 NRDS 145506173
Real Estate Agent
Stew Keene
Voted Highest Level of Customer Service
Scottsdale, AZ

—

United Real Estate Scottsdale
"Honest, Responsive, Knowledgeable & Trustworthy", words used to describe my real estate services from the mouths of my clients. One of the highest rated 5 star realtors on Yelp independent reviews.
Get to know Stew Keene
The links below to my review page speak for themselves.  I provide a very high level of service and it shows.
5 Star Yelp Reviews   5 Star Zillow Reviews
Let's face it, Realtors are very abundant and choosing the "right" Realtor can be a daunting and challenging task for anyone seeking help these days. So, how do you know when it's right?
Here's 3 things for you to keep in mind when selecting a Realtor:
First, do you like the person that will represent you? Remember that you are going to spend quite a bit if time with your Realtor and you need to be comfortable around them.
Second, how have others felt about their experience with their Realtor? Customer testimonials are a key to knowing whether you found the right Realtor, so always ask for those.
Third, do they have the knowledge and confidence to represent you? Knowledge is always a powerful tool. Always ask what credentials they carry and the type of properties they have had experience selling or purchasing.
Remember that cooperation, understanding and knowledge are the foundation for a great working relationship.
Thanks for stopping by!
Stew Keene - eXp Realty
North Phoenix and Scottsdale Area Specialists
Stew Keene's Blog Posts
Home Buying
–

almost 5 years ago
Certifications
5 Star Yelp Reviews  5 Star Zillow Reviews
Arizona Realtors are only required the minimum if 24 hours of continued education to maintain their licence every two years. So, we can still be licensed, but our level of education will vary from Realtor to Realtor.
Most choose to just do the minimum, but not me. Last year alone I had accumulated over 140 credit hours of continued education courses and was granted the "Master of Real Estate" credential from the Department of Real Estate in Arizona. 
What I choose to do is to continue to stay informed by attending elective courses, symposiums that cover land use or developmental changes that directly effect our community.
A better educated and informed Realtor means I offer more than just a license.
My list of Credentials starts with the MRE (Master of Real Estate) and continues with the ABR (Accredited Buyers Representative), GRI (Graduate of the Realtor Institute), CNE (Certified Negotiation Expert), ePro (Internet Savvy Professional) and AHWD (At Home with Diversity) training for multicultural understanding.
Most Realtors seasoned and new would love to have a list of credentials this long!
And...The list keeps growing!
Testimonials for Stew Keene
Part negotiator, part navigator, part adviser, part advocate, all professional.

As a first time home buyer. Stew had the patience and resolve of a Saint. We found Stew through trusted close friends that had a great experience working with him. My wife and I thought we knew what we wanted, but Stew guided us through the home purchase and was always one step ahead of gauging our true needs in a home. He was happy to let us know that certain homes weren't right for us even if it extended the home search time frame. He always put us first and made sure that we were getting the best value and property for our money.

He helped us through the many pitfalls usually associated with a first time home purchase, and made sure things were always on track. Working with Stew we felt as if we were his only clients as he always made the time to pick up the phone, or meet us if we happened to find a property sale sign up in an area outside of our original search bounds.

Stew changed the way I feel about real estate agents. He added value to our home purchase. If you want to double down on value, I fully recommend working with Angie for your loan, you'll save yourself many night's worth of sleep and a whole lot of hair. Stew is the best possible mix of old fashioned and completely up to date. He's honest, hardworking, has a great knack for feeling people out.

I reactivated my Yelp account just to write this review. I consider Stew a friend and would actively ask anyone I know looking for a home to reach for his number first with no hesitations. I tried to warn him that I wasn't the easiest buyer that he'll ever meet, but he rose to the occasion and made it seem effortless. Thanks again Stew!

Stew took care of our family as a friend more than just as a realtor. We were moving to phoenix from Ohio and our process was a long one. Stew kept us informed and limited our stress levels with his expertise. I would recommend him to anyone looking for a realtor who is honest, passionate, and driven toward positive results.

I am grateful to Stew for helping my wife and I find a home in the Phoenix area. Stew was extremely professional throughout the whole process. He is very tech-savvy and is very knowledgeable. He was always a phone call or text message away when needed and helped us understand the whole escrow process. In short you can't go wrong with Stew as your realtor. We are very happy with our home purchase and owe that to his five star professionalism.

I found Stew through Yelp and let me say that the reviews are 100% true! Stew is very personable and is very helpful. My husband and I were trying to look for a home in the Scottsdale area and we had a short timeline. Within 3 months we were able to find a home and believe me that was not an easy task coming from out of state. Stew is very professional. He is there with you throughout the entire process. He very quick to respond to emails, phone calls, and is tech savvy. All of our documents were done electronically. It was really simple!

Stew is also very attentive and is informative. There were a few homes we looked at where he pointed out some flaws or concerns with regards to the location or the structure. I did not feel rushed, nor did I ever feel he was just trying to make a quick sale. Stew is an outstanding realtor and I highly recommend him to anyone interested in buying a home in the phoenix area!

I HIGHLY RECOMMEND STEW KEENE. You will not go wrong with this guy. Knowledgeable, witty, patient, resourceful and an all around top notch professional.

My wife and I found Stew Keene thru Yelp! reviews. We highly value the opinions and experiences that others share on Yelp. My wife tells me all too frequently that I have becomes OCD when it comes to researching any and everything that is important (to me or us) whether it is a big purchase or even a smaller one that really matters to us for whatever reason. In this instance it REALLY paid off for us.

I contacted Stew and had to leave a message. He returned my call in about 5 minutes. I told him that we were in the market for a house and told him our base price need and general location. I also told Stew at the beginning of the call that we were interviewing 2 different realtors and would decide in the next 48 hours who we would use. He was very attentive and then began to ask intelligent, thoughtful questions to get a better understanding of our needs. At the end of the call, I had a really good vibe about Stew and was ready to make my decision. Being the good husband that I am I told Stew that I would talk to my wife and let him know... Needless to say, we went with Stew and we really could not have made a better choice no matter how many Realtors we interviewed.

We had a couple of very specific requirements that were must haves in our home. We wanted to be close to my wife's job, we had to have a house with two living areas, we had to have a pool. All of those seem pretty basic... Stew set up a website portal for us that he would drop houses onto that he thought may meet our needs. He also encouraged us to drop houses onto the website. He was very thorough in his selections as well as reviewing what we placed on there as well. He would never presume to remove a house that we put on the portal but he would on occasion tell us the price was higher than it should be, the neighborhood was sketchy or any other piece of information that he knew. If we still wanted to see the house, he was more than willing to show it to us.

I HIGHLY RECOMMEND STEW KEENE. You will not go wrong with this guy. Knowledgeable, witty, patient, resourceful and an all around top notch professional.
Stew must have physically shown us 50 houses over the course of 3-4 weeks. He never lost patience and he would not let us get frustrated with the process. He was literally there for us at any time we had a question or need. We finally found the perfect house about 1 mile from Old Town Scottsdale. He was able to negotiate a great deal for us and was very attentive to us and helped to lessen the pressure that comes with this final piece of the process.

For most people, buying a new home and moving can be stressful. Doing that and moving 1500 miles from your "lifelong home base" creates a whole new catagory in that regard. After many, many years of motorcycle trips to the Southwest, my wife and I started our 5 year plan on relocating and retiring to this area a couple of years ago.

5 year plans are great. However, real life has a way of making them need to be adapted to new realities. Such was the situation we found ourselves in two years ago. Realizing that at a point, time becomes more valuable than money, we reassessed our strategy and the 5 year plan became the "new revised" 2 year plan.

Now, just how do you go about relocating to an area half a continent away where you have none of the benefit of the connections a lifetime of living in one area brings you?

This is where it became interesting. reviewing homes on various sites, I found a few I wanted to learn more about. Alas, after a few homes were viewed on any of the sites, I was left with the option of "signing up" or moving on to another site. I knew what that meant, here comes the sales call. Well, I really wanted to continue on with my search so I signed up, the call came from Stew.

What followed was the most amazing purchasing experience I've ever been part of in my 56 years, either as a seller or a buyer of anything. The voice on the other end of the phone (Stew's) was the surprise of my lifetime. We made an immediate connection and I was completely put at ease with his reassurance that there was no pressure and that he was used to helping people make these major life changes, Stew told me this was what he specialized in because he had found he was great at it.

Understatement of the millenium as far as I'm concerned.

Stew spent hours learning about my wife and I and what we were hoping to achieve. Next, he set us up on a home search portal allowing us to see any properties in the areas we had determined would be of interest to us. Tricky stuff as we didn't really know, Stew just helped us determine that by LISTENING to us.

A few months passed and soon we realized it was becoming "now or maybe never" to chase our dream home as the market was changing again. We flew in to meet Stew and we had come to feel it was almost to good to be true in regards to the personal connection we had formed. Reality proved better than fantasy as we spent two days visiting various areas and crazy as it may sound, I felt like I had known Stew all my life.

We returned home confident we were on the right track with our choice of Realtor, now what? Can you really commit to a house over the internet on the word of someone, (no matter how much of a connection we felt) or do we have to fly down everytime something looks "right"? Houses were moving so fast at that point, that wasn't even realistic. We decided to go with our instincts. Some potential houses came and went and with every one, Stew went out and gave us a complete video tour of each property as well as his personal feelings as to the properites suitability for our goals, along with his own personal findings about the property and area. Stew kept looking for us and in a short time found the home of our dreams, so we made the commitment long distance to buy. Stew sent us a video of the home so we could see what we were buying. It was a great video that allowed us to "feel" the home. A month later before closing we came down to do our personal inspection and what we found was the house he had located for us was far more than the video or his descriptions could have ever provided to us. In short, if anything, he downplayed what a wonderful property it was. We signed the papers. I would also be remiss in not giving special thanks to his wife Angie Keene for working out our financing. Making a 5 year plan into a 2 year plan created some obsticles that she was a wizzard in helping us work through. Thank you Angie.

Of course, that isn't the end. In the three months before we could move in, appliances needed to arrive, pools and property needed to be maintained. Guess who took care of all that? Stew

Today I'm proud to call Stew my best friend. Anyone looking for as low stress an experience in buying a house as could be hoped for, much less doing it while being several states away, couldn't do better in picking a Realtor than Stew in my opinion. Thanks Stew, you ARE the MAN!!!


Stew is amazing...from the first email to the first phone conversation to our first face to face meeting. He is extremely knowledgeable about the real estate market in the Phoenix area, but more importantly he was very good at helping us see the good the bad and the ugly with the properties we viewed. I would be remised if I didn't mention how organized and timely Stew is. He truly loves what he does which includes helping people like me and my wife find the perfect place to call home.

I have had the pleasure of working with Stew Keene since early 2012 when I started the search for my home in the Scottsdale area. I closed on a place July 2013 after making offers on several homes and looking at probably close to 15 homes. Despite the challenging market conditions, Stew made the process less stressful and is an absolute expert in the field. He listens closely to the customer, has an incredible level of patience, and had my best interests in mind at all times. He routinely goes above and beyond the customer's expectations and since I was out of town quite often, he would many times take video of the property with direct, no bull feedback. I highly recommend Stew for any of your real estate needs, you will not be disappointed! Plus, he's just a cool dude!

I always depend on Yelp and truly depend on the reviews so when I was looking for an investment property out in AZ I jumped on Yelp and found Stew, all 5 stars. I called him up and explained what I was looking for and he knew exactly my price range and the TYPE of property and neighborhood I wanted to buy in so he started his homework and I immediately started receiving MLS's. Being that I live in CA i really had to depend on him to drive around ALL OVER and he did! Every single MLS I was interested in or 'thought' I was interested in he was all over it and gave me his honest and forthright opinion. Once he found the 'perfect' property and said 'THIS IS IT!' that's where the real work began. Let's just say there was soooooo much drama ranging from the seller's agent to the loan processing that I wanted to just give up at one point, but Stew would not give up for me! He is very direct and tells you like it is, so when he said outright that we can do this VERY STERNLY I let him do his thing and we FINALLY CLOSED in the nick of time!! His wife Angie is great as well as she was handling the RIDICULOUSLY stressful loan application but with the two of them working together, they make a great team!! Stew is always in a great mood and not only does he build a relationship with his buyer, but makes sure he develops one with the seller so the whole transaction goes smooth even with the bumps in between. So if you are looking for the PERFECT realtor look no further! I can attest that Stew Keene is the man!! And once again thanks to Yelp!

Stew went above and beyond! There are no words to describe how grateful I am for his help through my relocation process. He made everything go more efficiently and smoothly than I ever thought possible. He is so very thorough and detail oriented. I cannot recommend him more highly!!!
Introducing a fresh new look for your Profile.
Click the 'Edit Profile' button below to enter 'Edit Mode' and continue the tour.