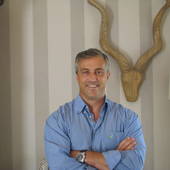 Education & Training
Steven Johnstone
More money. Fewer hours. Better Clients.
Boise, ID

—

stevenjohnstone.com
Helper of real estate agents worldwide to make more money, in fewer hours, with better quality clients. Giver of lots of free things at www.stevenjohnstone.com. Lover of (almost) all estate agents.
Get to know Steven Johnstone
I teach a proven system for real estate agents to generate a consistent flow of warm, pre-qualified leads!
MY CLIENTS GENERATE 15-25 REFERRALS EVERY MONTH, MAKE MORE MONEY, WORK FEWER HOURS AND WORK WITH BETTER PEOPLE.
_______________
"After being close to burnout I joined Steve's coaching program. In the first three months my turnover rocketed to 35 million." - Mike Kershaw, Two Avenues Properties
_______________
Get a free 50-minute video training session on working by referral here: stevenjohnstone.com
My world famous 50 minute referral system training seminar.
A FREE 48-minute workshop on how real estate agents can transition their businesses to working predominantly by referral.
Testimonials for Steven Johnstone
Leigh de Wet (Good Living Properties)

12/26/2016

After 12 months on this program I now predictably receive 25 - 35 referrals per month. From 3 - 5 January, normally a slow time, I picked up five exclusive listings from people on my database. Many of them wanted to start the transaction while I was away in December but were willing to wait until I got back!

Mike Kershaw (Two Avenues Properties)

12/26/2016

After being close to burnout I joined Steve's coaching program. In the first three months my turnover rocketed to R35 million, but surprisingly I'm more in control than ever. I now receive between 20 - 25 referrals per month and in the first month of this year I turned over R111 million! The accountability and focus that my coach has brought has been key for me, benefiting not only my business, but also my family and all I hold dear.

Trish Sutton (RE/MAX Midlands)

12/26/2016

As a direct result of one of these referral strategies I generated 43 referrals leading to 5 sales and 10 listings and ended up getting my business in the local press! With Steven's system you spend 100% of your time and well-earned money working only by referral, and you are not the typical estate agent any more.

Zarita Pinter (Realtor® of Excellence)

12/26/2016

Steve's system has changed my life. I don't do show-houses any more. I work exclusively by referral. I can even take time off my business and people wait for me to get back. The last time I went on holiday I returned to 7 referrals waiting for me to get going with. It's an awesome, awesome program!

Desiree Moodley (Zone 9 Properties)

12/26/2016

I just started my own agency at the time of attending Steven Johnstone's course. It left me feeling a little more motivated but I was still expecting a catch. I decided to sign up for the coaching program and my confidence and success grew in leaps and bounds. The results have been phenomenal. This month alone I have 11 properties on my books, 9 of which have been referrals straight off my database!

Daleen van der Linde (Linprop Realty)

12/26/2016

Thanks to this system I have 8 listings at the moment and have had to double the size of my adverts! I have never had so much stock in my real estate career.

Benita Basson (Acutts)

12/26/2016

One week after sending out my first value items I received 6 referrals and within the next two weeks I sold 3 houses.

Zanna (Kayaramina Properties)

12/26/2016

With my first 31 calls using the Database Primer Dialogue I got six quality referrals which gave me two new developments to sell, three residential listings and one residential sale! I am thrilled and I can see that the program is really working!
Introducing a fresh new look for your Profile.
Click the 'Edit Profile' button below to enter 'Edit Mode' and continue the tour.