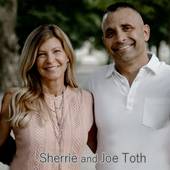 2001004197
Real Estate Agent
Joe and Sherrie Toth
The #1 Apple Valley Lake Team
Howard, OH

—

RE/MAX Consultant Group | Apple Valley Lake

RE/MAX International Inc.
The Only Apple Valley Lake, Ohio real estate focused team, in the World!
Get to know Joe and Sherrie Toth
We list and sell a lifestyle at Apple Valley Lake Ohio!! Specializing in waterfront, water view, golf course and apple Valley full time and 2nd homes. Joe, myself and our team have a niche website that features lifestyle living at Apple Valley Lake! We have been #1 in Apple Valley sales since 2017 and lakefront sales since 2006
I grew up in the real estate industry. I like to say that I've been selling real estate since I was 6! I hung out with my grandmother who was a top producer in the Cuyahoga Falls, Ohio for years then eventually retiring from the business at the age of 90. My grandmother used say; "I give my clients more than what they expect" This quote has always been the staple of our business. Agents can sell the same product. We stand apart from others with the service that we deliver, focusing on Apple Valley homes and lots and taking excellent care of our clients, has earned us numerous local, state and national awards.
Joe and I bought our first weekend home at Apple Valley Lake in 2000. Loving the lake lifestyle and the community so much, we now live on the lake full time. We enjoy introducing folks to the area and to the joy of living the lake lifestyle. It's easy to sell what you love and believe in.
We work hard to master the market, serve our clients, and stay strong in our faith to serve each person in our path! Joe is a township trustee, local firefighter, paramedic and on the Apple Valley board of directors. These ties and trust of the community, is just what a client needs! 
Joe and Sherrie Toth's Blog Posts
|
Real Estate Sales and Marketing
–

4 days ago
Real Estate Sales and Marketing
–

11 days ago
Real Estate Sales and Marketing
–

11 days ago
Real Estate Sales and Marketing
–

4 months ago
Real Estate Sales and Marketing
–

10 months ago
Real Estate Sales and Marketing
–

12 months ago
Real Estate Sales and Marketing
–

11 months ago
Real Estate Sales and Marketing
–

9 months ago
Featured Video
Apple Valley Lake Amenities
Testimonials for Joe and Sherrie Toth
Testimonial Page Updated:

12/27/2019

" Joe and Sherrie helped us in the sale our Apple Valley lake home. Sherrie's attention to detail and obvious understanding of the lakefront were beyond our greatest hopes for a Realtor. Importantly to us, when we had difficult decisions to make, she was informative and patient. We have and WILL continue to refer her to our colleagues and friends!' Dr Barry and Brenda George


How fortunate we have been to have had the pleasure of Sherrie's patience and expertise throughout the search and purchase of our lakefront home. We appreciated Sherrie's knowledge of the lake and the surrounding community, as well as her familiarity with each of the properties she showed us. Sherrie was such an expert when it came to understanding our needs and priorities and had been so prompt in notifying us when new listings became available. Sherrie's calm efficiency, clear communication and attention to details made it possible for us to overcome challenges. This made the entire process of choosing our home very exciting and successful. Sherrie indeed is the "waterfront specialist"! John has hired and trained literally hundreds of Real Estate agents during a 33 year career as a broker/owner in the Toledo area, and there are only 2 or 3 realtors who come to mind as being superior professionals. Sherrie, ranks at the top! We are so grateful to have had her to represent us and are thrilled to be new homeowners at Apple Valley Lake. It has been a pleasure to have gotten to know Sherrie and work with her. We send our sincere thanks for all her patience, integrity and support. John & Cheryl Wakelin

We feel extremely lucky we used Sherrie to find our lake house. Being a resident of Apple Valley, Sherrie is extremely knowledgeable about the community and the amenities. We were considering two different lakes for our new home and Sherrie sold us on Apple Valley Lake. Not only was Sherrie very patient in showing us many homes and working with our schedule, but when it came to actually purchasing the home, she definitely looked out for our best interests. We highly recommend Sherrie for anyone selling or buying!! Kevin & Heather Sorensen

Sherrie is the gal who is earning a name for herself. I am in the commercial real estate business in the Cleveland area. When it came to choosing an agent, I have extremely high standards. In preparation to sell, I had been watching the Apple Valley market and the agents for the last year. Sherrie stood out from all the other agents that work lakefront and the second home market. I especially liked that she is a local in Apple Valley and that she knew her market and area very well. Sherrie lists in multiple Mls's, her office location is a magnet for buyers, and the Toth website is the best! Sherrie is super creative with marketing as I see others trying to follow suit. My home sold quickly and the transaction was super smooth. Sherrie's communication was top notch and when I needed her, she was available! I have already recommended her services to another property owner and will continue to do so in the future. If you are in the market to sell or buy, Sherrie IS your girl! David O'Neill

Buying any lake related property can be difficult and challenging as they tend to be unique. Retaining a professional who knows the lake market is crucial in getting the best deal and, to sort out the good prospects from the bad. Sherrie Toth represented us for our purchase at Apple Valley. Sherrie was very knowledgeable and knew the market cold. Her service was over the top as she made the whole process, from selection to the purchase through the close easy and worry free. Sherrie took the time to get to know us and to listen to what we were looking for. She worked with us and took care of every detail. We recommend Sherrie without reservation. Keith & Karen Blosser

My wife and I had the pleasure of working with Joe and Sherrie on the recent purchase of our summer vacation home in Apple Valley and it is my distinct pleasure to recommend them to you. We began our search in Apple Valley with limited resources and knowledge of the area. Upon our first meeting with The Toth's, we came to understand not only thier vast knowledge and experience in real estate, but thier local market knowledge, being a current resident of Apple Valley. The no-pressure style of working with clients was refreshing. As we neared the close of our home and came upon a few wrinkles with our stated contingencies, Sherrie and Joe were upfront and honest with us, never once pushing us towards a 'sale'. I felt as though they were truly on our team, as we navigated through to mutually agreeable terms with the seller. I would recommend Joe and Sherrie without hesitation and it was our privilege and honor to work with someone of thier integrity, patience, knowledge and expertise . Mark & Kerry Kolde

We have bought and sold homes in California and Connecticut prior to coming to Ohio. No real estate person has performed more promptly and professionally than Sherrie Toth. From her web-based ad that attracted us initially, to the minutia of offers, counteroffers, inspections and local services, we couldn't have asked for a more attentive and competent person. Apple Valley Lake sells itself, but Sherrie made finding our home and closing the deal, a pleasure. Richard & Beverly Hood

Sherrie is very knowledgeable about Apple Valley real estate. Living on the lakefront herself, she was able to give us valuable information on the ins and outs of owning a lake house which we very much appreciated. She also had the inside track on what was for sale, going up for sale, and the prime Lakefront sites because of her huge network of friends, clients and neighbors. We found the perfect house and enjoyed her enthusiastic personality. Now she is our Apple Valley neighbor and good friend!" Jeff & Joanne Henry

This past winter I decided to sell my lakefront home. Sherrie had seen my "for sale by owner" sign and contacted me about taking a potential buyer through . Within days of showing the house, it was in contract. I was impressed with her knowledge of her clients needs and in her fairness acting as a dual agent. She was in constant communication with me as the details were being finalized. It was extremely beneficial having her live and work in the community. I lived out of town and Sherrie was able to relieve me of having to make numerous trips to town . I felt very fortunate to have worked with her and was impressed with her dedication to her clients and job. Kim Yates

We are delighted to be at Apple Valley and greatly appreciate the realtor services provided by Sherrie Toth in identifying the right home and completing the purchase. Sherrie listened closely to our needs and showed us a home that was an almost instant match. She then showed great patience and applied no pressure as we visited every other lake-front house that was for sale. Once we selected the property Sherrie skillfully guided us through the purchase. The sale was complicated by several factors (aren't they all?) but Sherrie was up to the challenges. She was very professional and respectful as we negotiated an acceptable price, and very knowledgeable and efficient in completing all of the paper work. That is usually where you expect a realtor to end their services, but Sherrie continues to be helpful. She is a trustworthy, friendly person and has a broad network of contacts who can provide services that make home ownership more rewarding). Sherrie is easy to contact, flexible, and very responsive to our needs. She is deeply involved in the community and a great ambassador for Apple Valley. We count Sherrie and Joe as good friends and we would highly recommend them as tops in their professions. Chris & Sisie Cordle – Lakefront Owners

I found out about Sherrie Toth from her web site. From the first phone conversation I knew immediately that she had the knowledge and insight about Apple Valley real estate. She gave me all of the information that I requested and was very thorough. She was extremely accommodating and patiently showed me every house I was interested in. Communication was effortless and she was immediately available via phone, email, and text messaging. She knows Apple Valley because she lives at Apple Valley. By far Sherrie is the best realtor I have ever worked with. Lisa & J. Kevin McGraw, MD

We have both purchased and sold properties over the years with many realtors, but none surpassed or impressed us as much as our experience with Sherrie Toth with Apple Cove Realty. Sherrie really cared about matching the right property to our specific needs. Sherrie is positive, and has a high energy with a passion for what she does. She gave us objective advice as well as some helpful tips, and was never high pressure or impatient; waiting for us to decide on just what we wanted. You couldn't ask for a more caring , friendly, knowledgeable realtor with excellent communication skills that sets her apart from all others. We truly believe that Sherrie helped us to make the right move, and linked us to local utility companies as well as service people in the area which made for a smooth transition. We would highly recommend Sherrie Toth with Apple Cove Realty to handle all aspects of your real estate needs. She is beyond wonderful !!! Oscar & Holly Waddles

When we decided to look for a home in Apple Valley we walked into the Apple Cove Realty office. Sherrie was there and was more than willing to help. She spends a lot of time in the office, so she knows everything about the area. For example, who is selling and who is about to sell. We picked Sherrie to be our agent because she sells more lake property than any other agent. From the offer to the closing, Sherrie was on top of all the details needed to make a smooth purchase. She was constantly informing us about the next steps. And, the purchase went through without a hitch. Service after the sale makes Sherrie a special person. She is always available to answer any questions and makes it a point to tell the purchaser about the area such as the best restaurants. When we need a recommendation Sherrie is the one to call. We were surprised and delighted that Sherrie maintained contact with us after the sale. We consider her a friend and neighbor in Apple Valley! If we ever sell, Sherrie will be the one we call! Ned & Whitney Sale

We began our search for homes last year in the Apple Valley area. In the beginning we were working on our own, but very quickly got connected with Sherrie. From the moment we met her, we knew she would be a great fit for us. As business owners ourselves, we pride ourselves on great customer service and making a personal connection with our clients. Therefore, we also look for that in our business relationships. Sherrie provided just that. She was very easy to contact and had us to showings as soon as she could. She was very personal and easy going. Sherrie went out of her way to make sure that we had seen everything that was available before pointing us in the directions of a builder. We just love the Apple Valley area and excited to move into our home in a few short weeks. Thanks to Sherrie our experience here has been amazing!!David and Karla Banks, Owners of Banks Photography, Dublin, OH

My wife and I had previously spent two summers at the Apple Valley time share units, and we quickly came to enjoy the relaxed atmosphere and the abundance of available activities. When we decided to buy, we received a realtor recommendation from a friend, who had purchased in the area. After contacting the realtor, we were quickly disappointed by the lack of interest in our business and decided to contact Apple Cove Realty. There, we were introduced to Sherrie, who was able to quickly generate a list of candidate homes that fit our needs and schedule consecutive showings. Living in Apple Valley herself, she was able to provide valuable insight about the homes and their locations within the development. As we worked through the negotiations and the closing, Sherrie was always available both by phone and email for any last minute questions. Throughout the entire process, she was pleasant, prompt and shared our enthusiasm in purchasing a new home. When it's time for us to trade-up to a lake home, Sherrie will be our choice! Gary and Christina Theus – Second home owners
Introducing a fresh new look for your Profile.
Click the 'Edit Profile' button below to enter 'Edit Mode' and continue the tour.