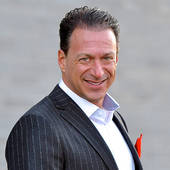 Services for Real Estate Pros
Robert Siciliano
Realty Security and Identity Theft Expert Speaker
Boston, MA

—

IDTheftSecurity.com Inc
ROBERT SICILIANO, CEO of IDTheftSecurity.com is fiercely committed to informing, educating, and empowering Americans so they can be protected from violence and crime in the physical and virtual worlds
Get to know Robert Siciliano
ROBERT SICILIANO, CEO of IDTheftSecurity.com is fiercely committed to informing, educating, and empowering Americans so they can be protected from violence and crime in the physical and virtual worlds. His "tell it like it is" style is sought after by major media outlets, executives in the C-Suite of leading corporations, meeting planners, and community leaders to get the straight talk they need to stay safe in a world in which physical and virtual crime is commonplace. Siciliano is accessible, real, professional, and ready to weigh in and comment at a moment's notice on breaking news. 
His goal is simple – to wake up and empower people across Main Street USA so they can avoid becoming victims of crime. His personal security and identity theft expertise are assets to any program or organization that demands straight talk, common sense, and potentially life and property saving results right now. Whether he is speaking on camera, to a reporter, or sharing his identity theft and personal security stories and tips as a keynote speaker or workshop leader, Siciliano's direct and to-the-point tone of voice can be counted on to raise hackles, capture attention, and – most importantly – inspire and empower action.
He wants people everywhere to do the right things to keep family, data, and property safe. Audience members describe his credible, from-the-trenches advice as life-changing and life saving.
Siciliano's media credentials include hard hitting and provocative contributions to Anderson Cooper, The Today Show, Good Morning America, CBS Early Show, CNN, MSNBC, CNBC, Fox News, Inside Edition, EXTRA, Tyra Banks, Sally Jessie, Montel, Maury, Howard Stern, The Wall Street Journal, USA Today, Forbes, BusinessWeek, Cosmopolitan, Good Housekeeping, Reader's Digest, Consumer Digest, Smart Money, the New York Times, the Washington Post, and many more.
In addition to his role as a frequently quoted television news correspondent, Siciliano is the author of "The Safety Minute:" Living on High Alert – How to Take Control of Your Personal Security and Prevent Fraud." Chief Executive Officers, Chief Information Officers, and Boards of Directors from leading corporations such as McAfee Anti-Virus, Intelius, ADT, Gemalto, RSA, and Uni-Ball Corporation rely upon Siciliano's insights, perspectives, and guidance to bring additional fire power and protections to their system and customer security initiatives.
Each day, Siciliano consumes at least three hours of media. He subscribes to over 500 RSS feeds, and he monitors over 100 Google Alerts to stay up to speed and in the know about all matters relating to personal and information security. "I'm always on top of what is new and ahead of what is next with respect to all things personal security," Siciliano says.
Along his 29-year career path, he's studied martial arts, self defense, human behavior, white collar crime, cyber crime, and identity theft. He's even worked as a bar room bouncer and a personal body guard. His lifelong and personal interest in these subjects is an asset to those who engage and benefit from his expertise.
Security is a wide and deep topic. Security is personal, physical and informational. Robert discusses all aspects of security as they relate to violence and fraud prevention in both the physical and virtual worlds. He can show you how to keep home invaders from assaulting you and taking your family hostage or keeping criminal hackers from accessing your network and downloading client data. He provides topical, timely and cutting edge programs your group needs and wants.
Robert Siciliano's Blog Posts
|
ActiveRain Community
–

1 day ago
ActiveRain Community
–

12 days ago
ActiveRain Community
–

20 days ago
ActiveRain Community
–

about 1 month ago
ActiveRain Community
–

6 months ago
ActiveRain Community
–

8 months ago
ActiveRain Community
–

16 days ago
ActiveRain Community
–

8 months ago
Robert Siciliano's Security Expert Testimonials
Robert Siciliano's Security Expert Testimonials
Introducing a fresh new look for your Profile.
Click the 'Edit Profile' button below to enter 'Edit Mode' and continue the tour.