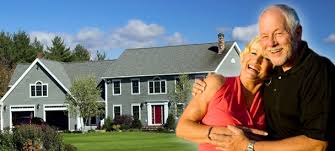 Get to Know Larry Benton, CRMP, CSA
 Tho born in Baltimore, he grew up on Maryland's quiet Eastern Shore, and later earned his degree in Business and Economics from the University of Maryland. Larry currently lives in Annapolis spending much of summer's weekends kayaking and cruising the Chesapeake Bay and tributaries with his wife Karen. 
I have been actively involved in the mortgage industry for over 20 years, and have been helping seniors close the gap between longevity and financial resources since 2002 using the power of the FHA HECM Reverse Mortgage. I am dedicated to educating consumers and their families, financial planners and advisors, real estate agents, and attorneys about the benefits of the HECM Reverse Mortgage Program through his seminars and continuing education classes.
A Message from Larry
"Working with seniors, their families, financial planners, and attorneys is the most rewarding business I have ever experienced.
I have the patience and understanding to help guide everyone involved through the loan process and meet with every senior in person.

Have the heart of a teacher, not a salesperson... always my guiding principle and constant focus of how I interact with my clients; sharing today's Reverse Mortgage tools and planning strategies clearly.  I will show you exactly how the Reverse Mortgage program works, whether it is a viable option for you, and how you can use it to access the equity in your home to fund your retirement or acheive other financial goals.
A reverse mortgage turns your equity into cash, without having to make any monthly payments, for as long as you live in your home or a better-suited home may be purchased using the HECM for Purchase program."
HECM Reverse Mortgage FAQ's
Certifications
Larry is active member of National Reverse Mortgage Lenders Association (NRMLA), The Association of Mortgage Professionals (NAMB), and has earned the designations for Certified Senior Advisor (CSA), and Certified Mortgage Planning Specialist (CMPS); he is active in local supporter of Christmas In April , Habitat for Humanity projects, and other senior benefit organizations throughout the DelMarVa area.
Skills
 As a member of NRMLA, I subscribe to NRMLA's "Pledge to Reverse Mortgage Borrowers" , and hold the Certified Senior Advisor (CSA) designation and code of integrity and professional standards.I am a local, licensed Reverse Mortgage Consultant serving the Mid-Atlantic Region, assisting seniors for over 12 years… helping them make sound financial decisions about their home and retirement,  I meet with EVERY senior, personally in their home.
Urban Financial of America is a FHA Direct Lender and servicer, and the nations largest endorser of HECM Reverse Mortgages. UFA also provides their propretary "Homesafe" JUMBO reverse mortgage, for properties valued to $12 million.

Ernie Grue, SVP at New Windsor State Bank
01/05/2015
Larry Benton is the consummate mortgage professional. He is knowledgeable, professional and honest. He is a great source of information and provides his clients with solutions that are beneficial to their needs. January 5, 2015, Ernie was with Sandy Spring Bank when working with Larry at Urban Financial of America, LLC
Valli Kirimlis, President at Courtesy Title and Escrow Corp
01/02/2015
...There are many individuals who can work in the mortgage lending field. But a specialist in the reverse mortgage market must be someone who empathizes with the senior citizen, he must be an individual who puts both the financial and the emotional status of the client first and foremost. Larry Benton is truly a reverse mortgage loan officer who is vested in the welfare of his clients. He is an individual who can be trusted to protect and take care of senior citizens. It has been my pleasure and honor to work with Larry for over ten years. And I highly recommend him - he's the best!"
Sherry Cash, REMN Renovation Loan Specialist / Mortgage Loan Originator
09/12/2014
I've known Larry for over 20 years and he's been a great mentor and source of information throughout my career in the mortgage industry. Larry has always cared about each one of his clients and has a history of helping them chose the best financing option for them and offering them a level of customer service that is far above the norm in the lending industry. He stays apprised of underwriting guideline changes and is very knowledgeable. I would highly recommend Larry for anyone who is looking into Reverse Mortgage loans. There are a lot of myths out there that are not true and Larry can help put your mind at ease if a Reverse Mortgage is right for you
Carter Heim, CPA.CFF.CGMA, MST, Partner in Heim-Lantz CPA's and Advisors
03/14/2014
Larry's knowledge in Reverse Mortgage retirement planning tools is unsurpassed. He provides outstanding customer service and helps his clients obtain the best possible financing solution for them. He listens well, develops a good understanding of the client's needs, and then develops specific recommendations tailored to the specific person's needs. Larry is your man for Reverse Mortgage retirement solutions
Ralph Watkins, Partner and Developer, Author, Speaker, CofA at KLR Consultants
03/21/2013
"I'm honored to give my highest recommendation to Larry Benton. He is creative, and works to assist his clients through the pursuit and implementation of new methods and ideas. Larry takes action and demonstrates a high level of integrity in his business transactions. I have referred anumber of clients to him for retirement options using Standby Reverse Mortgages with outstanding results and rave compliments. Follow my lead and align yourself with Larry. You'll make an outstanding connection and your business and your clients will thank you."
Shelley Giordano, Chair at Funding Longevity Task Force
03/05/2013
Look out reverse world ! Larry is a mix of old world customer service wrapped up in new world technologies. A thoughtful, dedicated servant to seniors and their families, you can depend on Larry to help solve family problems efficiently.
Marvin Cohen, Reverse Mortgage Consultant / Educator
02/14/0014
"Larry listens, then listens some more. And only when he fully understands the needs or desires of any senior homeowner he works with, he develops the right plan and program tailored to each individual. A trusted professional in the reverse mortgage industry. One of the best. I whole-heartedly recommend him.