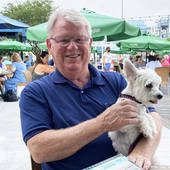 Real Estate Agent
Pete Blondin
Reston, VA

—

ERA Teachers Inc
Active Realtor specializing in Reston. Offering a view of the Reston experience in websites featuring Reston's Lake and Town Center areas and all of its Condos ... I'd love to show you my Reston
Get to know Pete Blondin
Moved to Reston in 1976 ... Yes over 40 years ago.  At the time I was in the Navy working in Crystal City followed by the Pentagon.  In February 1976 we found a group of new homes under construction which were in our price range ... Jan (my wife) and I sat outside at the then Lake Anne Inn ... It was almost 70 degrees ... The lake was beautiful ... We discussed our options and concluded that Reston was such a great looking place ... How could we go wrong?  Signed a contract that afternoon and have been Restonians ever since.
The Navy moved us away from Reston to Monterey California in 1981 for a couple of years ... A beautiful place ... But, as my children put it ... Not home!  They compared every place we saw to Reston and generally found California wanting.   We moved back to Reston in 1983 and have called it home ever since.  In 1985 we moved to our current home on Lake Thoreau in South Reston ... Living right on the lake is a wonderful experience ... It feels like we're on vacation every day ... The scene changes as the days and seasons pass ... Each view a masterpiece.
Became a Realtor20 years ago in 1997 ... Started at Century 21 South Lakes ... Moved to Reston-Homes in 1999 and then found my stride in ERA Teachers in late 2001.  Started building and publishing Websites in 2000 ... 1st site was www.Reston-Area.com ... Followed by www.Reston-Lakefront.com in 2001 then www.RestonTownCenter-Homes.com  in 2002 and www.Reston-Condos.com in 2003.  By the end of 2014 I'll at least one we page devoted to every Reston community.  As of today I've documented 70+ Reston Clusters and condo associations online. 
Pete Blondin's Blog Posts
|
Home Buying
–

7 months ago
Home Buying
–

7 months ago
Home Buying
–

7 months ago
Home Buying
–

7 months ago
Home Buying
–

7 months ago
Home Buying
–

7 months ago
Home Buying
–

7 months ago
Home Buying
–

11 months ago
Certifications
I spend most of my time providing real help to buyers  ...
At any point in time thousands of Northern Virginia homes are offered for sale. Some are brand new ... Others are existing homes. The existing homes might be offered on a straight resale basis or with assumable loans. Additionally, a few are under foreclosure and available under specific programs for your purchase. Regardless of your preference, I'm in a position to help you select and buy the one that best fits your needs. When working as your Buyer's Agent, I'm not concerned with which Realty company has listed a property, only that you have a potential interest in it.
In the Beginning.    I'll be happy to set an appointment for you to come into my office, or to visit you in your home, to discuss how I can help you find and purchase your next home. When we meet, I'll answer your questions and try to establish how far along you are in the Process. After that ... if you're not 100% convinced that our approach is the best possible way for you to find a home ... I expect you to thank me for my time and say good-bye. I'm not in business to make you feel obligated. I want to spend my time working with clients who are really interested in having me help them find their next home.
Timeframes.    If you're currently renting, you should plan on the process taking from 2 to 3 months before you actually relocate into your new home. You ought to read your current lease so that you can make an informed decision about when you can move out without incurring any extra rent liability and its notice requirements. We can set up the timing so that you'll be able to nail down your home purchase contract before you give your landlord notice that you won't be renting any more.
Home to Sell.  If you currently own a home and plan on transferring your equity from it to your next home, I'm able to share lots of ideas as to how to make your move from Home A to Home B relatively stress-free.  We can discuss your situation and possible approaches at our initial meeting. 
Getting Pre-Qualified.    Before spending a lot of time teasing yourself with a lot of homes, you should spend an hour with a mortgage broker to begin the process of getting pre-qualified and then pre-approved for a home loan. Here's a Link to a list of a few lenders who provide excellent service. Getting pre-qualified should give you a good grasp of the price range of homes that you are interested in affording and can get a loan for ... Then it's time to begin the serious search for the right home.
Unless we're pursuing a home with an assumable mortgage, it's best for you get Pre-Approved for a loan before we actually get to the point of writing a contract on a home. Pre-Approval provides a powerful basis for negotiating the best price with a Seller. It puts the value issue where it belongs ... on the question of how much the Seller's home is really worth rather than on the issue of whether or not you'll be able to get a loan. If you haven't already made a connection with a Lender, I can recommend some of the very best in our area.
Finding Your Next Home.    One of the special features of my HomeFinder Service is the way I'll use my computerized systems to identify and feed you information on homes that fit your expressed interests. In fact ... I'm prepared to pass information to you via e-mail, FAX, or paper at least weekly ... For up to a year ... So that you can drive by the homes and their neighborhoods yourself ... And only spend your time actually visiting homes that you want me to take you into. If you haven't already visited the Online Search Page of THIS WEB SITE ... You owe it to yourself to take my 'Online MLS'  page for a drive. Remember ... You won't be visiting homes to please me ... My job is to help you find the home that you want to buy.
Since I'm a Realtor with ERA Teachers, you'll be able to see and choose any of the thousands of homes offered by all real estate companies operating in the area. When we visit a home be sure to give me real feedback on what you liked or didn't like. A good critique helps narrow in on the best choice for you. Buying a home is an emotional decision, when you see the right one, You'll know it right away!  Here's a link to an overview of what's involved. 
Making an Offer.    Once you've found the home you want, it's time to make a written offer before someone else buys it out from under you. You'll need to make an Earnest money deposit (normally about $1,000 per $100,000 in selling price), so you'll need to have ready access to that amount. I'll have already familiarized you with the routine contract forms before we'll need them.
Presenting Your Offer.    Normally, I'll be the one taking the offer to the seller and their Realtor ... That way I'm able to discuss the offer unemotionally with them. I've been very successful in presenting offers and getting them accepted. If the seller accepts your offer ... you've just contracted to buy that home. On the other hand, the seller might change the terms and make a counteroffer to you. Then you're in the driver's seat. If you accept, you've got the home If you counter the counter, the ball is back in the seller's court.
Formal Loan Application.    Once we've got a ratified contract, you'll need to meet with the lender and make formal application for the loan on that home. We also might want to get a Home Inspection set up (if called for in your contract). The results should allow you to feel comfortable with the home or allow me to work with the seller to make the house right.
Homeowner Association Documents.      If the home that you're purchasing is situated in a development that has a Homeowners or Condominium Association ... Part of our contract will require that the Seller obtain and then provide an up to date set of all applicable Homeowner Association Documents.  Under Virginia Law, you are entitled to review these documents and decide whether or not you want to complete your purchase or 'walk-away'.  
Technically, once the 'Documents' have been placed in your hands, you have 3 days to call off the deal and receive a full refund of your deposit.  So ... Both Realtors are going to ask that you acknowledge receipt of these 'Documents' in writing.  If you don't object within the 3 day review period, your option to 'walk-away' is timed out.
The Appraisal.    The lender will order an appraisal and let us know the results. The Appraisal is a formal relief valve which guarantees that you are getting a good price on your home.. If the appraisal turns out to be less than the contracted price, we've got grounds to re-open Price negotiation or walk away.
The Closing.    Once all that's done, it's time to close the deal. This event is actually called the Closing. You'll have the opportunity to go through the property on your way to the closing so that we will arrive with a clear picture of whether or not the seller has delivered on any and all promised conditions. The Closing will be orchestrated by a Settlement Officer or a Lawyer who will walk you through all the necessary documents. I'll be at your side to see that you best interests are upheld. At the end of the closing, you'll be a homeowner.
The closing or Settlement of your Real Estate Transaction will normally take place at a Real Estate Settlement company ... There are quite a few different ones with officers in Northern Virginia ... A few of my favorites are ... http://www.mbh.com/ ... http://www.rgstitle.com/ ... http://www.oldamericantitle.com/ ... http://www.championtitle.com/ ... http://www.keytitleva.com/  ... Go ahead and visit a few of these sites ... You'll open the door to lots of shared experience.  Your offer specifies the Settlement Company you'd like to handle your transaction ... It's your choice.
Introducing a fresh new look for your Profile.
Click the 'Edit Profile' button below to enter 'Edit Mode' and continue the tour.