272617
Real Estate Broker/Owner
Thom Abbott
Midtown Atlanta GA Condos For Sale
Atlanta, GA

—

MyMidtownMojo.com |770.713.1505 | Intown Atlanta GA Condo Living
Midtown Atlanta Real Estate "Can You Feel the Vibe!"....means Midtown Atlanta Real Estate! We LIVE, WORK and KNOW Midtown Atlanta! Learn all about Intown Atlanta Real Estate!
Get to know Thom Abbott

"Midtown Atlanta…Can You Feel the Vibe?"
Atlanta has been my home now since 1994. In fact, it's the longest place I've lived in my life! I've watched vacant lots disappear and become the very high rise condominiums I sell today! I had a once-in-a-lifetime opportunity to be in Atlanta for the 1996 Centennial Olympic Games! THAT was awesome!
Since I started my real estate business in 2004, I've learned "you cannot be everything to everyone." That being said, if I have a Buyer or Seller who wants to buy a home, or list a home in an area of Atlanta I'm not familiar with, I won't do it. Call me crazy…think I am turning away business….NOT! I feel I will do a client/customer a BETTER service be referring them to an agent who knows the area they want to look in. On the flipside of that, I see agents work in my marketplace who have no idea what building is coming up next, or what's going on in the neighborhood.
I specialize in Midtown Atlanta Real Estate! While most of this area is condominiums, I do keep abreast of single-family home neighborhoods close to Midtown Atlanta, so that if my clients want to move from a condo to a home, I know of areas that would fit their needs. Again, I stay Inside The Perimeter (ITP) so I can focus on areas and know more about them. As a result of this specialization, I created MyMidtownMojo.com as a site where you can learn all about Midtown Atlanta AND Midtown Atlanta Real Estate.
It's an elevator ride from home to the street.
Midtown Atlanta is a dynamic, ever-changing neighborhood. Knowing my market, knowing my product, and knowing the area, are what I consider key factors that any home Buyer or Seller should be looking for when they select a real estate agent.

I bring my extensive Marketing and Sales background full circle from the hospitality industry to Real Estate. I previously held Sales positions with Hilton Hotels Corporation, Nikko Hotels North America, and as President and CEO of my own company, Benott Hospitality Group, a consulting firm specializing in small hotels and motels. My marketing experience helps clients market and stage their homes for maximum exposure and maximum dollars!
While helping my clients market their homes, I also enjoy helping buyers find the "PERFECT" home. By listening and understanding what they are looking for, I use the latest technology to help them find their new home. My experience in Customer Focused Service training in the Hospitality industry for 20 plus years gives me a unique advantage when working with both Buyers and Sellers. I determine the needs of my Buyers, find the homes that have those features and benefits they are looking for, and then help them every step of the way, from contract to closing, and all the details in between. For Sellers, I identify the features and benefits of their home so we can market it more effectively.
Let's sit down over coffee or a cocktail, and let me see how I can help you call Midtown Atlanta Home!
Thom Abbott's Blog Posts
|
Local News and Events
–

2 days ago
Home Improvement
–

15 days ago
Real Estate Technology & Tools
–

2 months ago
Real Estate General Information
–

11 months ago
Just for Fun
–

12 months ago
Real Estate General Information
–

11 months ago
ActiveRain Community
–

11 months ago
Home Buying
–

12 months ago
Skills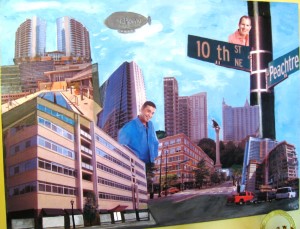 Real estate IS….location, location, location! 
I'm sure you've heard that a thousand times, right?
But that is always applied to YOU the BUYER when you are buying. That you want to buy in the right location. Well, yes that is true.
However, I apply that same phrase to where I work. Meaning, I know the location, location, location called Midtown Atlanta!
I constantly read various publications about what is happening in Midtown Atlanta! What does that mean for you as a Buyer? It means I can stand on a balcony and quite possibly tell you what may or may not be appearing on the skyline in front of you. Of course, there are no guarantees, and the view can change at anytime. But, would you rather not know NOW, there is something planned on a particular lot that could impact your view?
Let me help you find your Midtown Atlanta Condo! 
Testimonials for Thom Abbott
Dear Potential Home Buyers,

When I was ready to buy a condo I dreaded the process of looking and buying. I had been using a website called 'MyMidtownMojo.com' as my primary source for finding condos in my price range and this site seemed to stay updated with all new listings. I decided to contact the realtor who managed this site so I sent in my information and got a call from Thom Abbott within a couple of days. He asked me questions to learn what I was looking for and to narrow my search. Once I was ready we started looking.

Thom always returned my calls and emails. When I found one I was interested in, not only would Thom do his homework searching for all information he could find on the property to prevent me from investing in a condo with high potential for problems and major assessments, he would also visit the place before taking me there to be sure the property was worthy enough to show me.

Thom knew the right people to contact and helped me through the process every step of the way. If I was confused about anything Thom helped me to understand. I never felt alone in the entire process and felt as though I had my advocate by my side at all times. He was there at the closing and he was available even after when I had other questions related to becoming a home owner.

If you are in the market for a realtor who cares about what you want and making your home buying experience hassle free, I highly recommend Thom Abbott. His knowledge and experience will put you at ease and make home buying a pleasant experience.

Thom, thank you for everything you've done for me. It was a real pleasure to work with you! :-)

Jim & Carla Boucher

04/04/2013

Thom Abbott helped us find my daughter, Kara, a great place to live while attending Georgia Tech.
Normally, finding and purchasing a property is stressful and challenging regardless of the circumstance. That stress multiplies when the property is 700 miles away from home and it is for your oldest daughter living away from home for the first time.
We turned to Thom Abbott as our real estate agent, but his assistance went beyond the typical agent role. He did all the things you would expect from an agent. He knew properties, trends, amenities, and transportation options in Midtown Atlanta. He provided market research and fair market prices and ultimately helped us identify the best property for our budget and needs.

After the offer was accepted, he provided potential appraisers and home inspectors. Buying for a distance, he accompanied my daughter on the home inspections. In my daughter's words, "Thom asked the home inspector a lot of questions because he knew my Dad would want answers." he worked with us to smoothly complete the purchase.

Once we closed, Thom continued to help. He helped us identify contractors to take care of minor upgrades on the property. We received multiple quotes so we know we got a fair price. Once the contract work started, he stopped in and inspected the work, found potential problems and had the contractor make changes improving the end result.

He also worked with the condo association to complete our paperwork and helped lease one of our unused parking spaces. Thom Abbott's assistance made purchasing a condo in Midtown Atlanta a very smooth and easy process. We are very grateful for his help.


Read more: http://www.mymidtownmojo.com/testimonials#ixzz2iOg25G8Z

The decision to buy an investment property in Atlanta was a frightening proposition but, with a Georgia Tech student who was ready to move off campus, it made sense to buy rather than rent. Looking for a condo near the
campus, I stumbled upon this website and we told our son to see if someone could show him a particular condo. He did – and our relationship with Thom was born.

What can I say about Thom? Well, for starters, Thom "knew his stuff" – and, if there was something he didn't know, he found out. He knew about the neighborhood, figured out quickly what we were looking for, was patient with all of our questions, serious and otherwise. He listened to our frustrations, offered suggestions, told us it would be okay. And it was.

And, oh yeah, he made me laugh – which has zero to do with buying real estate – but it sure didn't hurt. In the future, if and when we decide to sell, we know who we will call to take care of us – because we know he will!

Thanks, Thom! We love our Viewpoint condo!!


Read more: http://www.mymidtownmojo.com/testimonials#ixzz2iOhxOlHP

Thom,
I apologize for this note being so late in coming to you. I am finally getting settled after my move!

I cannot thank you enough for helping me in buying my first home! Your help and understanding as I waded through the home buying process were truly instrumental in me feeling so comfortable throughout this experience. I had always heard nightmare stories about buying a home; deals falling through; questions not asked; and general frustration with the entire situation, but your personal interest in my experience eliminated every apprehension I had when I started looking. I am so grateful for your time – showing me even the places you knew I would hate-and patience, as I asked what felt like way too many questions.

I am thrilled with my purchase and very much appreciate all that you did to ensure my happiness.

Very truly yours,
Liz – New Homeowner!!!


Read more: http://www.mymidtownmojo.com/testimonials#ixzz2iOgpzShD
Introducing a fresh new look for your Profile.
Click the 'Edit Profile' button below to enter 'Edit Mode' and continue the tour.