Peter Pfann @ eXp Realty Pfanntastic Properties in Victoria, Since 1986.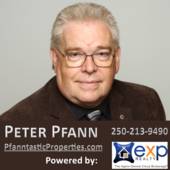 Real Estate Sales Representative
Peter Pfann @ eXp Realty Pfanntastic Properties in Victoria, Since 1986.
Talk To or Text Peter 250-213-9490
Victoria, BC

—

eXp Realty, Victoria BC www.pfanntastic.com
Victoria, Saanich, Equimalt, Oak Bay, View Royal,
Saanich Peninsula, West-Shore
Victoria , BC V8Z 1J9
---
Peter Pfann, @ eXp Realty Victoria, BC. Pfanntastic Victoria Homes Since 1986.
Get to know Peter Pfann @ eXp Realty Pfanntastic Properties in Victoria, Since 1986.
Victoria Real Estate Specialists since 1986 in Greater Victoria Residential Real Estate Sales.
Connect with Peter Pfann and the Pfanntastic Victoria BC Home Team  Today. 250-213-9490.
 For Pfanntastic Victoria Real Estate Results, receive property updates or get to know what you property is worth, checkout www.pfanntastic.com

Peter is a proud member of the Lions Club in Esquimalt and remains active with as many community events and services as time permits.
Peter is committed to education and self-improvement, and Peter has trained many Agents.
Peter is a Licensed Real Estate Agent under the Real Estate Council  of BC.
Peter is a Certified Professional Consultant On Aging (C.P.C.A.) Accredited to assist Seniors with major life decisions as a consultant.
Peter is a Senior Real Estate Specialist (SRES), a designation offered to those who have shown expert knowledge and experience in assisting Seniors with their Real Estate concerns and challenges.
Peter was awarded a Master Accredited Senior Agent  (Master ASA) designation for his continued high standards and commitment to top quality service to seniors, aging and those that assist them.
Peter has been awarded  E-Pro. Certification and has earned an Internet Marketing Specialist Designation (I.M.S.D.) Offering Advanced Internet Marketing Expertise, and Resources, which translates in added leading edge marketing advantages to you as a home seller and or buyer. (while saving money and increasing results).
Peter is also an Accredited Buyer Representative (ABR), having completed extensive education and practical application in offeringhis buyer clients advanced assistance and looking after buyers best interests.
Visit our Pfanntastic Buyer Services Section of our website for tips, assistance and money saving ideas (www.pfanntastic.com)
Peter Pfann @ eXp Realty Pfanntastic Properties in Victoria, Since 1986.'s Blog Posts
Real Estate Sales and Marketing
–

over 1 year ago
Real Estate General Information
–

about 5 years ago
Real Estate Market Trends
–

over 5 years ago
Home Improvement
–

over 5 years ago
Certifications
·         UBC Business Enterprise Evaluation                                 2013
·         UBC Senior Facilities' Valuation                                       2013
·         Internet Marketing Specialist Designation                          2012
·         Consumer Certified Real Estate Designation                      2011
·     M-ASA Master Accredited Senior Agent Designation          2011
·         CSA, Certified Senior Advisor Designation (now CPCA)     2008
·         ABR, Accredited Buyer Representative Designation            2007
·         SRES, Senior Real Estate Specialist Designation                 2007
·         CRES, Certified Real Estate Specialist Designation             1999
·         Classes & programs, related to real estate ethics etc.        1986 - 2015
·         All BCREA Continuing Education Programs (CEP             1986 – 2015
·         BCREA Legal Update programs (CEP)                              1986 - 2015
·         UBC Urban Land Economics (first 2years)                         1988 - 1989
·         UBC Broker & Property Management Licensing Course     1988 - 1989
·         UBC Real Estate Pre- Licensing Sales Person Course         1986 - 1987
·         Completed 3-year Business Management School (Holland) 1978    (non certificate courses)
·         Completed High School in The Netherlands                        1975
·         First Aid & CPR Level C                                                  2015
·         Food Safe                                                                         2014
How Peter Pfann Serves You Best is by Helping You to Surpass Your Victoria BC, Real Estate Goals!
 When you genuinely need to move, we'll help you make a move with confidence, comfort and profitability:
When you're retiring and looking to downsize in Victoria BC. When you're looking for an investment in a future retirement home
When you're buying or selling related to a military transfer When you're financially challenged and need to make a change
When you're dealing with divorce and liquidating a marital home When you're investing in Victoria BC Using our extensive experience and expertise, we're experts at making your life easier during any kind of a stressful transition. 
Even a happy event, such as relocating for a promotion, brings its own kind of stress into your life.
Let us help you through that transition by being your resource to all the resources you will need.  You will receive the education, real estate tools and resource recommendations to make your move a great one.
When You're Selling, Use the Pfanntastic Marketing System!  We've perfected our marketing system over the past 25+ years.  And, we keep refining it to stay current with the ever-changing real estate trends. 
You'll have the current market information you need to set the right price.  You'll get coaching on how to prepare your property for success. 
You'll know whether you should sell first or buy first, based on a review of your unique situation. You'll also have outstanding advertising exposure for your home because our advertising plans change with the times. 
Right now, the Internet is key.  The Pfanntastic team maintains several websites and will advertise your home on all the major real estate portals on the Internet. Since 34% of buyers in our area are from outside the area, a high level of Internet exposure is critical to a successful sale.
When You're Buying, Use the Pfanntastic Buyer System!  Yes, we have a system for buyers, too.  You'll benefit from our in-depth knowledge of the market to help you find just the right home and pay the right price for it.  You'll benefit from our computer searches to help you narrow the field, and our face-to-face searches to make sure we're identifying your true needs.
You'll get assistance with the real estate issues that matter to you, whether it's how to make a home elder-safe, learning the role renovations play in an investment strategy, first-time homebuyer guides, or access to traditional and creative financing tools and resources.
Any real estate transaction is an intricate symphony of activity, often involving more than 20 professionals and 160 separate steps.
This description of our systems just scratches the surface of the level of support we can offer to you. If you really want to achieve and surpass your dreams and goals, call us at 250-231-9490 to get the rest of the story, or use the form below to send an email.
We look forward to helping you experience a Pfannastic Victoria BC real estate transaction! Peter Pfann     We value your privacy. The information you entrust to us will be kept confidential. Your contact information will never be sold to or shared with a third party. There is no obligation.
Skills
Greater Victoria Real Estate Listing and Sales since 1986
·         MS Office (all applications)
·         Video and Photo Equipment & Editing
·         CRM's and Marketing Campaigns
·         Workshop Presentations to 100s and on line
·         Blogging & Social Media Marketing
·         Hands On Construction and Development
·         Renovations and Construction Management
·         Recruiting, Training and Retaining Teams
Testimonials for Peter Pfann @ eXp Realty Pfanntastic Properties in Victoria, Since 1986.
Jason and Maureen

10/08/2012

"My wife and I were recently able to purchase our first home, due largely in part to the exceptional service of Peter and Linda Pfann and the Pfanntastic Home Team.

From an exceptional start their service still got even better. Peter worked around our schedule. The mortgage broker, lawyer and inspector they recommended also provided excellent service. Realizing that first time home buyers are nervous creatures, Peter answered all our Questions and calmed all our fears. Professionalism does not usually require "hand holding" but in a figurative sense, that is what he did. It made our first home purchase extremely easy, which was in direct contradiction to the nightmare we expected.

In short, the high degree of professionalism, competence, and courtesy we experienced with Peter Pfann and the Pfanntastic Home Team made our first home purchase a pleasure. We would highly recommend them to anyone requiring the services of a first rate Realtor."


MRS. Robertson

09/01/2011

"My townhouse had been on the market approximately one year, (with another Realtor). I was frustrated and depressed that it hadn't sold. … Well it sold!!! I feel that without the assistance of Peter Pfann, the sale would not have occurred."

Danielle and Elenore

01/05/2011

We had the pleasure of having Peter help us find a home suitable for our wants and needs and took us to two suitable homes, we choose one.
Peter is very pleasant, courteous and always available via the phone.
We Think he is PFANNTASTIC
Sincerely Dannielle and Elenore
The Happy Home Owners


Jack and Tracy

06/08/2010

"Jack and I both want to thank you for all your work which resulted in the sale of our house. Your energy seemed never-ending. We appreciated all the open houses, tours and showings you arranged. You are a most creative thinker. The many ways you devised to market our home showed this. Your team is excellent; we would highly recommend your services to anyone."

"I could always count on Peter to return any calls, or answer any questions I needed to have answered. He was able to relate any information regarding financial and legal questions that I had. He used layman's terms so I could understand thus making it easier to obtain my goal. Thanks Peter for making my dream a reality."

"We wish to thank you for all your time and effort to facilitate the sale of our property. It had it's particular challenges but we feel you and your company went above and beyond in the promotion and sale of our duplex. Seeing our duplex advertised gave us the satisfying feeling we were in the hands of a professional group. I would not hesitate to recommend you and you firm to any buyer or seller."

Mike and Donna

01/06/2007

Peter has been a friend of us for years and he is the type of guy that get the job done. We really appreciated that Peter was always available to answer our questions help us through the process.
The Team was very professional and we sold our home in no time and found our Dream home, Thank you guys.

Introducing a fresh new look for your Profile.
Click the 'Edit Profile' button below to enter 'Edit Mode' and continue the tour.