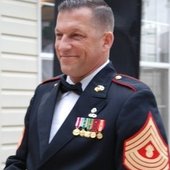 Real Estate Agent
John Brady
Quantico, VA

—

Coldwell Banker Elite

Coldwell Banker Real Estate LLC
FULL-TIME (Full-Service) REALTOR® SPECIALIST: U.S. Military & Government/DNRP - DOD HAP - Corporate Relocation (CNAS, CNRS, CNMS, CNIS)
Get to know John Brady
WELCOME. Serving "You" while achieving your Real Estate Needs & Goals with Honesty, Integrity, Attention to Detail, and Continuous Follow-Up...unsurpassed, is key.
As LISTING AGENT: I will exhaust all means possible to sell your home for as much as the market will bear, and as quickly as possible. A seller should not lose any more than they absolutely must to sell their home. Too...sellers should not lose the opportunity to sell their home before a competing seller.
As BUYERS AGENT: I will exhaust all means possible to help you find the best home for the least amount the seller will bear. A buyer should not pay any more than they absolutely have to. Too...buyers should not lose out on the opportunity to purchase their new "ideal" home to a competing buyer.
PROFESSIONAL EXPERIENCE: 119 (18+ DOD HAP) Settled Transactions = $27,038,961.00 Gross Sales:
8 Mar 2010 - Present: Coldwell Banker Elite, REALTOR® - U.S. Marine Corps (Retired) Settled Transactions: 63 = $18,416,242.00 Gross Sales
Jan 2005 - 7 Mar 2010: Long & Foster Real Estate, Inc., REALTOR® - U.S. Marine Corps (Retired) Settled Transactions: 56 = $8,622,719.00 Gross Sales
11March1977 – 31May2005: Master Gunnery Sergeant (E-9), U.S. Marine Corps
TESTAMONIALS:
"I can't say enough about John Brady. If you want an agent that cares about you and your needs, and won't sacrifice his integrity in the process, John is your agent. He has my highest recommendation as an expert in his field. I have dealt with numerous agents in my years, and he is head and shoulders above anyone I have ever worked with....call him!" Top qualities: Personable, Expert, High Integrity "Professional, dependable, personable, and committed to the customer. John is the best choice for your real estate service needs. He helped me buy my last two houses, my parents used him to buy their house, and I regularly refer him to friends and co-workers." Top qualities: Great Results, Good Value, High Integrity "I contacted John to help me with a real estate transaction when I decided to move to Virginia. John immediately contacted me via phone and email; he found out my needs and then proceeded to provide me with information regarding my inquiry. I would recommend John to anyone one who needs a Realtor." Top qualities: Expert, On Time, High Integrity "John was great! We needed to buy a house and he helped us every step of the way. Top qualities: Great Results, Personable, Expert" We worked with John to both buy and sell our house. He helped us find just the right place, and when it was time to sell, he got it done in no time flat." Top qualities: Great Results, Personable, High Integrity
HONORS & AWARDS. My Honor is ensuring your Real Estate Experience (Sale and/or Purchase) is exercised with the utmost of Care. My Award/Reward will always be your "Genuine Appreciation".
INTERESTS:
FAMILY: Jan (Wife), grandchildren, In-Laws, children, Pets (3 Poodles, 1 Boxer-Pit=Pussy Cat, 2 Parrots (Arrgh), 2 Cats, Tank of Fish, and they all play well together. HOME: Home Ownership - Home Improvement & Repair/Remodeling - Wood Working - Installing Hardwood Flooring - Yard Work/Gardening - Great Book/Story/Movie/Television Show (Hot in Cleveland, Frasier, Golden Girls, M.A.S.H, and Boardwalk) - Commercials (Mahem, Super Bowl, etc.,) - Music - Fireside Meal/Chat - Enjoyment in Good Tasting Coffee/Tea (in Tinker Bell Cup...because I can), or a premium tasting Beer, or Wine. COOKING: Home Made "Stone Soup" especially Mushroom & Clam Chowder - Corned Beef in Crock Pot (Low & Slow) - Watching Emeril, Anthony Bourdain, and Andrew Zimmern on Travel Channel. OUTDOORS: OBX (hooked) - Swimming - Snorkeling - SCUBA Diving - Water Skiing - Jet Skiing; Snow Skiing - Ice Skating - Hockey; Baseball - Softball; Wilderness Camping & Warm Fire - Fishing - Hiking (Spring, Autumn & Fresh Falling/Fallen Snow) - Splitting Wood (Spring & Fall) F/Fall & Winter Fire (Outdoors/Indoors). PARAMOUNT...I'm grateful for my life in the United States; I Appreciate the Freedoms & Opportunities we all have to Achieve Success no matter what the definition of success is to each of us. The simple things regardless of life's chronicles of irritations, problems, compromises, small disappointments, big victories, and common goals: "The Secret of Life."
Certifications
Arlington, VA Bristow, VA Chesterfield, VA Colonial Beach, VA Dale City, VA Dumfries, VA Falmouth, VA Fredericksburg, VA King George, VA Lake Ridge, VA Manassas, VA Manassas Park, VA Mc Lean, VA Montclair, VA Oak Grove, VA Occoquan, VA Prince William, VA Shiloh, VA Snell, VA Southbridge, VA Spotsylvania, VA Stafford, VA Tysons, VA Tysons Corner, VA Washingtons Birthplace, VA Westmoreland, VA Woodbridge, VA
Introducing a fresh new look for your Profile.
Click the 'Edit Profile' button below to enter 'Edit Mode' and continue the tour.