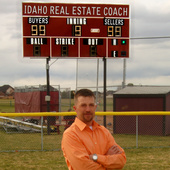 Real Estate Agent
Corey Chase
Meridian, ID

—

Silvercreek Realty Group
Click here for your #1 Idaho Real Estate Agent
Get to know Corey Chase
Corey Chase believes that knowledge is power and by educating buyers and sellers in the Idaho real estate process can alleviate a lot of stress and uncertainty. By educating his clients along with open communication he creates trust between client and agent.
The first priority when meeting a new client is to find out how he can best serve them. Letting his clients engage him with their thoughts gives him time to listen to their needs. The information he gains helps him formulate a game plan to address their wants and needs.
Before becoming a realtor, Corey worked as a mortgage loan officer for 8 years. He helped not only get clients approved but kept involved in knowing where his client's files were in both processing and the underwriting. The experience he has gives him full understanding of the process and to know when a loan officer is misleading or just not getting things done. Corey also served in the Marine Corps for 8 years. He prides himself on taking lead and getting things accomplished. This he learned the value of "Mission Accomplishment" from his time in the Marines.
Corey not only believes in listening to his clients, but believes it is equally important to listen to the other parties involved in a real estate transaction. This way it forms a team, working towards a goal of getting to the end result. By doing this it gives his clients an advantage not only during the negotiating phase of a real estate transaction, but all the way to the closing phase.
When Corey is not busy with real estate, he loves spending time with his wife Kristine and their four children. Corey also enjoys coaching his oldest daughters' soccer team and takes the time to mentor other children. He enjoys the rewards of seeing the kids improve by always pushing them to be better at everything they do. He looks forward to creating ways for under privileged kids to get the opportunity of being involved in sports.
"Take care of our tomorrow and our tomorrow will take care of us."
MISSION STATEMENT A valuable Idaho Realtor is the most important asset of any Idaho real estate transaction. I pride myself on focusing on 2 things with each transaction. The client's needs and the communication with all people involved in the real estate process. To many Idaho Realtors these days are in it for the quick payday. Perhaps you know some realtors like that too. My philosophy is to make the client a CLIENT FOR LIFE. The way to do this is through constant communication throughout the entire transaction, and finding you the best outcome for your Idaho real estate transaction. I realize the importance of values, family and relationships. Integrity and easy communication are my top priorities. I am not your 9-5 Idaho Realtor. I am available evenings and weekends (The times you are available more often then not) to answer questions or show you homes. If you would be interested in meeting please let me know and I can come introduce myself in person and share with you the things I can do for you. There is no doubt my mortgage background gives me the competitive edge over other Idaho realtors. As well as offer a website to search Idaho Real Estate homes to purchase or see what may be your competition. Please contact me and I look forward to getting to know you soon! BEING A SUCCESSFUL IDAHO REALTOR means far more than racking up impressive sales figures. It means having a relentless determination to getting deals done, no matter how complex they may be. Quite simply, my specialty is never settling for less when it comes to finding solutions for clients. It's the focus that has not only catapulted me as an Idaho real estate specialist; it's provided my clients and their referrals with an exceptional level of service that's unparalleled in the industry. HERE ARE THE ADVANTAGES OF WORKING WITH ME: •· I'm always hands-on and personally oversee every deal. •· I've handled some of the most complex deals in the mortgage business. •· I have 8 years of experience in the business through thick and thin. •· I package deals for success, even under the most difficult circumstances. I UNDERSTAND THAT YOU HAVE A MULTITUDE OF CHOICES when it comes to choosing a Idaho Realtor. I hope you will give me a chance to prove my commitment to show you how I can get your deal done with unsurpassed results. If you or anyone you know is looking to buy or sell, please have them call Corey Chase the Idaho Real Estate Coach 208-919-3248.
If you are looking for a home you can start your search here: Idaho Real Estate Search, then there is a great homes on the market for you. Let the Idaho Real Estate Coach and the team put together a winning strategy for whatever your real estate desires are. It takes team work for your purchasing of a new home or selling of your current one, it is essential in today's market.
Search Idaho Homes for sale:
Boise Real Estate Eagle Real Estate Meridian Real Estate Nampa Real Estate Caldwell Real Estate Kuna Real Estate Middleton Real Estate Mountain Home Real Estate Emmett Real Estate
Certifications
Get started today with getting pre-qualifed at Loan Idaho to find the right Idaho Home Loan for you.
This Idaho mortgage specializes in locating loans for home buyers. Here they work to find the best possible Idaho home loan for your home and do all of the work for you. They even guarantee you that they'll find you the lowest possible loan rates possible.
You can expect to get the best deals on an Idaho home loan:
Boise Home Loan Eagle Home Loan Meridian Home Loan Caldwell Home Loan Nampa Home Loan Coeur d' Arlene Home Loan Blackfoot Home Loan Lewiston Home Loan Emmett Home Loan Idaho Falls Home Loan Kuna Home Loan Mountain Home Home Loan Moscow Home Loan Pocatello Home Loan Rexburg Home Loan Twin Falls Home Loan
Loan specializing in:
· Residential Purchase, condos, town house ect.
· Refinance
· Construction
· Second Home
• Land or Investment Property
Other loan products are also available: FHA, VA, IHA and Rural Development loans.
There is 100% financing for owner occupied
Over a wide variety of different loan programs.... Conventional, Non-Conforming, 100% financing available for both Primary and Investment homes, 10-45 year programs, New Construction, Refinancing, Home Equity Lines of Credit, FHA / VA For more information on Idaho VA Home Loans.
Introducing a fresh new look for your Profile.
Click the 'Edit Profile' button below to enter 'Edit Mode' and continue the tour.