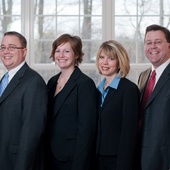 Real Estate Agent
Chris Rooker
Harrisonburg, VA

—

Kline May Realty
Serving home buyers and sellers in Harrisonburg and Rockingham County, Virginia.
Get to know Chris Rooker
WHY CHOOSE US? If you are thinking about buying a home, you should seriously consider working with a "buyer's agent." A buyer's agent works hard to find a home for you, and then represents you in the process of negotiation and (once you have a contract in place) bringing the deal to completion. Here are five great reasons for choosing Chris Rooker and The Harrisonburg Homes Team to represent you when buying a home.
Our goal is to inform you about houses matching your criteria the FIRST day they hit the market (sometimes before) If you have spent much time shopping for a home, you have probably learned that the early bird gets the worm. The routine goes like this: You see an ad or yard sign for a home that looks perfect...you call to get more information or set up an appointment...you are told that it is already under contract. Sound familiar? Here's what the routine looks like when you are working with us: We check every new listing coming on the market to see if it is a match. We call you or email you the same day to let you know about the listing. If you are interested in seeing it, we try to move mountains to get you in the same day. Sound enticing? We also keep our ear to the ground in hopes of finding out about something before it even hits the market. We consider ourselves truly successful when our buyer is the first buyer to see a listing. We are part of one of the leading residential real estate brokerages in the Shenandoah Valley, and that means good things for you Chris Rooker and The Harrisonburg Homes Team are proud to be a part of Kline May Realty, the area's most progressive and exciting real estate brokerage. Our company has more than 70 licensed agents. What does this mean to you? Practically speaking, it means that we find out about new listings (almost every day) before they hit the broader market. Hire us, and you get a team working for you The Harrisonburg Homes Team has four members: Chris Rooker, Brant Suter, Jenny Burden, and Lisa Oates. We work together to make sure that each transaction is a success. There are many benefits to working with a team, but the most tangible benefit is that there are more agents available to assist you when a critical need arises. All four of us are licensed agents, which means that we can all show properties. If the perfect property comes on the market, chances are that one of us will be able to make time to show it to you right away. We provide a high level of service and quality control in our transaction management Once you actually have a contract on a property, there are many things that need to happen, involving innumerable details. We handle most of these details for you, using carefully crafted checklists and redundant systems so that nothing falls through the cracks. Our systems include quality controlling other parties involved in the transaction (agents, inspectors, lenders, contractors, etc.), since every now and then people get busy and mistakes are made...mistakes that can cost you a lot in money, time, and/or frustration. In most cases, our services are paid for by someone other than you! Residential real estate is a bit unusual in that the buyer's agent is generally paid by the seller (even though the buyer's agent is representing the buyer's interests). The seller hires a "listing agent" to market the home and exclusively represent the seller. If the listing agent procures the buyer, then the listing agent gets the entire commission. If a buyer's agent procures the buyer, then the commission is split between the listing agent and the buyer's agent (usually fifty-fifty). There are some notable exceptions to this explanation. But in most circumstances, it does not cost you any more to use a buyer's agent than if you went straight to the listing agent to inquire about a property. With the former, you get exclusive representation. With the latter, you get no representation. When you think about it, it is an easy decision!
Chris Rooker's Blog Posts
Real Estate Market Trends
–

almost 10 years ago
Home Buying
–

almost 10 years ago
Real Estate General Information
–

almost 10 years ago
Real Estate General Information
–

almost 10 years ago
Certifications
10-point Marketing Plan Actually, our marketing plan has a lot more than ten points. But here are ten great reasons to list your home for sale with The Harrisonburg Homes Team. Why settle for less? A Website Just for Your Home! Each of our residential listings gets its own website! No other agent or team in the Shenandoah Valley creates a website for each home. We'll design a site specifically for your home, and include a description, a full list of features, a lot of photos, links to nearby amenities, and we even upload a video! We also reserve a unique URL for your home based on the street address (i.e. 123MainStreet.com), and put it on all of our advertising -- including the yard sign in front of your home! Video Tour Home buyers love to envision themselves in each home they look at. We make it a lot easier for them to see what it would be like to walk through your home by creating a video tour of each home we list. We'll include the highlights and features of your home in each tour, and really give home buyers the essence of your home. When they see all that your home can offer them, they'll surely want to visit in person! Top-notch digital photography A beautiful home will practically sell itself--but only if serious buyers come to see it. Nothing can get buyers through the door of your home like fantastic interior and exterior pictures--and the more, the better. That's why our team is serious about digital photography. We have a professional photographer working exclusively with our brokerage! He takes a number of digital photos at each of our listings. The most important photo of all, of course, is the "curb view" of your home. Many buyers will make their decision on whether or not to view your home based on this single photo. Our photographer will often use a long, telescoping pole to get an "elevated" shot of the front of your home. And if it doesn't turn out just right, he'll re-shoot it! Premium advertising on Realtor.com Consider these two remarkable statistics: Home buyers use the internet more than any other media when searching for a home--a whopping 84% report using the internet, compared to 31% for a home book or magazine, which can be outdated by the time it's printed (Less than 5% use newspapers to search for a home!) Of all the time spent online by consumers searching for real estate, 75% is spent on Realtor.com This means that how your home is marketed on Realtor.com is critically important! All members of the National Association of Realtors® receive basic property promotion on Realtor.com. (Very basic, as you will see.) However, premium advertising packages are offered at additional cost that allow the agent to upload additional photos, customize the property description, and make available a printable brochure. In fact, without an upgrade package, the listing agent's name and contact information do not even appear on the Realtor.com listing! Click to see the difference between a basic listing and an enhanced listing. The Harrisonburg Homes Team has also purchased "Featured Home" slots on Realtor.com. This is an advertising package that gives your home premium placement on the site. Featured homes on Realtor.com are viewed on average 20 times more often than homes without this advantage. Highlighted Listing on Trulia.comTrulia.com is one of the most popular real estate search engines. (9 million serious home buyers and sellers use this site each month!) Our team has a "Pro" account, which means we get to highlight our listings so they appear at the top of search results! Our listings on Trulia also include an enhanced page full of details, photos, and a link to even more information (this link would go to your property website). Buyers who view your listing can contact us to find out more, and we always respond to those buyers within a couple of hours of receiving their messages. Strong Web Presence Our team has a strong web presence. Not only do we run this web site, but we also host a blog -- Harrisonblog -- and are a part of many social web applications, such as Facebook, Twitter, LinkedIn, YouTube, and more! Because we are active on the web, your listing will get fantastic exposure to many different audiences online. Full-color flyers Every one of our listings gets a full-color flyer designed by our Marketing Director, which is used in various ways depending on the home. Most frequently, we distribute them to passersby in a weather-resistant box in front of your home. The Power of Teamwork The Harrisonburg Homes Team consists of four members: Chris Rooker, Brant Suter, Jenny Burden, and Lisa Oates. We are committed to working together to deliver the best service to home sellers and buyers in the Harrisonburg area. All four of us are licensed real estate agents, which means that any of us can show properties. When a buyer calls to see a property, they usually want to see it NOW and they are often in a "buying mood." Having four agents available means that one of us is almost always available to show your home when that buyer calls. Kline May Realty The Harrisonburg Homes Team is proud to be a part of Kline May Realty. Our company is truly the most progressive and exciting real estate firm in the Shenandoah Valley. We have more than 50 licensed agents, and we are currently one of the leading brokerages in the area in terms of market share. As a result, we have a tremendous supply of buyers every month of the year. While our agents are willing to sell any listing to our buyers, our company's own listings naturally get special attention--if only because they are right under our nose! If you list with The Harrisonburg Homes Team, your home will be in the limelight of one of the most active real estate brokerages in the Shenandoah Valley. You get all the benefits above when you list your home with The Harrisonburg Homes Team PLUS the things you would normally expect from a real estate agent: newspaper advertisements, yard sign, etc.
Introducing a fresh new look for your Profile.
Click the 'Edit Profile' button below to enter 'Edit Mode' and continue the tour.