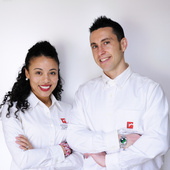 Services for Real Estate Pros
Todd and Danielle Millar
Nineteen years of excellence!
Edmonton, AB

—

Glenn Simon Inc.
Glenn Simon Inc. Edmonton Real Estate Experts - delivers superior, revenue joint venture properties in the power house region of the Alberta Oil Sands, Canada. Anyone Anywhere can own Canadian RE.
Get to know Todd and Danielle Millar
Evaluate potential properties using A.C.R.E. system Inspect, negotiate and conduct exemplary due diligence on property  Finance, insure and hold mortgage on investment property<!--[endif]--> Cost effectively renovate property up to a top standard of rent readiness Choose quality, equity building tenants that improve the property's value Impeccably manage and maintain the property  Appropriately market time and sell to maximize profits
 This means you can profit without the problems. You get hands free investment properties  in a rock solid market. Joint Venture with Glenn Simon Inc means we  hold the mortgage, rent, impeccably manage and improve your investment for you.

You benefit from proven systems to sell your property at the best time, and to reap you the most profits. We are here to help you successfully invest in Real Estate. Our #1 priority is to make you money through quality Alberta Oil Sands Real Estate investments.
Todd and Danielle Millar's Blog Posts
Real Estate General Information
–

about 5 years ago
Real Estate Market Trends
–

about 5 years ago
Real Estate Market Trends
–

over 5 years ago
Local News and Events
–

over 5 years ago
Certifications
Todd Millar specializes in Joint Venture Real Estate Investments in the Edmonton and Alberta Canada area, he uses his investment team, proven systems and expertise to ensure his clients are getting the best investments suited to their individual needs.Todd has been investing across Canada for over seven years.  He is a REIN PLATINUM member and has given investment seminars in Japan and Canada.  He writes a monthly newsletter that focuses on investing in Real Estate. Todd continues to provide excellent investments for his investors around the world. Contact Todd Mill for investments in the Edmonton and surrounding area in Alberta, Canada
"Well, what I do is offer a totally hands free  Joint Venture  Real Estate investment. I find, negotiate, purchase, renovate, tenant, impeccably manage and sell these investments for my partners maximizing their profits. ..." "Essentially I bring them the profits without the problems!"  Todd Millar
Awards
REIN Top Player 2011
REIN Bronze Award
REIN Silver Award
REIN Gold Award
REIN Platinum Award
Testimonials for Todd and Danielle Millar
Barry McGuire - Alberta

03/01/2013

"I'm a real estate lawyer with 37 years experience and I like working with Todd Millar. Before I tell you why, be a careful investor. Check Todd out, do your own diligence.

Now, why do I like Todd? In the 7 years that we've worked together, here's what I've discovered.

Todd is smart, careful, conservative in his real estate investment choices, and extremely diligent with all aspects of any transaction. His philosophy is that every relationship and real estate situation must be a win-win or it's not worth doing.

If you are considering an investment in real estate, I suggest you consider Todd."


S. O - Abbotsford, BC

07/10/2012



I've known for a while that I wanted to invest in real estate and I knew that I wanted to invest in Edmonton but I have a husband who is skeptical about relying on someone else's expertise. Approaching a landmark birthday I decided it was now or never. I've known about Todd as a REIN member since he first joined the network and I have seen how his portfolio has grown over the years, even while living in Japan. When he moved to Edmonton I started checking out his website and just had a feeling that his ethics were a match with mine. I initiated the conversation in February of 2012 and we went from there. By June of 2012 we had purchased a suited house in Millwoods and after renovations it was rented out by mid July.

The first JV is bound to be a learning experience but it was a good experience for the most part, thanks to Todd and his team. He has built a professional team around him, including a mortgage broker, lawyer(s), renovation team and does his own property management so it's really a one stop shop when it comes to investing with him. I believe he has a carefully selected team that matches his integrity and doesn't stray into any investing gray areas, something that is very important to me.

Whenever a glitch occurred I would just pass it on to Todd and it would be taken care of. Questions were always answered in a timely fashion, both through email and phone calls. It was a struggle sometimes to be totally hands-off, but it always comes back to the realization that, as a money partner, I am paying my JV partner to be the expert and he is only going to do what's in the best interest of the deal because he's getting 50% of the profits.

I would definitely do another JV with Glenn Simon Inc. (Convincing my husband is another story, but I'm working on it!)

S.O.
Abbotsford, BC


David Bedingfeld - Australia

04/01/2009

"Thanks Todd & Danielle [GSI] for a very positive investing experience. Never thought investing in Canada from Australia could be so easy. We are excited to own quality property in Alberta and are enjoying watching our profits grow. We look forward to your 'More Good News' newsletter each month which is always filled with useful information and market updates. With every confidence in your system, integrity and client relations we continue to invest with GSI."

K. Johnson - Alberta

08/01/2008



I found the services Glenn Simon Inc. when i was looking at ways to invest in real estate. As a student and online poker player i did not have the time or the skills necessary to do it myself. I found Todd very professional and knowledgeable so i decided to partner with him. He has always been very accommodating and easy to work with.

Furthermore, i learned a lot through talking to him about what to do in investing in real estate. Even if i had questions that were unrelated to our projects he always took the time to answer them in great detail. So far our projects have been working out very well and I'm sure their will be continued success in the future!

"My experience working with Glenn-Simon has really been wonderful! In the early summer (2006) I had no idea where in the world to invest in real estate and very little knowledge with which to go on. Fortunately, I found the Glenn-Simon website and contacted them.

Within a short time I was the happy partner/owner of a great property that has already appreciated in value. I talked with Todd Millar several times on the phone, by email, and in person and was very impressed with his knowledge, expertise, and with his Canada-based team. And he is just a very friendly guy.

He has been so patient with all of my inquiries and keeps me constantly updated on the investment scene. For me the main thing is that it is a hands free investment. Everything is handled by Glenn-Simon. I feel very confident with my investment with them and look forward to working with them more in the future."

Jason Brown Victoria, B.C

01/25/2008

"It's the only way I could legally make that kind of money!" "Their level of professionalism was above and beyond what I expected."

Kevin and Yumiko Dolin Tochigi Japan

09/01/2007

"To be honest I don't like dealing with finances. I just wanted to do something with the money I had sitting in the bank. When I heard about Glenn Simon Inc. and Alberta Real Estate I knew it would be something I was interested in, especially the hands free part!

Overall it was a very easy experience, I get detailed updates every 6 months and my property has increased in value by over $65K in a year and a half. That is a much better return then I was getting from the credit union.

Glenn Simon Inc.'s whole system made it easy for someone like me to get into the Alberta Real Estate Market and invest without the day to day hassles."

J. Zhuang - Vancouver B.C

03/03/2007



" It's not a secret that many of the richest people in the world have made their fortunes through real estate. I was watching the hot Edmonton market go up but couldn't take advantage of it because I didn't have all the required resources and skills to make things happen until I came across GSI.

I was really happy to find someone with high integrity and experience who also had all the resources and skills to help me profit from the booming market. My need was fulfilled by GSI after successfully acquiring a quality property together. I am very excited about our partnership and highly recommend GSI to everyone."

Keiko Hirota - Tochigi Japan

02/28/2007

"I am sure it was great for me to decide to buy a house in EDMONTON for investing with Todd and Glenn Simon Inc. I'd never thought of owning a house in other countries. Todd gave me some advice and knowledge of the investment. He is really trustworthy. I've known him since 2003 and he never fails to live up to my expectations. I look forward to the results in 3~5 years. What I do today promises me a life in the future."

Trish and Stephan Stewart - Singapore

08/02/2005



"We have been wanting to invest in real estate for several years but we did not have the time, patience, or know-how to do it ourselves. GSI offered the ideal solution for us. We were able to buy our first investment home using GSI\'s extensive knowledge, expertise and integrity. Thanks GSI!"

"Hi Guys!! The site and the newsletter are awesome!! One thing though, it looks like you are going to have to update our testimonial to add at the bottom and have already gone on to purchase our 2nd and 3rd properties with GSI!!!! You guys rock!! See you soon!!!"

Sincerely,

Trish & Stephan Stewart
Business Consultants
Nexagen USA
Singapore


Introducing a fresh new look for your Profile.
Click the 'Edit Profile' button below to enter 'Edit Mode' and continue the tour.