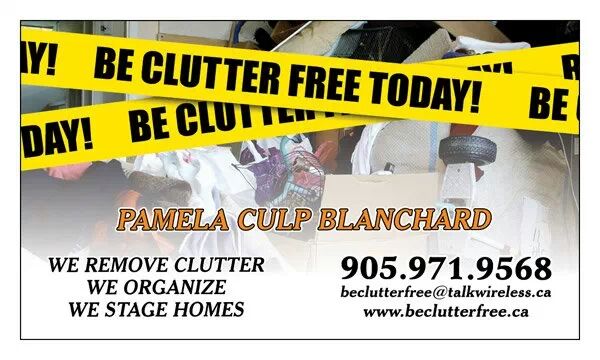 Get to Know Pamela Culp Blanchard
Pamela Culp Blanchard has been a Canadian Staging Professional since 2006.  Staging a home will sell your home. Staging enhances the features the home has to offer and will ensure you to get top dollar for the sale of your home in a timely fashion.  Her staging expertise have helped her clients sell their home at top dollar time and time again.
In 2009 Pamela started a Professional Organizing Company called Be Clutter Free. This business specializes in helping individuals organize, de-clutter and maintain a home that will be their sanctuary.  Pamela is able to organize homes for any individual requiring her service and is specialized in working with Seniors in care facilities for over 30 years.
Be Clutter Free also offers a Clutter Removal Service. This service will remove unwanted items from your home. Your unwanted items will then be repurposed or donated to charitable organizations or people in need. The items also can be recycled or transported to waste management sites.
Certifications
POC - Professional Organizers in Canada
CCSP - Certified Canadian Staging Professional
ASP - Accredited Staging Professional
Member of
Real Estate Staging Association 
Toastmasters International
Skills
Whole home residential organizing, Packing and Unpacking, Moving, Cleaning, Staging, Dump and donation runs.
Susan
06/10/2014
I am so happy with the way my garage was (re)organized. When the contents of the garage were out on the driveway I could not believe that all of this "stuff" could ever be put back in to the space available. Pam and her team were very professional while also friendly and approachable. I never felt that I was being pushed into making changes, yet the final result is amazing. Everything has a place and there is so much space left for the car. I think we could also fit in another car if needed! The extra touches meant a lot; hooks on the wall for hanging items, advice given while choosing which of two similar items to keep, the kindness and patience shown to my daughter as she sorted through former treasures. They even vacuumed up the dust, dirt and cobwebs and took away all the rubbish and discarded items. I would not hesitate to recommend Pam and knowing that her goal is to reuse and recycle as much of the "no longer needed" as possible is an added bonus. Susan
Sherry
04/09/2014
"Wow!!! This gal has the energy and ambition I never had to get my home decluttered!!! She starts in one corner and doesn't stop till the job is done! I recommend her to any and everyone!!" Service Category: a home & garage declutterer!!!! Year first hired: 2012 (hired more than once) Top Qualities: Great Results, Personable, High Integrity
Stacy
03/29/2014
Pam has been a great help with moving - whenever we need a truck, trailer and muscles, Pam is there! We've used Pam's services to move my Grandpa from his senior home into another - Pam and her husband showed great respect to Grandpa and his personal belongings. The same respect was given to my home staging clients, also seniors, as they were scaling down their home to prepare for the market and needed to remove unwanted items from their home. I didn't hesitate to call Be Clutter Free when I needed a sofa moved from Burlington to Caledonia and I'd be happy to call on Pam again! Thanks so much to Pam and Doug. Stacey Larocque
Naida
12/04/2013
When I got in touch with Pam regarding the decluttering of our home, the service was beyond our expectations. I didn't know where to start. My husband, being a pack rat had tons of stuff to sort through and due to his poor health he was unable to do any heavy lifting. Pam and her assistant "took the bull by the horn" and dug right in. The basement is now clutter free. Not only did they clean out the basement but they also staged the house for our open house. The house sold in 4 days. I would highly recommend the services of these ladies. The cost was well worth it. Thank you "Be Clutter Free". Naida Thomas
Judy
11/05/2013
Senior Downsizing Job I do have to comment on Pamela's total professionalism-she was always thoughtful, sensitive and very appreciative of the emotional side of downsizing and leaving one's home. How can you better someone who is both efficient and energetic caring and creative. Pam was a total support and uplift to a stressful situation. I myself have some ADD traits and so it was a relief to be in her calm and reassuring presence. I highly recommend her. Thank You for your Loving Care. Hugs Judy.
Nicky
05/14/2013
I contacted Senior Downsizing when my Grandmother asked me to help her move to a senior's complex. She was currently living in a 4 bedroom home that she grew up in and further raised her family in. You can probably imagine the amount of stuff that had accumulated over the years and I was overwhelmed at the thought of going through everything and helping her to 'downsize.' Pam was very professional, she came immediately to give us a very reasonable estimate and came the following week to start her work. It took her almost a week to go through the entire house. She had a great worker who also did a lot and it made the transition for my Grandmother so much easier. She was able to relocate items to other people's house, to charity and to the dump as needed. My grandmother struggled with losing so much of her life but was happy that her things that she cherished for so many years were being relocated to people and families who needed it. I would and have recommended Senior Downsizing to anyone. Thank you Pamela and Senior Downsizing!
format_quote
BE CLUTTER FREE is a PROFESSIONAL ORGANIZING BUSINESS. Along with organizing we also have an added service of removal. We now offer Senior Downsizing as well. Visit us at http://seniordownsizing.ca.