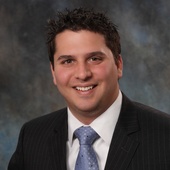 Real Estate Agent
Chris Pappas
Manhasset, NY

—

Prudential Douglas Elliman - Manhasset, NY
Get to know Chris Pappas
Chris Pappas is an energetic, dedicated and hard working real estate agent at Prudential Douglas Elliman in Manhasset, NY. He specializes in Commercial Property, Property Management, First Time Homebuyers and Luxury Homes in the New York Metro & Long Island areas.
Prior to obtaining his real estate license, Chris worked in the mortgage industry as both a Mortgage Compliance Officer as well as a Wholesale Mortgage Banking Account Executive for Greenpoint Bank. His real estate knowledge as well as his experience allowed him to manage family owned property. Chris manages everything from negotiating leases and maintenance to overseeing large construction projects and working with building departments and architects to ensure that the job is done correctly. This background gives Chris many skills that serves him well in representing a real estate clients interests for the best possible results.
Chris has earned his BBA from Hofstra University, majoring in Finance and minoring in Business Computer Information Systems. He was licensed as a New York State Real Estate Sales Agent in 2008 and has also completed other specialized trainings in the real estate field.
Designation:
CBR Designation - Certified Buyer Representative
Associations
LIBOR - Long Island Board of Realtors NYSAR - New York Association of Realtors NAR - National Association of Realtors AHEPA - American Hellenic Educational Progressive Association - to promote Hellenism, Education, Philanthropy, Civic Responsibility, and Family and Individual Excellence.
Chris Pappas's Blog Posts
Real Estate Sales and Marketing
–

almost 10 years ago
Certifications
Nassau
One of the wealthiest counties in America, Nassau County is situated on the western portion of New York's Long Island and is home to about 1.3 million residents. Originally the eastern portion of Queens County, Nassau became its own entity in 1899. Mostly suburban in nature but with a number of heavily urbanized areas, the county is divided into two cities (Glen Cove and Long Beach) and three towns (Hempstead, North Hempstead, and Oyster Bay); the towns contain nearly twelve dozen picturesque villages and hamlets.
More than 100 sites in Nassau County sit on the National Register of Historic Places, ranging from grand old estates and notable gardens to light houses and post offices. But history isn't the only thing this 452 square-mile county has going for it. Natural beauty is also apparent throughout the county. Along the south shore, beautiful white beaches are abundant, and in the north, the bluffs are the epitome of rugged beauty. This terrain provides a wealth of outdoor activities for residents and visitors to enjoy, especially during warm weather months.
Though Nassau County is outside the hustle and bustle of Manhattan, it's easy to reach the city from anywhere in the county via the ultra-convenient Long Island Railroad, which has several lines that traverse the island, with dozens of stops in Nassau County.
Neighborhoods & Towns Glen Cove – Situated on the north shore, adjacent to Long Island Sound, Glen Cove is a 19 square-mile city that's home to about 26,000 residents. This upper middle class city has a fairly diverse population. Glen Cove is at the heart of what is known as the Gold Coast and boasts plenty of shopping, recreation and beautiful Morgan Park, once the property of financier, J.P. Morgan. Long Beach – Surrounded by Reynolds Channel on three sides and the Atlantic Ocean to the south, Long Beach was once known as the "Riviera of the East", home to large homes, hotels, and a boardwalk. Though it suffered from decline through much of the mid-20th century, Long Beach was reinvigorated during the 80s and 90s and continues to be a favored bedroom community of NYC. This high-density community is not as affluent as Nassau County's other city, but is still a favorite suburb for those who wish to be near the city, but not in it. Hempstead – Hempstead is home to a sizeable portion of Nassau County's residents – about three-quarters of a million in all. The town includes 22 villages and 37 hamlets and is one of the oldest established towns in the country. For those who enjoy recreation, there are some 65 marinas and parks here, beckoning residents to come and enjoy the town's wonderful natural resources. Hempstead is also home to Hofstra University and Nassau Veterans Memorial Coliseum. North Hempstead – Home to about a quarter-million people, North Hempstead is made up of 30 incorporated villages. Queens County sits to its west and Manhattan is just a short train ride away. Money Magazine has ranked it among the Top 100 Best Places to Live in America and a desirable place to enjoy a healthy retirement. In addition, the public schools are continually given top grades. The town is arts-oriented as well; it hosts the annual Gold Coast International Film Festival. Oyster Bay – The easternmost of Nassau County's three towns, Oyster Bay is made up of 18 villages and 18 hamlets, several of which sit on picturesque Oyster Bay Harbor. It extends from the North Shore to the South Shore of Long Island and is home to a number of large companies including Aer Lingus, Acclaim Entertainment, a well-known video game developer and one of Long Island's largest employers North Shore LIJ University Hospital. SUNY Old Westbury is also located here. Parks and other green spaces are great for hiking, biking, playing ball, and enjoying a wealth of other outdoor activities. Outdoor Lifestyle
Nassau County provides its residents with the best of both worlds. Many portions of the county are quite urban and, in addition, it's easy to reach Manhattan from various parts of the county in just a short amount of time. On the other hand, the area has plenty of picturesque small villages and hamlets, expansive parks, and other suburban-like qualities to please those who seek wide open spaces. Just a short drive from anywhere in the county will land residents in one of these areas. Furthermore, the beaches and vineyards of neighboring Suffolk County are just minutes away.
As home to a large number of colleges and universities, parts of Nassau County have that college town feel and are ideal for young people. Adelphi, Hofstra, Briarcliff, New York Institute of Technology, and several others attract large numbers of students to the area each year and provide residents with the opportunity to enjoy intercollegiate sports and some top-notch music and theater performances.
Dining
Nassau County boasts literally hundreds of restaurants, running the gamut from casual and inexpensive to upscale and rather costly. Many take advantage of the bounty found on the island, including wines from neighboring Suffolk County, vegetables from farms that dot the landscape, and scrumptious seafood from the the surrounding waterst. These fresh ingredients have helped put a number of restaurants in Nassau County on the list of New York's finest eateries.
The variety of cuisine is extensive and it's possible to find just about any kind of ethnic eatery in Nassau County, including an abundance of Italian restaurants as well as Chinese, Japanese, Thai, Vietnamese, Mexican, South American, Greek, and Indian eateries, and plenty of good old American steakhouses and seafood places.
Vineyards
With many world-class wineries, Long Island's wine country is burgeoning, beautifully complementing the long-established and illustrious collection of vineyards across New York State. Long Island's terroir, with its unique climate, a mixture of hardy winters and sun-soaked summers, is an ideal place for a number of grape varietals to thrive.
Spending an afternoon traveling from one vineyard known for its oak-cured chardonnay to another known for its throaty and complex malbecs, Long Island's wine country is a sensory experience in itself.
The Arts
Nassau County boasts an excellent Arts Council that keeps the culture of the county at the forefront of its efforts.
Museums are plentiful and Central Nassau County has its own "Museum Row", which include The Cradle of Aviation Museum, African-American Museum of Nassau County, Nassau County Firefighters Museum and The Long Island Children's Museum. The county also has its very own museum of art, located on the former Frick estate, which boasts an excellent collection of European and American art from the 19th and 20th centuries.
The Great Neck Arts Center provides a variety of performing arts events and also offers classes for children and adults in a wide variety of arts-related pursuits like acting, dancing, and more. In addition, there are several musical ensembles, theater companies, and other professional, semi-professional, and amateur groups in Nassau County to keep residents entertained. Often, well-known names in entertainment come to Nassau County to perform.
_________________________________________________________________________________________
Suffolk
Located on the eastern portion of Long Island, Suffolk County covers roughly 1,000 square miles of territory and is 86 miles long and 26 miles wide at its widest point. The area has been dubbed by Forbes Magazine as one of the 25 wealthiest counties in the United States. Together with Nassau County, it makes up the region that New Yorkers refer to as the official "Long Island", minus the boroughs of Queens and Brooklyn, which are also technically located on the island.
The easternmost county in the state of New York, Suffolk is a picturesque locale, somewhat more rural than neighboring Nassau County. A lovely place to live and play, the county is chock full of beautiful sights, from winding country roads that lead to pristine sandy beaches and a stately historic lighthouse to a plethora of man-made attractions like aquariums, theaters, and breathtaking mansions.
Enjoying the great outdoors is easy in Suffolk County. World-class golf courses beckon to those who love the game while vineyards attract wine aficionados in search of a good vintage. You'll find wonderful places to fish, water parks to entertain the whole family, and even cattle ranches that let visitors take a turn at being a cowboy for a day or two.
Regions
Suffolk County has three distinct areas. There is the mainland area of the county and The North Fork and The South Fork. These two regions are separated by the Great Peconic Bay, the Little Peconic Bay, and Gardiners Bay.
The mainland area, which stretches the island North to South covers most of the area and is similar to Nassau County in that the makeup is suburban in nature and has many small hamlets and villages, each with their own distinct attractions.
Part of Long Island's East End, The North Fork includes the Township of Southold in the east and the Township of Riverhead in the west. Picturesque hamlets such as Mattituck, Cutchogue, Peconic, Southold, Greenport, East Marion, Orient, and Orient Point are included in this geographic area.
This part of the island is very rural in character and includes vineyards, apple orchards, and potato farms as well as stellar views of the Long Island Sound. Some 60 wineries call the North Fork home and about half of them welcome visitors to come in and taste their bounty. Farm stands and pick-your-own orchards round off the agricultural offerings.
Of course, the water is central to life on the North Fork as well, and many families who are hoping to purchase a second home make this their eventual destination. Fishing, crabbing, clamming, and shelling are popular pursuits in this region of Suffolk County. For water lovers, a stop at Atlantis Marine World is also a must and many locals visit often.
On the South Fork, you'll find Long Island's most renowned community, The Hamptons. East Hampton, Southampton, Bridgehampton, and the South Fork's other quaint villages are a joy to visit and the location of some of the grandest seaside homes in the country. At the eastern end is Montauk Point State Park, with its wind-swept beaches and pretty lighthouse.
The South Fork is a home-away-from-home for a number of notable celebrities and some of America's wealthiest business people. That means there are plenty of high-end shopping opportunities, spas, and five-star restaurants to indulge in.
Off the South Shore of Long Island is Fire Island, another part of Suffolk County. The island is about 9 square-miles in size and includes several incorporated villages, a state park, and a national seashore. About 500 people call it home.
Nestled between the North and South Forks is the Township of Shelter Island, sounded on three sides by Shelter Island Bay and the fourth by Gardiners Bay it can only be reached by ferry or private boat. The island is approximately 8,000 acres and nearly one-third is owned by The Nature Conservancy, ensure its pristine wetlands and natural beauty are protected.
Lifestyle
Life in Suffolk County is far-removed from the stresses of the city, though many residents do indeed work at or maintain businesses that are located in or near Manhattan. The far reaches of Suffolk County are about 90 miles from NYC, so it takes a little while to get there, though the Long Island Railroad makes the trip easy.
For adults and children, a Suffolk County lifestyle means plenty of opportunity to relax and enjoy the scenery, regardless of the time of year. Even for those who work all week long, weekends bring an opportunity to visit what are truly some of the most beautiful beaches in the world. These include stunning Cooper's Beach in Southampton and Main Beach in East Hampton, both of which regularly make the list of many travel publication's Top 10 Beaches. Other water lovers head to Long Island's largest lake, Lake Ronkonkoma, for some fun, including fishing, swimming, and boating. (Ask the locals about "The Lady of the Lake".)
Leisure time also means a chance to take a drive along the picturesque North Shore, a visit to the breathtaking Gold Coast mansions, a trip to Fire Island National Seashore on the South Shore, and a chance to spend some money at a huge selection of stores, from the reasonably priced Tanger Outlets to the upscale boutiques in the villages and towns that dot Suffolk County.
Dining
Restaurants in Suffolk County take advantage of the abundance of local produce that grows on Long Island. Many also pride themselves in serving the freshest seafood from the waters that surround the island and wine direct from the North Forks' abundant vineyards, which produce some of the best wines in the state and, indeed, the country.
Restaurants range from casual and friendly to quite elegant, but all tend to have that laid-back feeling that are typical of the atmosphere in Suffolk County. Although you will find fast food restaurants and chain establishments here, there are plenty of Mom-and-Pop-owned eateries that are truly unique and often exceptional.
The Arts
When you live in Suffolk County, there's no need to travel to Manhattan to enjoy top-notch arts and cultural offerings. These include several art museums such as the Parrish Museum, offering a fine collection of American art from the 19th century to the present. There are also a number of maritime-related museums, aviation museums, children's museums, and a several grand manor homes that are open to the public and are worthy of a visit.
There are several performing arts centers in Suffolk County as well - offering concerts and other presentations - as well as an abundance of theaters, including many with productions that feature great names of the stage and screen. In addition, Suffolk County has many of its own performing arts groups including vocal and instrumental ensembles, dance troupes, and more.
_________________________________________________________________________________________
New York City
No other metropolis in the world compares to New York City, the epicenter of sophisticated cosmopolitan living. With its illustrious social scene, the finest in dining, style, arts and entertainment, New York offers limitless lifestyle choices.
Living is the delicate balance between exploring and indulging, and with New York, experiencing everything the grand city has to offer.
From the world famous Museum Mile along Fifth Avenue, the most coveted retail outposts on Madison Avenue as well as in trendy Soho and along the Meatpacking District, to brilliant performances by internationally acclaimed talent at the Lincoln Center, the variety of attractions and activities is truly infinite.
The beauty of New York City lies in its unique composition of cultures and architectural styles. Its distinct skyline is a perfect mélange of iconic architectural landmarks and avant-garde contemporary buildings signifying the very essence of diversity and constant innovation.
The Arts
Quintessentially, art is New York, from incredible permanent collections at world-renown museums to the latest contemporary exhibits and local performances in emerging neighborhoods.
A mecca for arts and entertainment, New York offers everything from the traditional Broadway productions, legendary performances at Madison Square Garden to avant-garde exhibits and installations in emerging neighborhoods.
Dusky bars in Greenwich Village, often found on side streets, are an ideal place to indulge in jazz, a total immersion in a retro era. Chamber operatic and philharmonic performances are not only an opportunity to express personal tastes, but to support the cultivation of the arts.
Art is an experience, and experiences abound in New York City.
Dining
With over fifty Michelin star rated restaurants, New York City is an epicurean paradise. A wide variety of award-winning and internationally-renown eateries cover every palette from haute French cuisine to intimate bistros and refreshing casual dining, challenging minds and tastes. A classic New York City experience is a casual Sunday brunch with eclectic menu choices and a relaxed atmosphere.
Shopping
Fashion is art. There is no better place in the world to shop and enjoy the latest styles and trends, than New York City.
At the turn of the century, New York City emerged as the home of ready-to-wear fashions, bringing haute couture direct from the runways of Paris to department stores and boutiques, making it available to the public.
New York is home to such iconic department stores as Saks Fifth Avenue's flagship across from Rockefeller Center, the magnificent Bergdorf Goodman and Barneys. Their latest collections, hand-picked for the discerning tastes of sophisticated New Yorkers, includes both local design mavens and international fashion houses. For unique shopping experiences, seek out boutiques nestled and hidden from the rhythmic sidewalks of main thoroughfares. Discovering vintage pieces in independent shops to stumbling upon an exclusive trunk or sample sale, shopping is an ideal way to spend an indulgent afternoon.
In New York, enjoying fashion is never limited to stores: trend spotting is a pastime. Trends often influence designers and buyers, and watching what New Yorkers wear, whether it is an eclectic mix of high-end garments mixed with vintage finds, city streets are often a better place to find what is new than in boutiques.
Beyond fashion, there is an abundance of shopping for home design items, furniture, antiques, art and even renowned open-air markets, offering the freshest produce, meats and seafood available.
Architecture
One of the great pleasures of living in New York City is strolling its renowned streets. Breathtaking skyscrapers, nestled gems and a mixture of old world and modernist construction, New York City is an architectural work of art. Bask in the skyline views from penthouse gardens or revel in the intricate craftsmanship of the buildings from the sidewalk.
Get inspired by soaring towers, richly detailed facades and a diversity of design styles. Notable landmarks serve the imagination, awakening emotions of a bygone era. With sumptuous detailing, virtually every building arouses the imagination and emotions.
Find beauty in spaces and places: grace and elegance are lurking on every practical object from parks to playgrounds and even the way the sunlight reflects off the buildings. New York City is built on poetry, asymmetry and the creative collaboration of form and function.
A perfect backdrop to magnificent architecture, abundant public parks support outdoor activities for busy city dwellers. Central Park, the city's crown jewel, encompasses 250 acres of meticulously maintained lawns, 24,000 trees, 150 acres of lakes and streams and 130 acres of woodlands.
Lifestyle
As a preeminent leader in fitness and health innovations, New York City is the epicenter of influential lifestyles. From spas and salons, offering integrative and contemporary aesthetic services, and clubs offering cutting-edge fitness opportunities, New York City is the center of good, healthy living.
As an educational leader in the nation, New York City offers a variety of public and private institutions. From Ivy-League universities to renowned preparatory schools and award-winning art schools, the city encourages the development and cultivation of the brightest minds.
Buttressing the luxurious New York City lifestyle is philanthropy. Unconditional support for selected charities, foundations and non-profits is part of life. Based on belief, mission and notoriety, selecting charities to support is a rite and a public statement. As a leader of financial support, New York City sets the standard of national philanthropy.
From art openings to black-tie galas, New York City remains one of the world's preeminent cities, often setting the bar for an elegant lifestyle. Enjoying everything that the metropolis has to offer is the fundamental key to living an extraordinary life.
_________________________________________________________________________________________
Introducing a fresh new look for your Profile.
Click the 'Edit Profile' button below to enter 'Edit Mode' and continue the tour.