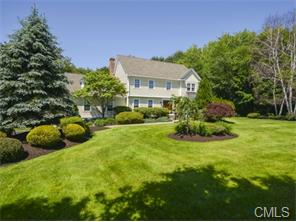 Get to Know Chuck Ciambriello
A personalized approach to buying and selling residential property in Fairfield County is how Chuck Ciambriello embraces the relationship with his clients and their feelings about buying or selling their home. Chuck understands this will be one of the most important decisions they will ever make and his goal is to make this as smooth as possible.

"I realized from my own experience in buying and selling houses for over 25 years that it takes more than looking on-line and finding a house to really deliver a wonderful home, and a wonderful experience to a client. As an agent I want to provide my clients several things once they have decided to change their home, their environment, and their way of life."

Chuck's first priority is to know the inventory, which is the most time consuming and work intensive part of being a good realtor. He actively sees as many homes as possible in several categories; homes on the market, previews of homes that are coming on the market, and networking with other agents, builders, developers, and... in some cases orchestrating a pocket listing with potential sellers. Many sales occur through personal contacts before homes reach the MLS. Chuck works the phones continuing to build respect and trusting relationships with his fellow agents.

His second priority is to understand his client. For Chuck, this comes from many years of close interaction with people; managing, mentoring, and also caring about their well -being. With his 25 years of experience as a former business owner in sales, human resources, and recruiting, he has developed skills that have been extremely useful in how he approaches the market place and his interaction with his clients.

Chuck's third priority is to be discrete and take being in a service business seriously. He works for his client at all times, before, during and after the sale. Chuck has the talent of matching people to properties and uses all the resources he has to finding a home or selling a home while making the transaction as stress free as possible. 

"As my clients' realtor, it is imperative that I maintain a comprehensive knowledge of the marketplace in order to take full advantage of opportunities for them. Establishing and maintaining lasting relationships and providing exceptional customer service have been key components of my success."

Chuck's team is comprised of an assistant/transaction coordinator, marketing director, escrow and title representatives and finance specialists, which cover all aspects of the transaction from identifying a property to the successful negotiation and close of the deal.

To Chuck, it's all about the client...
Recent Sales
01/01/2015
"We had our home listed with another agent a year ago and had only 2 showings. With your company and with Chuck we had multiple showings and a wonderful closing experience" Sharon Franko, Stratford, CT "Mr Ciambriello was the most efficient and professional in the sale of our home. I have recommended him to our neighbors and friends" Richard & Beth Mansfield - Huntington, CT Anonymous "Chuck is a consummate professional. We have spoken for many hours about his role at his company, and he never ran out of fresh ideas or enthusiasm for how to move business forward. His experience on both sides of the sales and marketing fence make him a valuable ally to departmental politics or interaction with the customer". Richard Salerno, Enterprise Account Director - Computer Associates "I have had the pleasure of working with Chuck a number of times in the past ten years on both community based projects and various business opportunities. I find him to have a great work ethic and a pleasure to work with. He is one person you can trust to make sure the sale gets done properly." Robert Swanson, Channel Development Manager - US VAR Sales - Symantec Corporation "We would like to thank the William Raveis Agency for helping us find our house, but we especially thank Chuck Ciambriello for all the time he spent with us to find our house. He was always ready to show us places, always there to answer our questions. He was always honest. I really don't think we would be in this house if it weren't for his constant search to find us what we wanted. He is definitely an asset to the William Raveis Agency. Thank you Chuck for being our agent." Mary Sorrentino - Shelton "Thanks so much Chuck for everything. You did a great job. It was difficult finding the right people for this property. I think the match will work out beautifully." Denise Flynn - Stauffer Real Estate "I have known Chuck for over ten years. Whether at home, at work, or within the community, Chuck's greatest asset is his character. He is an emotionally mature, ethical and respectful person, and is a pleasure to work with on any project, personal or otherwise." Wally Beddoe, VP Operations - Six Telekurs USA, Inc "I have known Chuck on both a personal and professional level for over 30 years. The qualities that make Chuck who he is are unmistakably evident in both. He is an honest, loyal, energetic and tireless person, and someone I personally hold in the highest regard. Chuck is an unquestionable, devout family man and is a resourceful, principled, and committed business professional. He's not afraid to "take the bull by the horns" and is the classic "doer"." Bernie Gagliardi, Sr Systems Analyst - Saint Francis Hospital