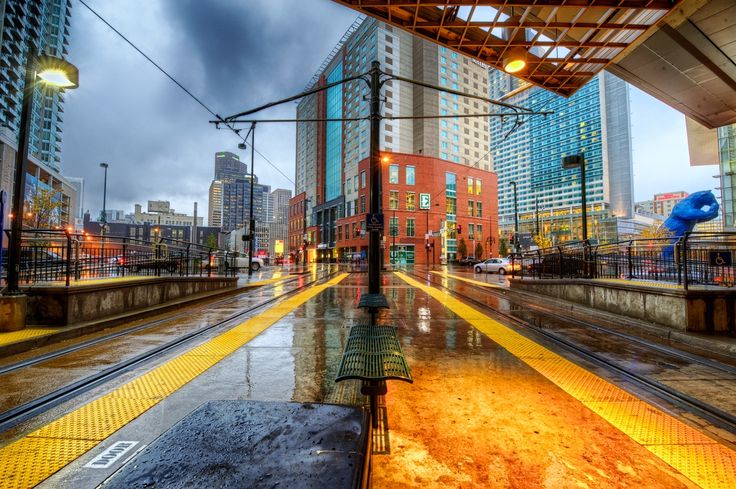 Get to Know Barry Kunselman
Why I love my job
When my phone rings it's because someone is about to make a life changing decision and I'm truly honored they are putting their trust in me. For most of my clients they are starting a new chapter in their life. Maybe they are purchasing their first home as a young professional, maybe this will be their first home as a married couple or soon to be married couple. Maybe their kids are getting older and they desire the offerings that come with a suburban home, or maybe the kids are grown and they want to move back into the city or just downsize. Whatever their reasons might be, finding someone their new urban home is truly a passion of mine.
Purchasing an Urban Home in Central Denver
Finding an urban home or condo in central Denver can be challenging because our city offers so many great little neighborhoods with unique shops and restaurants all within walking distance. I enjoy helping my clients navigate through the city in search of the perfect location that speaks to them. Whether they are looking for central Denver's most modern and contemporary living (LoHi, RiNo, LoDo) or a historic home with charm and character (Wash Park, Platt Park, Park Hill), I'm always up for the challenge of finding my clients the perfect home for them.
Leaving Denver
Leaving our great city is never easy, but finding a new home in the burbs is equally exciting for my buyers. Those who decide to call suburbia their home are pleasantly surprised by how much more home they can get for their money and typically find great shopping, restaurants and top schools.
Working with Sellers
Working with a seller is very special to me and it's definitely a different experience than a buyer purchasing a home. Most of my sellers have put a lot of time and money into their homes as well as created life long memories. I appreciate this and always approach the sale of their home as if I were selling my own.
What makes me different?
Think of me as a coach or mentor for your real estate needs. I'm very passionate about real estate and finding my clients an urban home in central Denver with great resale value is one of my top priorities. Purchasing in central Denver can be very tricky because the future value of a home can be dramatically influenced by only a couple blocks. What sets me apart from many other Realtors is that I make sure my clients understand the fundamentals of a great investment BEFORE they buy.
Barry Kunselman Denver Real Estate Agent Profile
Barry Kunselman's real estate agent profile. Barry is a local Real Estate Agent that specializes in helping sellers and buyers with homes in the Denver Metro area.
Certifications
Certified Market Expert (CME)
Certified Negotiation Expert (CNE)
REALTOR®
Jen Koberstein
04/06/2019
Barry is truly the best! He always has the best interest of his clients in mind as he is assisting in a sale or purchase. He is incredibly knowledgeable about the market and smart. Highly recommend working with him.
Corey Smith
03/03/2019
In short, Barry worked a real-estate miracle for me. I had 30 days to get my house on the market and sold. To compound things, it needed paint and a number of other repairs and I travel most weeks for work. Barry told me he could handle it and he did. He has a great network of service providers (painters, handymen, plumbers, stagers, you name it...) that were all at the ready to get my house on the market. Not only did Barry identify the right people to get the job done, he also oversaw the work and coordinated and managed activities while I was traveling for work. He also did a great job of communicating with me about what was happening on an almost daily basis. In parallel, to the "mini-flip" activities, Barry was doing his homework to set a price that maximized the return on my investment while also ensuring a quick sale. He was able to get me a written offer within 72 hours of going on the market and I was able to hit my closing deadline. I can recommend Barry without hesitation and would absolutely work with him again.
Mike Malloy
01/30/2019
Barry is one of the most ethical realtors I have ever had the pleasure of working with. He took the time to explain the process of buying a home to me, recommended lenders and answered all of the questions that I during the process. Barry is very knowledgeable about the Denver metro area and showed me many places that fit my budget. He was also very concerned with my ability to resell the home down the road and made sure to point out things that may have a negative impact on property values. I also had the pleasure of working with two of Barry's associates who showed me several homes as well. These individual were also very professional and incredibly helpful when looking at homes. After settling on a home Barry went out of his way to provide me with excellent advice on next steps and utilized his network of contractors to get accurate bids on what needed to be done in the home prior to closing. During the underwriting process he also made himself available to me to answer any questions I had and also went out of his way to give access to the home to my contractor. At closing Barry was with in attendance and answered all of the questions that I had. He also took notes and reminders that he emailed to me later. After closing Barry has continued to make himself available for any questions that I have. He's even been nice enough to give me access to his contractors after I recieved high bids on jobs around my new home. I would highly recommend Barry to anyone looking to purchase a home as he is the best realtor I have ever worked with. At no point did I feel pressured to buy and I always felt that Barry had my best interests in mind. Thanks to Barry I now own a 3 bedroom home with a huge gazebo and an incredible backyard!
Julia Bourlakov
01/17/2019
Barry Kunselman is a top-notch real estate agent! His professionalism is so refreshing. I loved how patient and knowledgeable he was. We wanted a unicorn of a house. Something very specific as we knew every detail that we needed. Barry was able to keep us down to earth, focused and sane in the midst of the crazy market. I love that he is motivated without being overwhelming. He is not afraid to work, invest time in seeing different areas and homes. Barry is easy to reach, flexible. He was very polite with agents on the other side, while we always felt that he has our interests front and center. We loved his positive attitude even when our search for dream home was getting bleak. Barry knows Denver metro market very well and knows which houses represent good value and which were overpriced. We appreciated his wise council. We always felt heard and respected. In this day and age, while we have discount brokerages promoting low price, "robo" solutions and digital support, it was so helpful to work with a person who knows his craft. We would not be able to find and close on the house of our dreams. We are an educated couple with advanced degrees and multiple businesses to run and Barry made it easy for us. We were surprised how many details, steps and roadblocks were there. Purchase of the home is such an important financial decision that it's as critical to choose the agent that you can trust. We really scored a jackpot with Barry! His level of integrity and commitment exceeded our expectations!
Daniel Vopat
11/16/2018
We worked with Barry to purchase our first home a few years back. He was absolutely exceptional in every sense of the word. After meeting with several realtors that we felt were either pushy, impatient, or didn't have our best interests at heart, we chose Barry. We found him to be honest, patient, and knowledgeable. He took the time to understand our needs and demonstrated excellent follow through in supporting us through our initial search to close. When my wife and I do decide to sell, Barry will be our first phone call.
Bayta Bardhi
10/08/2018
Barry is a very knowledgeable and hard-working realtor. He recently helped me purchase a condo in Lakewood this past September. In a very competitive market, Barry worked patiently and diligently with me over the course of a year to ensure that I would find the most comfortable home in my price range. Barry was honest and upfront about every home we visited. He genuinely cares about his clients and the work he does.
Juliette Lacombe, homebuyer
03/21/2018
Barry exceeded all of our expectations. We felt educated and knowledgable about the entire process. We learned a ton about what homes and neighborhoods are worth being competitive on and which ones are not. We were able to get our ideal home in one of our top neighborhoods with the help of Barry and would recommend him to anyone looking!!!
Sherry Nesmith
12/21/2014
We had the pleasure this year in working with Barry on the sale of three homes. All three homes sold at the top of their market price and sold within the first few days of listing. Barry was very knowledgeable of the real estate market in each area and negotiated the offers to find the best buyers for each situation. He helped to arrange the best team of people to perform work when needed and was willing and available to answer all questions and issues that came up during that process. We strongly recommend Barry as a real estate professional and will definitely recommend him to all our family and friends with their real estate needs or any any future needs we might have. http://www.trulia.com/myprofile/reviews
zuser20140623112730487
06/23/2014
Barry Kunselman makes you feel like his only client. His attention to your wants and needs in a very challenging market brings a sense of comfort as he trudges through the daunting details of contracts and negotiations for you. Barry's win-win attitude really shines when it comes to negotiations and interfacing with any parties involved in your home transaction process. His ability to respond and schedule viewings around the lives of busy professionals is truly amazing. I highly recommend getting Barry Kunselman of Porchlight Real Estate Group on your team whenever you dare to move in the Central Colorado area. and has my voice when I hear of someone looking for a savvy, concise and comforting in the the dauting details and fluctuating detail oriented and capable real estate with lots of insight and energy to keep up with the fluctuating market and needs of a new home buyers. http://u.zillow.com/w3WFr/
format_quote
Think of me as a coach or mentor for your real estate needs. What sets me apart from other Realtors is that I make sure my clients understand the fundamentals of a great investment BEFORE they buy.