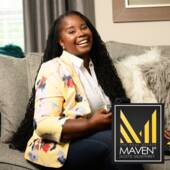 212796
Real Estate Agent
Jackye Mumphrey
The Real Estate Maven® Atlanta Real Estate
Atlanta, GA

—

Keller Williams Realty Cityside

Keller Williams Realty Inc.
1400 Veterans Memorial Highway
Suite 134-360
Mableton , GA 30126
---
Jackye Mumphrey is your Atlanta Real Estate Maven (Cobb County and South Fulton Real Estate) Get a jump on your real estate competition and get the job done right Call Jackye right now! 678-929-8330
Get to know Jackye Mumphrey
 Jackye Mumphrey is a 20 year experienced real estate agent with a boutique style real estate marketing service that specializes in South Cobb  and Fulton County properties..
TheRealEstateMaven.net is a woman owned business with extensive experience in representing sellers and buyers in the purchase and sell of real estate.  The size of our firm is intentionally small to allow us to focus on each client's needs and to guarantee a certain level of expertise and knowledge.
Our ability to create innovative  marketing solutions while delivering customized services for our clients has enabled us to ensure that our clients, based on their level of need, receive a maximum return with the lowest risk.  Taking consideration of market conditions, financial needs and personal concerns into account, we advise our clients on how to optimize their real estate objectives.  Each client works with one of our  senior agents as well as support staff to achieve their real estate goals
 Understanding the importance of your time, confidentiality of your sale, and the special treatment you may need, Jackye, The Real Estate Maven  operates her business with a hands on approach and will guide you gently towards the close of sale on your home.

With extensive sales experience and having grown up in a family of REALTORS, real estate was a natural progression for Jackye to blossom and flourish a fantastic real estate spark plug, a real go getter.

Jackye a California native, relocated to Georgia in the mid 90's to initially just attend school but stayed and  fell in love with Atlanta and the different styles of architecture available in southern homes and estates that simply do not exist in California. She has found that Atlanta living simply offers a certain quality of life that can not be easily described in words, but only seen and felt in the charming neighborhoods
and suburbs that surround Atlanta.

Focusing on young, upwardly mobile professionals, Jackye has created a specialized niche of what she calls,"The Neo-Suburban Upscale Client". This niche of clientele are those who appreciate and desire,  newer and well kept, quiet pocket neighborhoods, throughout the area that are hidden away, yet within minutes to all the area has to offer without the inconvenience of a commute. There are hundreds of these quiet neighborhoods just barely tucked away throughout the metro area.. The comments that Jackye hears most often from clients are, "I didn't even know this was here!" and " I've been here my whole life and have never heard of this neighborhood!" Jackye and her team spend close to 10 hours a week searching  and finding these neat little neighborhoods to list and showcase to buyers.
Jackye is the creator of "Specific Reverse Prospect Marketing", a marketing technique that is changing the way buyer's find homes for sale in the markets that she serves. This technique allows for buyers to wildly raise their hands to buy the best homes available in the market today, even before they hit the actual market. The technique has allowed Jackye to become the dominate online marketing real estate pro in Mableton and the surrounding areas and has cut the days her listings are on the market by 27 percernt. She has coached and trained over 550 agents and been hired to market the listings of dozens of colleages to selling success.

Whether buying or selling Atlanta real estate, count on Jackye and the Mumphrey Realty Group not to just sell or help you buy a home, but to... Exceed Your Real Estate Needs by Leaps and Bounds!
Markets we serve
Primary
Mableton,Vinings, Smyrna, Austell,Marietta
Secondary
South Fulton                              Atlanta's West Side
Jackye Mumphrey's Blog Posts
|
Home Selling
–

11 days ago
Home Selling
–

14 days ago
Home Selling
–

18 days ago
Home Selling
–

19 days ago
Home Selling
–

4 months ago
Home Selling
–

3 months ago
Home Selling
–

3 months ago
Home Selling
–

about 1 month ago
Get to know Jackye Mumphrey, The Real Estate Maven
See more about Jackye Mumphrey through her numerous real estate videos online
Certifications
Cobb county Georgia is where I live, play, love and work. It is a wonderful county with a diverse population and wide variety of housing styles and price ranges. I have called Cobb county home since 2003 and really couldn't imagine living anywhere else in Georgia. I reside in the town of Mableton. It is a quaint town with about 30,000 residents.  It is served by a main post office, several banks,  ample shopping, two high schools, a charter school, and several private schools. It is about 9 miles from downtown Atlanta and has fantastic access to I-20 and I-285 interstates. It is also 45 minutes from the Alabama state line and the University of West Georgia. The housing market in Mableton is healthy despite all of the bad press the real estate market has recently received. Atlanta real estate market overall is healthy and has missed the blows to the local market as experienced in Florida, Arizona and a few other states. Mableton and Cobb County both have viable economies, diverse population, affordable housing and a rich southern history. Cobb county is a GREAT place to live, invest and raise a family.
__________________________________________________
 South Fulton Georgia is a vast area of Atlanta that includes the cities of Atlanta, College Park, Chattahoochee Hills, East Point, Union City and Fairburn. You can find homes for sale in the Camp Creek , Campbellton, and South Fulton Parkway areas from 25,000 up to 3,000,000. From rustic cottages to million dollar mansions South Fulton has it all. Many celebrities live in South Fulton  Georgia as do executives, politicians , attorneys and many other high net wealth people.  South Fulton has great access to Atlanta Hartsfield-Jackson Airport that happens to be the busiest airport in the world. Those who live in the South Atlanta area have great access to jobs in the area that include the headquarters of Chickfila, Coca-Cola, UPS, Home Depot, FedEx, Federal Reserve, GOOGLE, IBM, AT&T, Southern Company and many other Fortune 500 Companies.
Camp Creek is the heart of the South Fulton and  the South Atlanta area. The Camp Creek Marketplace is the crown jewel of shopping in the area. Major retailers and boutiques alike support the growth of the area and the people who reside near it. It has drug stores, movie theaters, grocery store, Target, Red Lobster, Chili's and bars and taverns.
The Campbelton Road area has a myriad of available housing stock that is both affordable and convenient to the freeway system, hospitals and the airport. Homes in this area are primarily brick mid century homes with quiet neighborhoods priced from $50,000 for a 3 bed 1 bath home. This is also a large shopping Mall and small eateries in the area.
The Cascade Road Cooridor is South Fulton "Old Money" area with historic and luxury homes sites dotted throughout its tree lined roads and streets.  Homes along this corridor can go up into the millions. Behind the gates of many of these communities you will find some of the most beautiful homes for sale in Cascade. To say that you live in "The Cascades" carries a prestige unlike any other area in South Fulton.
The South Fulton Parkway area is a stretch of roadway that is saddled by large parcels of wooded areas with new home construction throughout. South Fulton Parkway cuts through the cities of Union City, Fairburn, and newer and lesser known Chattahoochee Hills. The area is still building up and is very quiet, secluded and have newer shopping plazas that support the residents in the area. This is a great time to invest in the area if you are looking to build luxury homes with acreage and privacy and still have easy access to freeways and the airport.
______________________________________________________________________________
Other sites to view:
www.Jackye.KWRealty.com
www.MySpace.com/MRGMumphrey
 www.JackyeMumphrey.com
www.MabletonLiving.com
 www.MabletonMaven.com
www.MabletonEstates.com
www.GotMableton.com
www.twitter.com/JackyeMumphrey
www.AtlantaBrickHomes.com
www.ILoveMableton.com 
www.SouthFultonHomes.com
Awards
Member of the Institute of Luxury Home Marketing
Featured on HGTV's My First Place
Atlanta Tribune Magazine Best of Atlanta Agent
Atlanta Uptown Magazine Featured Agent 
Featured in People You Need To Know Atlanta Edition
Top 5% of agents in Mableton GA 
Top 5% of Atlanta Association of REALTORS
Top 10 Agent at Keller Williams Realty Cityside
Skills
Seller representation and marketing with online media outlets, social media and press releases to the buying public
Property prenstation and positioning in the market.
Contract negoiation and compliance
Testimonials for Jackye Mumphrey
Seema Homes LLC S Rupani

07/01/2019

Jackye is an amazing agent. She worked tirelessly to ensure my property was sold. It was a very unique property that was sought after by a very specific type of investor. She put together an excellent marketing packet and went over and beyond my expectations. Jackye is extremely thorough and VERY VERY VERY knowledgeable. She has been a realtor for a long time; she really knows her real estate. She stands her ground and is a tough agent so if you want someone who will fight for you- Jackye is your agent. Thank you Jackye!

We are glad we chose Jackye for our sale. She provided valuable knowledge of the local market and communication was excellent from start to finish. She also provided excellent recommendations and contacts to help us complete repairs prior to going on the market. Although our first buyer was not able to complete the sale, Jackye absorbed the stresses of this for us, and found another buyer in an amazingly quick time frame

I enjoyed working with Jackye. Her knowledge and expertise of the housing market took the stress out of house hunting. Especially for someone new to the area. Her outgoing personality made me feel like I was looking at houses with a good friend and she always provided a quick response to any questions I had throughout the entire process and beyond. I love that I was able to reach out 3 years after purchase and still get the same level of commitment. Thanks Jackye! You are my realtor for life!!!

Jackye is very knowledgeable about real estate in the S. Cobb area. Very nice signage along with using all the tools available to sell any property. She did a nice job of qualifying offers before they were presented. Communication skills very good.

Was looking for investment prop. I tried few different Realtors but they were too slow for me. got recommended her from my friend.She was so fast, professional, kind and sweet. Since out of Towner not familiar of any places, she took me everywhere even we didn't have houses we were looking that area…

Jackye has helped me with the purchase, leasing apnd selling of homes. She does a great job of marketing your home and listening and responding to your needs. She also does a great job of follow up when all is said and done. Great customer service!

Confidential Name withheld by request

07/01/2014

My experience working with Jackye was pleasant. From the first engagement, she was very responsive and polite. She also held my hand through the process (I'm a first time seller) and we were able to close very quickly without compromising on price. I would galdly recommend her services to anyone looking for an agent

Jackye helped me purchase a new home when I relocated to Atlanta due to a job change. My schedule was crazy but she worked with me to show homes at times that were most convenient for me. She also did her homework and only showed me homes that met the must haves on my new home search list. I appreciate her efforts and love my new home. I highly recommend her as an Agent.

ackie knows Mableton very well. She showed multiple homes that met our needs. Jackie is a competent negotiator and is highly customer focused.

She exceeded my expectations in many ways including meeting us several times to view the house, providing technical expertise and recommending a contractor for improvements we were planning.

I recommend Jackie for her professional expertise. She made the whole process easier and we have been very happy with our purchase.

Barbara Ceesay

08/29/2013

Jackye Muumphrey services was excellent. She is very knowledgeable. She wanted to make sure I was satisfied in every aspect of the process. I very much enjoyed working with her she made me feel like I was her friend as well as a client. She always responded to my needs even if I was a little nervous. I would recommend her to my family and friends. In the future, if I needed a Realtor she would be my first choice.
Introducing a fresh new look for your Profile.
Click the 'Edit Profile' button below to enter 'Edit Mode' and continue the tour.