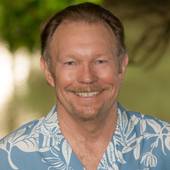 Real Estate Agent
Lee Potts
The smarter we work, the luckier you get.
Lahaina, HI

—

Aloha Group Maui

Keller Williams Realty Inc.
My team and my mission is to competently and confidently represent clients and treat all, especially one another, with aloha.
Get to know Lee Potts
Aloha Group Maui is led by Lee and Barbara Potts. A few things you might not know about us is that when we were well into our forties we trained for and ran the first marathon of the New Millennium in Hamilton City, New Zealand. we both completed our MBAs while holding executive positions and raising two children (one was a teenager). We have been lifelong real estate investors and, in 2003, decided to sell everything, move to Maui and start a new real estate company. In 2005 we did!
What does all that have to do with getting a KILLER deal? Everything.
Running a marathon, especially one half-way around the world, is a major endeavor. But running the race and finishing is the payoff. What got us there was planning, determination, discipline and organization. After all, Lee was the executive vice president of a medical software company at the time and Barb was a business broker.
Getting an MBA is another major endeavor. Add to that Lee's position and VP of Marketing for a company that was preparing to go public and Barb's position in finance at Apple Computer and of course a teenager and one regular kid, once again you need a few things working for you. Planning, discipline, working smart and a certain lack of sleep come to mind.
When we moved to Maui, we knew two people. That was it. We put our experience and training to work. We worked hard and we worked smart. We got lucky and so did our clients.
The same planning, discipline and organization that got us through kids, school, starting and selling businesses, investing in real estate and moving to Maui not only got Aloha Potts started, but in less than two years we were among the top 10% of agents on Maui.
As investors, we learned over time that there are rules for making money in real estate. One of the rules is that you don't make your profit when you sell, you make it when you buy. That means you've got to be able to find and make great deals. Killer deals.
As with many things in life, when it comes to getting a great real estate deal it's not just what you know, but who you know and knowing where and how to look for deals. Closing a great deal for you is like running a marathon. It's the icing on the cake. And likely what led up to us finding that deal and negotiating it to a close for you started months or maybe years before you even met us.
That's why are motto is, "the smarter we work, the luckier you get." Give us call or send us an email. You'll see that we listen carefully, we know our stuff and we can help you get your slice of paradise.
Lee Potts's Blog Posts
|
Real Estate General Information
–

over 1 year ago
Real Estate Industry
–

about 2 years ago
Real Estate Industry
–

over 2 years ago
Just for Fun
–

over 2 years ago
Certifications
In Maui, a popular bumper sticker proclaims, "this ain't the mainland". That's good, and it's a warning. Maui is a relaxing paradise with plenty of fun things to and beautiful sights to see. It is a wonderful place to live and vacation.
Following are good words to heed when you decide to buy your dream home or investment property in paradise.
A few things are to consider are how you intend to use your property. That may affect your property tax rate.
How you are going to maintain your property? Wind, salt air, fast growing vegetation, termites and finding reliable help are a few considerations.
If you are buying a condo, you can for the most part eliminate the exterior maintenance concern, because you will pay a monthly maintenance fee and your association (AOAO) will care for the property. But now you need to understand your AOAO. What are the fees? What do you actually get for your money? Are the fees adequate to pay for the work that needs to be done, and are there reserves to pay for future capital improvements?
If you are planning to rent your property for vacation rental you need to know if short term rental is allowed. Many areas in Maui are not zoned for short term rental and vacation rentals are not allowed. Likewise, many condominium complexes do not allow short term rental.
If vacation rental is allowed and renting is your intention, you likely need a rental management company. Some entrepreneurs rent the property themselves through VRBO and other methods. Before you try that, you may want to call us to discuss the legalities of the do-it-yourself approach.
If you hire a rental management company you can eliminate a lot of concerns, but once again you need to know what you're getting for your money. Some management companies charge 50% of the rental income to manage your property. Others charge 30% or less. That makes the 50% company seem high, but if the high priced company keeps your property fully booked and the bargain company gives you only 40% occupancy, which one is better?
That's where Aloha Group Maui comes in. We've been real estate investors all of our professional lives and have actively bought and sold real estate on Maui over the last 10 plus years. Some of what we know about the ins-and-outs of real estate on Maui we learned from studying and asking questions. A lot we learned the hard way by investing and learning as we went.
We wouldn't live anywhere else!  So, to us buying and investing Maui is just like any other significant investment. You need an experienced team of experts on your side to reduce your risk and increase the fun factor.
Start now by going to our website, http://www.alohagroupmaui.com/, or send an email to lee@alohapotts.com and we'll send you our guide to buying property on Maui. It includes just about everything you need to know, but didn't know to ask.
Introducing a fresh new look for your Profile.
Click the 'Edit Profile' button below to enter 'Edit Mode' and continue the tour.