Real Estate Product Reviews on ActiveRain
Here's where you'll find a community willing to share their experiences with everything from computers to coaches and from contact management software to virtual assistants. If there's a real estate-related product or service, we'll have reviews for it.
Consider this patch of ActiveRain real estate your water cooler. Gather around it and talk to you colleagues – get and offer advice. We hope this will be a forum for both teaching others about what you know and for learning from the rest of the ActiveRain community.
What products or services work for you? Don't be shy -- we'd love to hear all about them and spread the word to help all ActiveRainers move on to the next level in their businesses.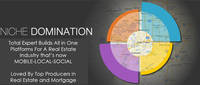 Product Reviews for
Total Expert
Total Expert Overview
(
CRM, Lead Management, Responsive Website, Automated Marketing, Co-Marketing Compliant, One Click Marketing, Social, Landing Pages and More.
Subscribe
Submit a Review
Total Expert Reviews

Andover, MA
Real Estate Agent
Submitted on 08/24/2017
When you focus on more than one thing, the focus is on more than one thing and you are no longer an ...
more
100.00 % thought this review was helpful

Scottsdale, AZ
Real Estate Agent
Submitted on 09/17/2016
It always gives me pause for thought when I come across an entry in the Product Review section of Ac...
more
100.00 % thought this review was helpful