Real Estate Product Reviews on ActiveRain
Here's where you'll find a community willing to share their experiences with everything from computers to coaches and from contact management software to virtual assistants. If there's a real estate-related product or service, we'll have reviews for it.
Consider this patch of ActiveRain real estate your water cooler. Gather around it and talk to you colleagues – get and offer advice. We hope this will be a forum for both teaching others about what you know and for learning from the rest of the ActiveRain community.
What products or services work for you? Don't be shy -- we'd love to hear all about them and spread the word to help all ActiveRainers move on to the next level in their businesses.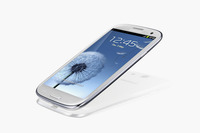 Product Reviews for
Samsung Galaxy S III
Samsung Galaxy S III Overview
(
Designed for humans, inspired by nature

Advanced. Intuitive. Simple. From the cutting edge technology inside to the stylish design that rests comfortably in your hand, the Galaxy S III makes everything you do easier. Share, multitask and interact with your device unlike anything you've experienced before—and on a brilliant 4.8" HD Super AMOLED™ display.
Subscribe
Submit a Review
Samsung Galaxy S III Reviews

Eagle, ID
Real Estate Agent
Submitted on 01/11/2013
I have used the Samsung S III almost since it came out. I waited nine months to get the new iPhone ...
more
100.00 % thought this review was helpful

San Antonio, TX
Real Estate Broker/Owner
Submitted on 01/11/2013
I have had a lot of phones in my life as a Tech Savvy Agent and by far the Galazy S III is the best...
more
100.00 % thought this review was helpful