Real Estate Product Reviews on ActiveRain
Here's where you'll find a community willing to share their experiences with everything from computers to coaches and from contact management software to virtual assistants. If there's a real estate-related product or service, we'll have reviews for it.
Consider this patch of ActiveRain real estate your water cooler. Gather around it and talk to you colleagues – get and offer advice. We hope this will be a forum for both teaching others about what you know and for learning from the rest of the ActiveRain community.
What products or services work for you? Don't be shy -- we'd love to hear all about them and spread the word to help all ActiveRainers move on to the next level in their businesses.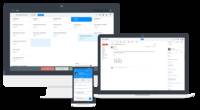 Product Reviews for
ProsperWorks
ProsperWorks Overview
(
ProsperWorks is the world's first zero input CRM suitable for real estate agents. ProsperWorks CRM helps agents identify, track, and optimize sales contacts, opportunities and leads. ProsperWorks integrates with the Google Apps. Zero-touch, automatic systems eliminate most data entry, allowing agents to focus on closing more deals.
Subscribe
Submit a Review
ProsperWorks Reviews

Louisville, KY
Real Estate Agent
Submitted on 07/09/2017
I used to use these when I was in the commercial real estate sector of our business. We used them to...
more
This review has not yet been rated

Andover, MA
Real Estate Agent
Submitted on 12/10/2016
Prosperworks! A new wave CRM. It works with Google Suite - and as per their slogan - "The only CR...
more
This review has not yet been rated

Scottsdale, AZ
Real Estate Agent
Submitted on 08/27/2016
"ProsperWorks seamlessly integrates with the entire Google Apps ecosystem—from Gmail and Calendar to...
more
0.00 % thought this review was helpful