Back At You Media Overview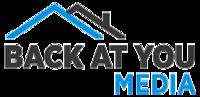 Business page setup
Auto published content for business pate
Facebook advertising services
Not for me so much
Real Estate Agent
star
star
star
star
star
Scottsdale, AZ
Reviews(671) 73.68 % Positive Feedback
Submitted on 10/25/2016
As another reviewer stated: "The services they provide is - take away your worries on Social Media M...
more
This review has not yet been rated
Back At You!

Real Estate Agent
star
star
star
star
star
Andover, MA
Reviews(827) 52.81 % Positive Feedback
Submitted on 08/02/2016
There should be something about the name that should attract you. Not so much for this name - 'Back ...
more
100.00 % thought this review was helpful